Metros Seeing the Largest Shifts in Apartment Construction Starts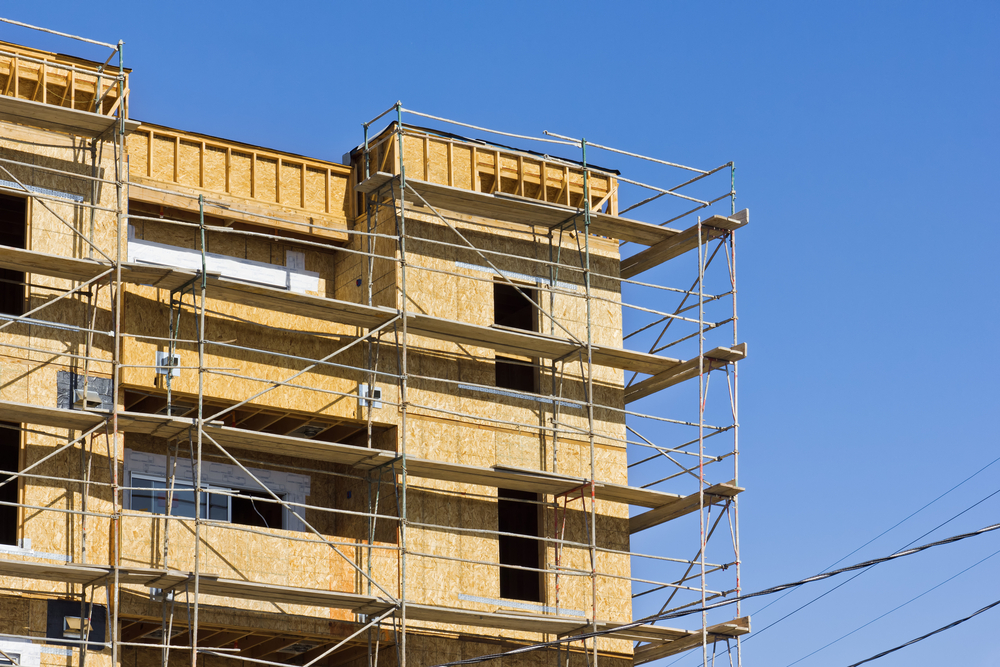 Nationally, the current apartment development cycle is likely to peak in 2017, when the nation's top 100 apartment markets are scheduled to receive more than 360,000 new units. From there, U.S. completion volumes are likely to ease. But metro to metro, the supply story varies.
Recent construction start data provides insight into metro-level completion volumes beyond 2017. In MPF Research's latest interactive webcast, the hosts – RealPage Chief Economist Greg Willett, MPF Research Vice President Jay Parsons and new RealPage family member Jay Denton of Axiometrics – compared starts data from both 2015 and 2016 to gauge where the number of groundbreakings are increasing and where they are falling.
"No surprise at all, the biggest decline is in Houston," Willett said. "Starts were held to about 5,000 units in 2016, compared to about 20,000 units in 2015. There's also been a huge drop in San Jose, another previously really hot market."
Indianapolis and Washington, DC also make the list of metros where construction starts slowed significantly in 2016. Other places where starts are notably downshifting: Orange County, San Diego, Fort Lauderdale, Seattle and West Palm Beach.
A slowdown in metros like Houston, San Jose and Washington, DC is a welcomed sign. Those markets have struggled with stumbles in the local economy, wavering operator sentiment and a prolonged supply cycle.
In other places like Nashville and Seattle, fewer starts would likely allow the market to avoid a performance slowdown to the degree seen in other high-development areas. Nashville and Seattle "continue to see really strong demand for apartments, and thus far have slowed down only modestly in spite of huge supply numbers," Parsons said.
Meanwhile, some markets are experiencing substantial increases in multifamily starts. Many of them, Parsons said, are "high-demand markets that really hadn't seen a lot of supply until more recently – those Florida markets, the Inland Empire, Las Vegas and even Fort Worth."
"But then we also have some spots like Denver, Chicago and Los Angeles, where supply has been high this whole cycle," he said.
Still, the greatest increase in starts belongs to Baltimore, which registered a 170.6% year-over-year spike in starts. Parsons said the market registered a lot of supply earlier in the cycle, but those levels had slowed to a trickle until the present acceleration.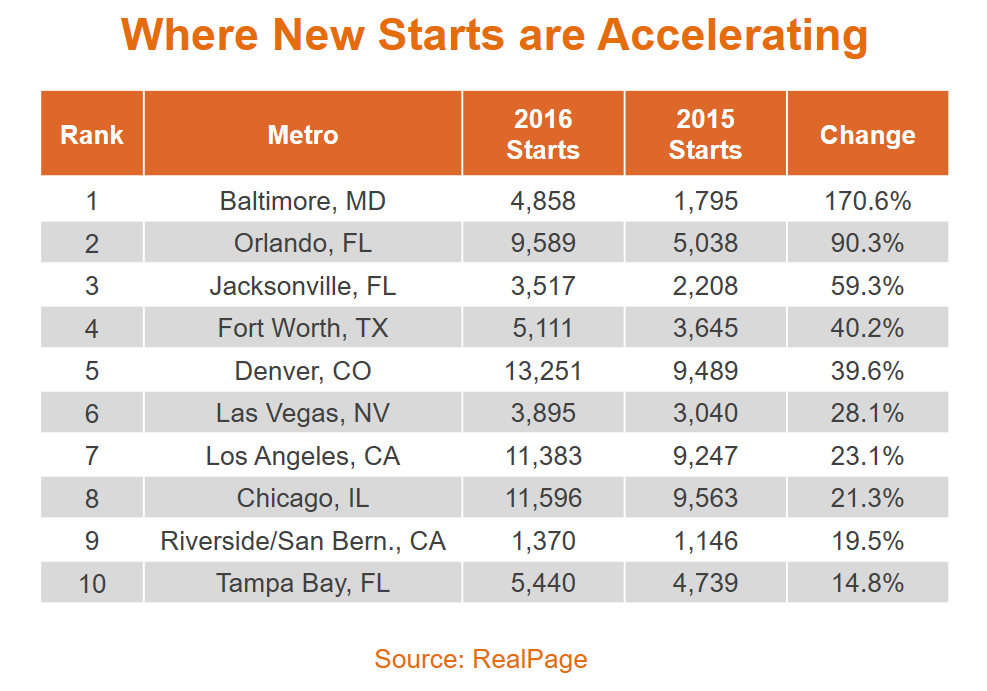 "They are markets that caused a lot of heartburn the last cycle, even though single-family and condos were to blame for a lot of it – Florida [major metros], Las Vegas, Riverside," he said. "They are also some of today's top performers, in part because of the delayed supply."
Phoenix's profile could be similarly characterized, though Denton indicated the direction of Phoenix's performance is heavily dependent on employment.
"Supply is trending up, but the recent job growth numbers have fallen dramatically," Denton said. "If those job growth numbers are accurate, things are going to get much tougher in Phoenix."
A new two-part series from MPF Research supplements that outlook, placing Phoenix among the nation's top 10 markets where risk is increasing. While Arizona's capital metro is considered stable, it is close to crossing into elevated risk scores.
"I still hear a lot of optimism on Phoenix from investors and developers, but no one wants to point out that Phoenix is seeing more construction today than it saw in the prior cycle," Parsons said. "At the same time, job growth in this cycle has been half of what it was in the mid-2000s – and that was prior to the slowdown in job growth."