Several Large Markets to See Apartment Completions Spike in 2020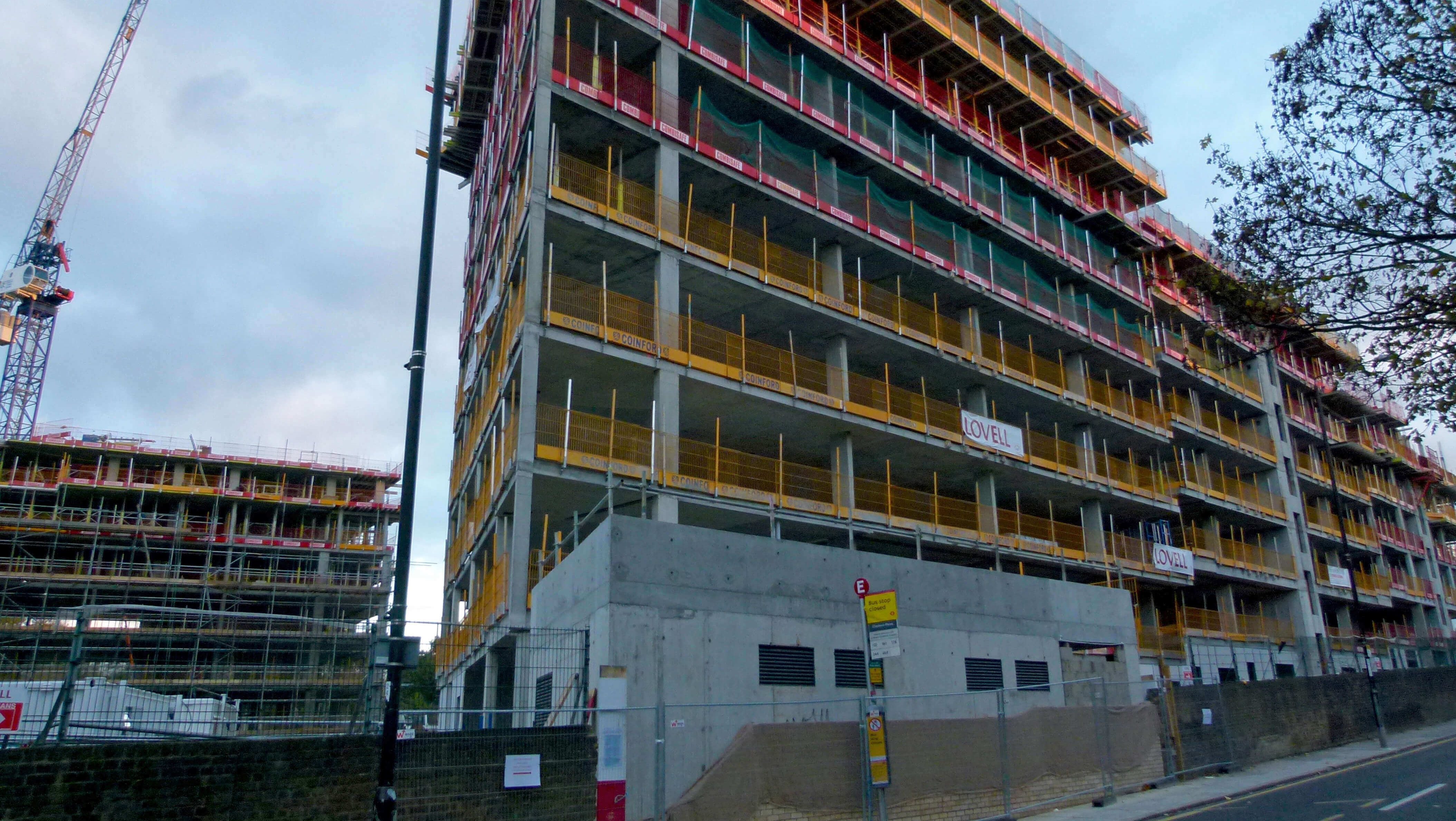 In 2020, the U.S. is expected to see more apartment deliveries than at any point in the last three decades. Among the nation's 50 largest apartment markets, all but six will see more units complete this year than last.
The most drastic supply hike is expected in Los Angeles where scheduled deliveries for 2020 are roughly 10,000 units above 2019's already-elevated supply. The nearly 17,600 units slated to deliver in the coming year will be the biggest new supply load Los Angeles has seen in more than twenty years, and roughly double the average from the past decade. This construction activity for the near term is concentrated in select submarkets, with more than half the units under way targeted for the urban core and adjacent neighborhoods of Mid-Wilshire and Hollywood.
Apartment occupancy in Los Angeles has remained tight at around 96% for the past five years. Rent growth, however, has lost some steam in the past three years, with the calendar 2019 increase falling to its lowest point since the start of this economic cycle.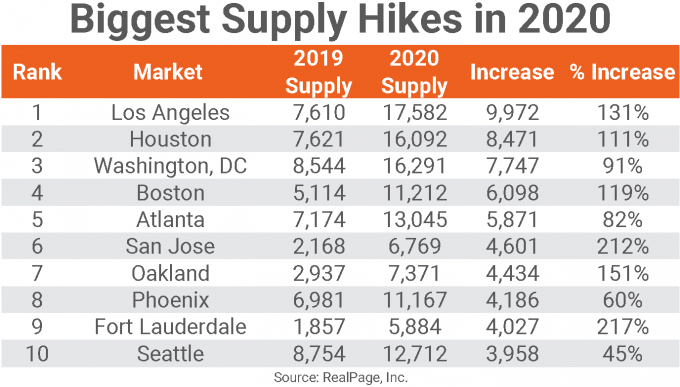 Houston is scheduled to see over 16,000 new apartments in 2020, about 8,500 more units than last year. While this is a significant bump in activity, it's nothing new for Houston. From 2015 to 2017, annual completions averaged over 19,000 units annually. Before this economic cycle, annual completions ran high in 2009 and in the tech boom of 2000. Due to hurricanes, floods and volatile oil prices, Houston's apartment performance has faltered recently. Despite two quarters of solid demand in 2019, the market ended the year with a quarter of net move-outs that brought occupancy down to 93.6%. Though this was the worst showing across the nation's 50 largest markets, it was still well ahead of Houston's recent lows. Rent growth in Houston all but disappeared in 2019, but operators have managed to refrain from rent cuts since 2017.
Washington, DC should get more than 16,000 units in 2020, nearly 7,800 more units than in 2019. Ranking as one of the country's top apartment building centers this cycle, Washington, DC deliveries peaked in 2014 above the 16,000-unit mark. Construction has tapered off , though strong demand has pushed occupancy to a strong 96%. Rent growth returned to more moderate levels in 2019, after registering below the 2% mark throughout much of the past five years. The 2.9% increase from 2019 is in line with the national norm and well ahead of DC's cycle average.
Boston's apartment supply hit a decade peak in 2017 with about 9,000 new units delivered. Completions tapered off in 2019, but supply in 2020 should more than double last year's level of about 5,000 units. A strong economic base and an abundance of young, educated renters continue to fuel strong demand here. Occupancy stood at 96.7% by the end of 2019 – one of the best readings in the nation's largest markets. Rent growth has moderated, however, averaging 3.2% in the past five years, which is quite a bit below the 7% price hikes seen earlier in the cycle.
Atlanta apartment deliveries in 2020 should climb nearly 5,900 units over 2019 volumes. The more than 13,000 units expected in 2020 isn't too far from the previous cycle peak of 12,500 units seen in 2017. Occupancy stood at 94.9% at the end of 2019, well ahead of Atlanta's cycle average of 93.1%. At 3.4%, rent growth runs above the national norm in Atlanta, though it's a far cry from the 7.5% hike seen here in 2015.
All three Bay Area markets are in for significant supply increases in 2020. San Jose completions will more than triple 2019's supply, while Oakland will see almost the same bump. While San Francisco did not make the top 10 list for supply upturns, the 3,800 units underway is roughly twice the volume seen last year. It's been more than two decades since the Bay Area has seen this much new construction completing in a single year. Demographic and economic drivers are still secure here, inspiring strong demand and keeping occupancy across all Bay Area markets above the national norm. But competition pressures have led to rent growth limitations in the past four years, as the volume of apartments under construction flared.
Phoenix, Fort Lauderdale and Seattle are all expected to see supply volumes increase by roughly 4,000 units in the coming year. New supply in 2020 will mean a two-decade peak in Phoenix and Fort Lauderdale. While Seattle is also facing a 20-year high, the 12,700 units set to complete in 2020 isn't too far off from the 9,300 units Seattle has brought online annually in the last five years.
Just missing out on a top 10 showing, Nashville and Minneapolis are expected to see completion volumes rise by about 3,500 to 3,700 units, respectively, in the coming year. Nashville has averaged annual deliveries for about 5,800 units in the past five years, peaking in 2017. In 2019, only 3,070 units were finished, which is a lot in long-term historical context for this market, but a low point in the recent trend.
In Minneapolis, the 8,000 or so units set to complete in 2020 is well above both long-term and short-term averages. In the past five years, annual completions have run closer to about 4,000 units – which is still a considerable volume for a market the size of Minneapolis.
The six markets anticipated to see completion volumes fall in the coming year include Tampa, St. Louis, Memphis, Chicago, Pittsburgh and Greensboro. The steepest of those declines is in Greensboro where the 633 units forecasted in 2020 is about half the volume delivered in 2019.