Job Gains Grow for Major Markets in June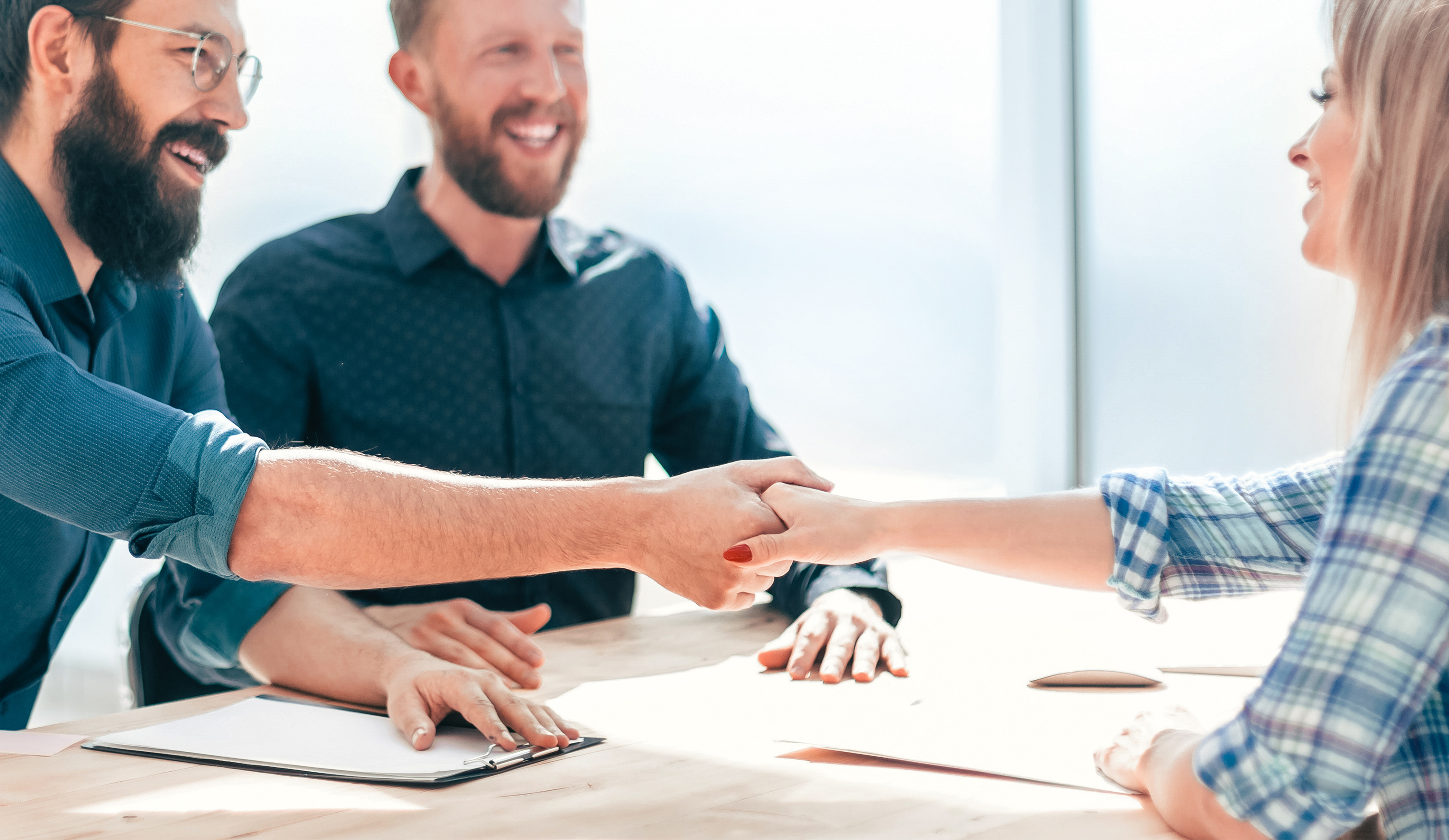 Despite some indicators of economic headwinds, annual gains in employment at the metro level are still climbing. According to the latest release from the Bureau of Labor Statistics (BLS), eight of the top 10 markets for annual job gains in June added to their annual totals from the month before. All of May's top 10 markets returned in June, with the first eight in the same order and only two changing places.
New York continues to lead the nation in annual gains with 415,500 jobs added to their economy, 12,500 more than May's annual tally but down almost 200,000 jobs from the strong post-pandemic lockdown recovery figures in 2021. New York is still on its way to full recovery, with just 116,300 jobs to regain to match February 2020 employment.
Los Angeles remained the #2 job gain market with 237,300 jobs added through June, up slightly from May but down 47,000 from last June. Like New York, Los Angeles needs a little more than 100,000 jobs regained to fully recover from the pandemic recession, and barring another economic slowdown, should meet that goal within the year.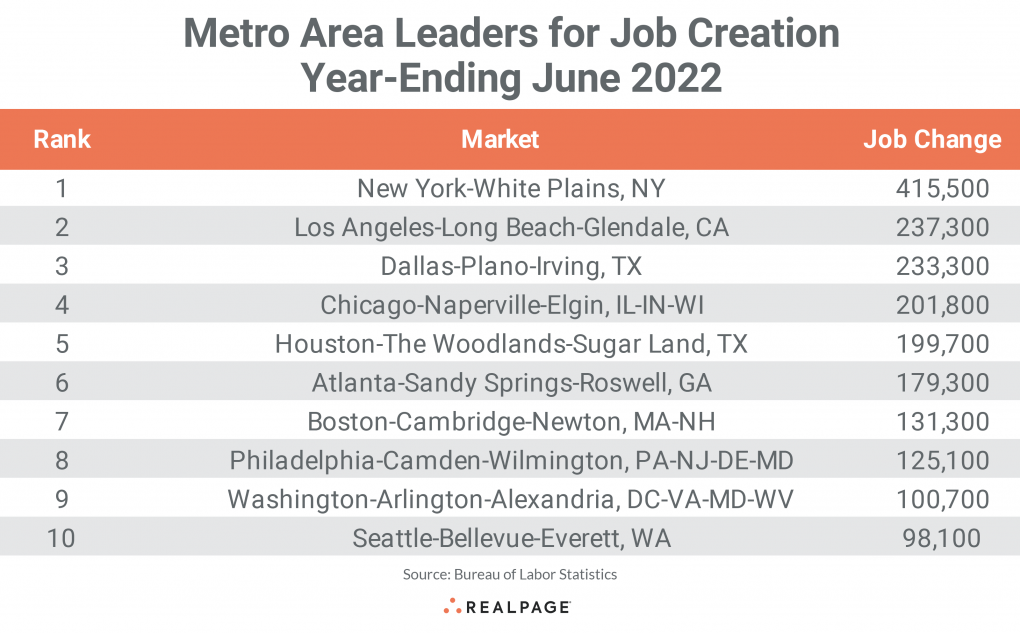 Dallas returned in the #3 spot, gaining 233,300 jobs for the year, about 9,000 more than in May and 45,400 more than June 2021's total. The Dallas-Plano-Irving metro division was an early recovery market that now sits more than 230,000 jobs or almost 9% above February 2020's employment level. In fact, all the remaining top 10 job gain markets (with the exception of Washington, DC) have fully recovered all of the jobs lost in the initial month of the pandemic lockdown.
Chicago and Houston held down the #4 and #5 spots again but while Chicago slipped about 10,000 jobs from last month to total 201,800 jobs gained for the year, Houston improved more than 14,000 jobs from May's total to come in at 199,700 jobs gained in the 12 months ending June 2022.
Atlanta, Boston and Philadelphia also returned in order through the #8 spot and collectively averaged almost 9,000 additional jobs than their 12-month totals in May. With a gain of 179,300 jobs, Atlanta has only slowed about 7,300 jobs from June 2021's gain, while Boston and Philadelphia (131,300 jobs and 125,100 jobs, respectively) have seen annual job gain totals fall about 90,000 jobs from last year.
Washington, DC and Seattle switched places at #9 and #10 in June, with DC up about 4,000 jobs from May but down more than 84,000 jobs from the year before, gaining 100,700 jobs in the 12 months ending June. Seattle was little changed from May's annual job gain with 98,100 jobs gained through June, but the Emerald City added 27,400 jobs more than last June.
Only three of the next 10 top 150 markets ranked by June job gain are below their pre-pandemic employment bases, one less than last month. Of those, Orlando is very close to regaining its pre-pandemic employment level, while Anaheim and San Francisco are each about 26,000 jobs short of recovery. Detroit is the market that regained its pre-pandemic employment level in June.
A total of 85 of our top 150 markets have regained all of their lost jobs from the pandemic (six more than last month) but that still leaves 65 more to go. However, 33 of those 65 have less than 5,000 jobs to recover before they reach February 2020 levels.
Comparing annual job gain on a month-over-month basis, 83 of our 150 markets had higher annual job gains in June than in May with another two unchanged compared to 55 last month, despite rising inflation and concerns of an impending recession.
This month, most of the markets with fewer annual job gains than last month are in California (Sacramento, San Diego, and San Francisco), Texas (Fort Worth, Austin, and San Antonio), and Florida (Orlando and Tampa), as opposed to the broad Sunbelt markets in May. These month-over-month comparisons of not seasonally adjusted labor data from the BLS can sometimes be misleading, but nonetheless give an idea of overall trends.
With the tight labor market, inflationary pressures, and difficulties in staffing continuing, only nine markets had annual job gains of 100,000 or more compared to eight in May and 20 last June. Another 22 markets gained between 50,000 and 99,999 jobs, the same as last month. None of RealPage's top 150 markets had an annual job loss from last June.
Like annual job gains, the annual percentage change in employment picked up in a few markets but is slowing in others. Eight of May's top 10 returned in June with four of those 10 in Texas, compared to two in Florida, and only one in California.
Dallas overtook Las Vegas to lead the top 150 for percentage annual growth in employment at 8.5%, an improvement of 30 basis points (bps) from last month, while #2 Las Vegas dropped 110 bps to 7.9% growth.
Miami jumped all the way to the #3 spot with 7.3% employment growth, an 80 bps increase from May. San Francisco continued its recovery with a 7.1% increase in employment, while Nashville recorded a 6.7% growth rate for the year, landing at the #5 spot. Orlando was close behind at #6 with 6.6% employment growth.
Houston joined this month's top employment growth markets with a 6.5% gain, while Austin and newcomer Atlanta tied for #8 with 6.4% growth. The small Midland/Odessa, TX oil market rounded out the top 10 with 6.3% employment growth.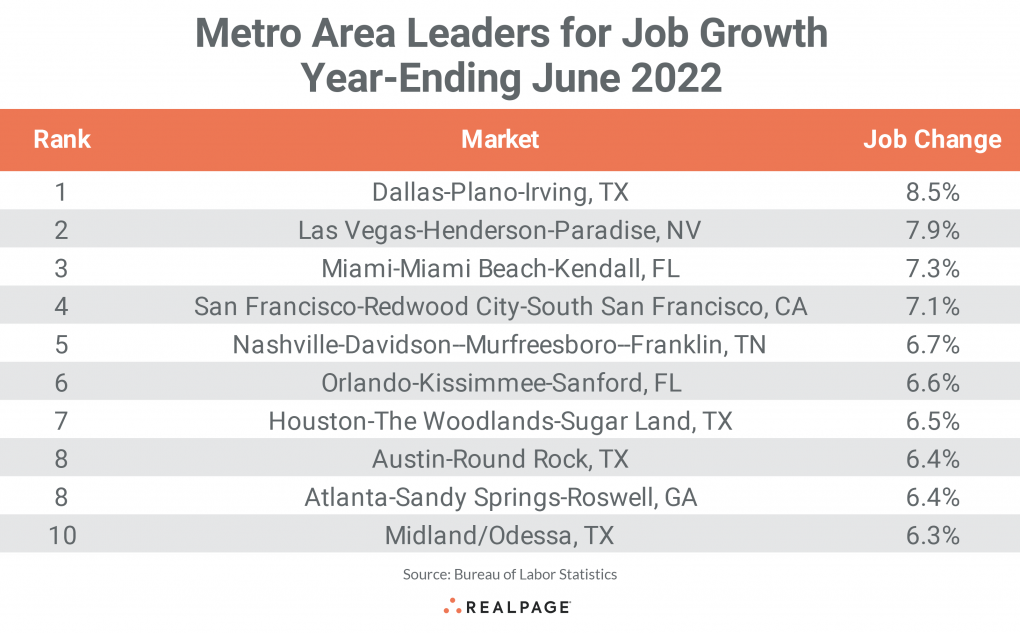 Compared to May's list, the levels of job growth shifted downward, with the difference between #1 and #10 averaging about 10 bps lower than last month. Job growth in the top market fell about 50 bps while the #10 market was 20 bps lower than May's #10. Additionally, the top market is logging almost half the growth rate of the top market one year ago.
The weakest major markets for percentage growth are primarily in the industrial Midwest, with a few Southern and Northeast markets in the mix. Major markets with sub-3% growth include Akron, Cincinnati, Virginia Beach, Omaha, Milwaukee, Kansas City, Richmond, Columbus, and St. Louis. In addition to the top 10, strong job growth markets include: New York, Riverside, Seattle, Newark, Portland, OR and Fort Worth. Fifty-six markets had annual job growth rates above the not seasonally adjusted national average of 4.2% compared to 40 in May.