July Apartment Rent Payments Trail Earlier Results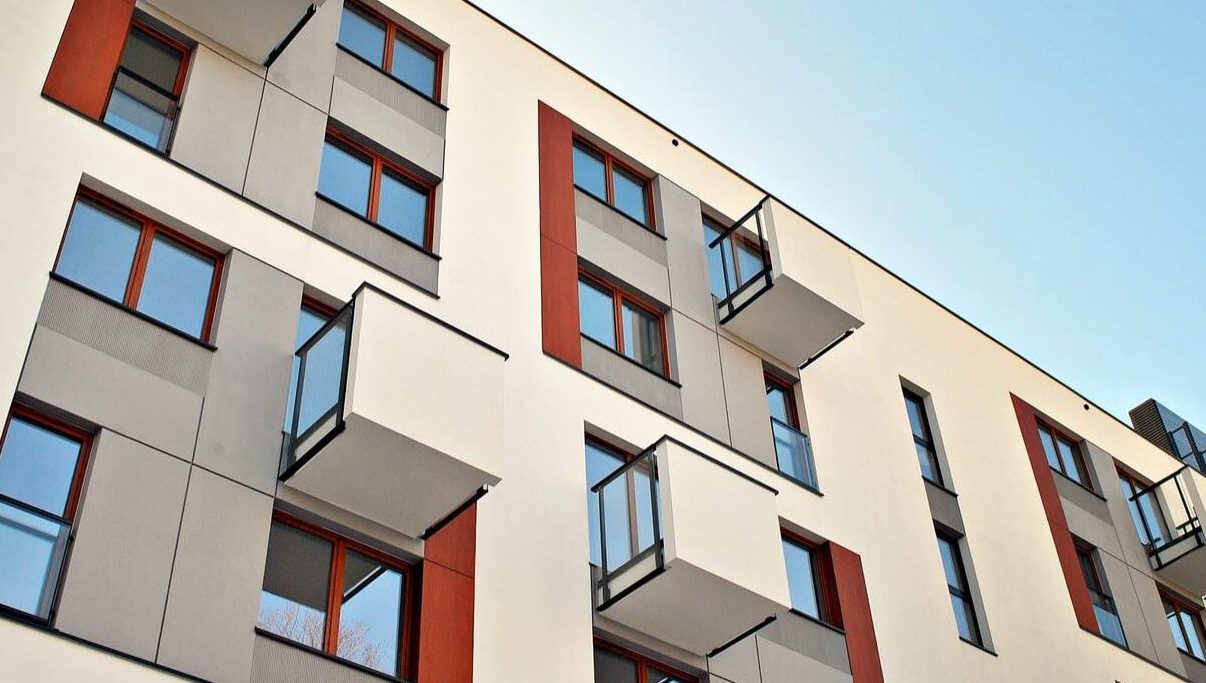 Apartment rent collections in July are off a bit from the levels recorded a year ago and since the COVID-19 pandemic emerged a few months ago.
The National Multifamily Housing Council reports that 93.3% of households living in the country's stock of professionally-managed market-rate apartment properties have paid rent for July as of the 27th. The share falls 2 percentage points behind the 95.3% of households who were on top of their rent obligations as of the same date in 2019.
July's payment performance also falls short of the results for April, May and June, when full-month collections levels reached 94.6% to 95.9%.
The findings come from the National Multifamily Housing Council's Rent Payment Tracker research, compiling information provided by five technology firms, including RealPage, Inc., for more than 11 million market-rate apartment units.
Many Households Need Financial Help
The share of households able to make rent payments could decline quickly, if Congress doesn't act immediately to provide further financial support for those who have lost jobs.
Most states now have issued the last unemployment payments that will be boosted by the extra $600 per week provided under the CARES Act. Even if additional funds are approved, some payment interruptions appear likely for a block of households since some states won't be able to implement benefits changes quickly.
Providence, Virginia Beach and Tampa Are Payment Leaders
RealPage data shows that July's best rent collections results register in Providence, Virginia Beach and Tampa, where payments have been received from 98.1% to 99% of households living in professionally-managed properties. There's another cluster of markets where 97.1% to 97.3% of households have paid: Salt Lake City, Minneapolis, Fort Worth, Anaheim, Salt Lake City and Oakland.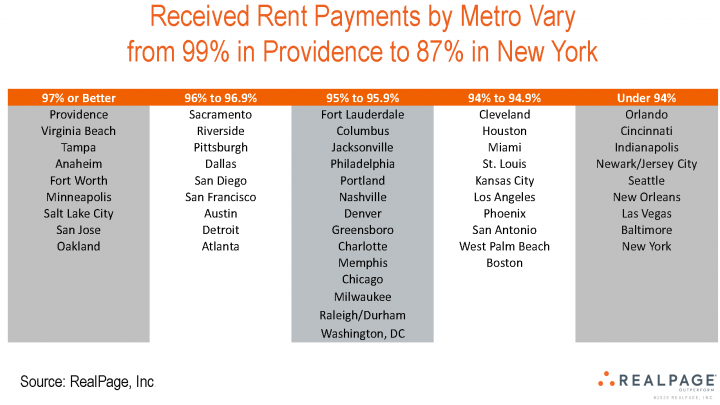 At the other end of the spectrum, only 87.1% of the renters in New York are current on their payment obligations. Payment rates also are low at 91.6% to 92% in Baltimore, Las Vegas, New Orleans and Seattle.
The most pronounced year-over-year drops in payments are in New York, Las Vegas, Seattle, Orlando, West Palm Beach and Los Angeles.
Payment Patterns by Product Class Hold
In the RealPage data set, monthly payments were received by July 27 from 94% of those living in Class B projects and from 92.5% of those living in Class A assets. The collections rate was lower at 88.2% for those living in Class C properties.