Job Recovery Split Among Major Markets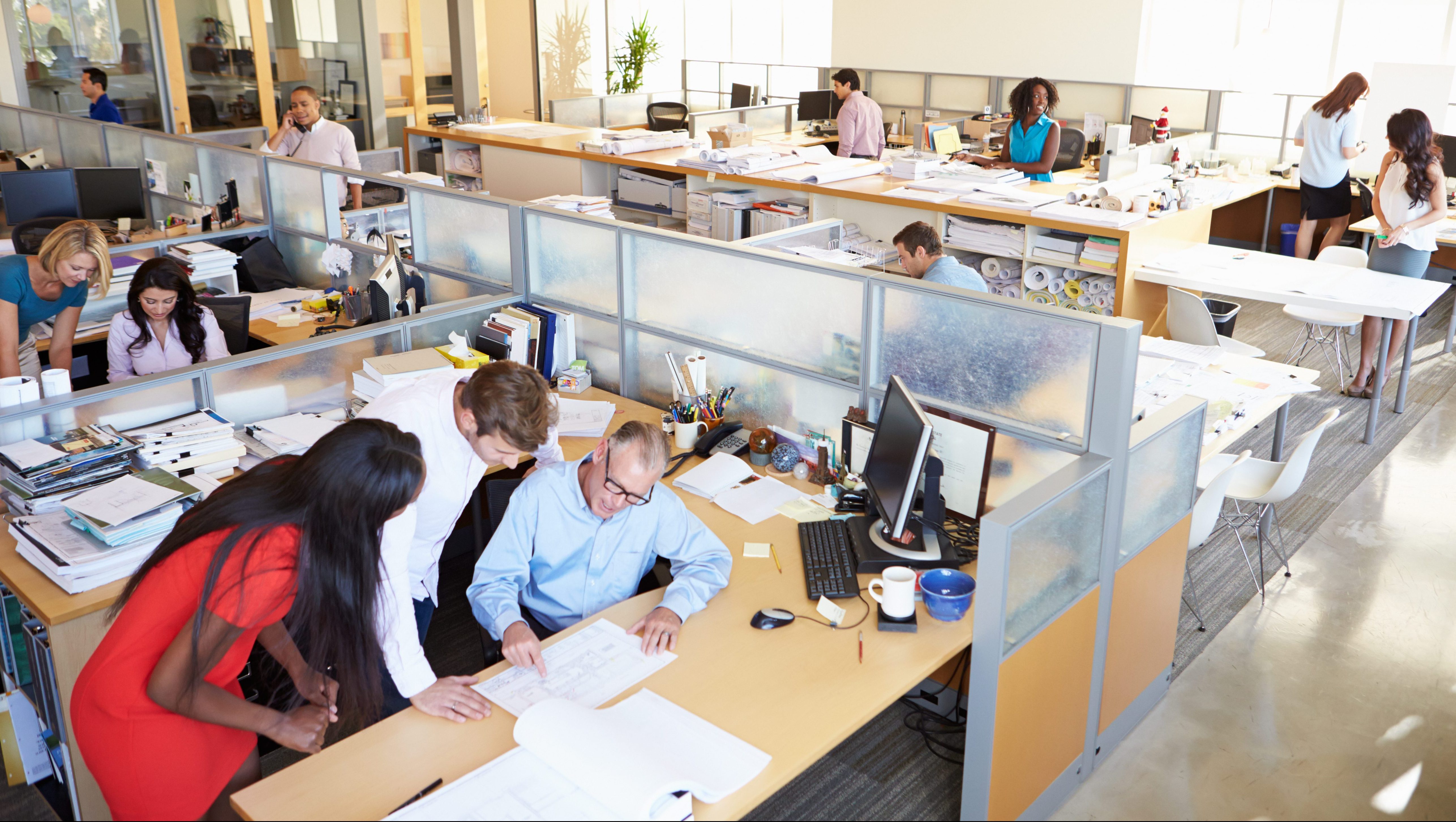 While job losses deepened in the U.S. employment market in December, the performance was split down metro lines.
About half of the 150 core markets tracked by RealPage reported slight-to-moderate improvement in their annual job loss totals since November, while the other half saw losses deepen as the resurgence of COVID-19 infection rates increased in many parts of the country.
The list of markets with the steepest annual job losses in December was again little changed from last month, according to the Bureau of Labor Statistics (BLS). New York continues to lead the list of markets with the steepest job losses with more than 772,000 jobs lost for calendar 2020. New York's annual employment loss has leveled off at around 770,000 jobs since October.
Los Angeles, Chicago, and Boston returned in the same spots this month. In Los Angeles, the 419,100 jobs lost were much more than last month, while Chicago's loss of 350,600 jobs was slightly more than the annual job loss from November.
On the other hand, Boston saw a slight improvement over November losses, with about 250,000 jobs lost in calendar 2020.
Detroit and Philadelphia each had employment losses of about 220,000 jobs as of December, and those losses deepen significantly since November's annual loss rates. In fact, Detroit saw the nation's steepest job decline between November and December.
Washington, DC's annual job loss was almost unchanged from last month at 177,800 jobs while Anaheim and Minneapolis-St. Paul saw annual job losses deepen, bringing them to job cuts around 143,000 and 162,000, respectively. Houston improved, dropping from #8 to #10 on the list, but still had an annual loss of 141,300 jobs.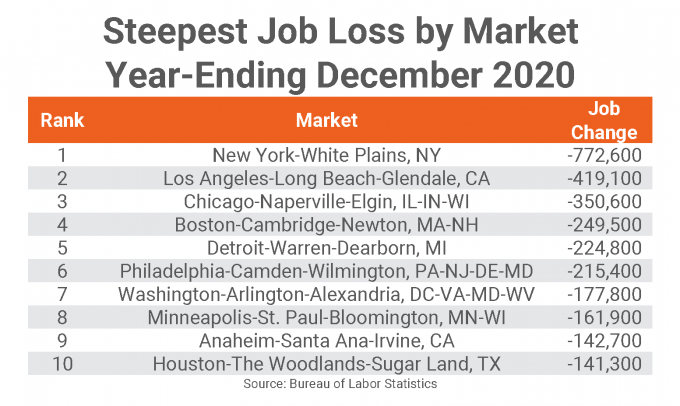 Month-over-month comparisons of labor data from the BLS when it is not seasonally adjusted, even when annualized, can sometimes be misleading. Nonetheless, the 10 markets with the steepest job losses saw their cumulative loss steepen by about 130,000 jobs from November to December as all but three markets saw job loss deepen this month.
Of the 10 hardest hit markets, Houston and Washington, DC are closest to recovering the jobs lost during the steep decline due to the COVID-19 pandemic in March and April. The job base in these markets are 4.2% under February totals, based on seasonally unadjusted data. Most of the markets on this list, however, are 5% to 10% away from full recovery. Los Angeles and New York are still down by nearly 9%, while Detroit – the least recovered major market in the country – still has 9.6% of its job base to regain.
Despite the resurgence of infections and subsequent restrictions, 80 of the core 150 markets had fewer jobs lost in calendar 2020 than in the year-ending November, or eight more than last month. For the most part, the markets that recorded the most deepened losses were in the upper Midwest, Northeast, and on the West Coast. Detroit, Los Angeles, Minneapolis-St. Paul and Portland, OR each lost an additional 20,000 jobs or more compared to November's annual loss totals. In addition to Portland, OR, other markets with additional job losses in December that do not appear on the steepest national loss list above include Denver, San Jose, San Francisco and San Diego.
The list of markets with at least 100,000 jobs lost through December increased to 18, compared to 17 markets with similar losses last month, and 49 markets in April. Additionally, 21 markets lost between 50,000 and 99,999 jobs through December compared to last month's 24 metros. Combined, the jobs lost in the 10 worst markets accounted for 45% of the total losses for the core 150 markets RealPage tracks. The next 10 markets for job losses accounted for another 18% of total job losses.
As with the list of markets with the steepest job losses, the list of steepest percentage change in employment has many returning entries. New York was the only returning major market on the list for steepest job loss as a percentage of total employment for December 2020, according to the BLS. This month, another major market – Detroit – joined the list.
The range or spread of percentage job losses for the 10 worst markets compressed some this month, with a spread of about 200 basis points (bps) from the lowest to highest, compared to about 350 bps last month. The steepest percentage job loss in November of 13.3% (Urban Honolulu) was 100 bps greater than this month's loss leader of 12.3% in Flint, MI.
Flint and Lansing, MI led December's list of steepest percentage job loss followed by Springfield, MA. In addition to Detroit, Kalamazoo, MI made the list of steepest percentage loss to give Michigan four spots this month. Besides Honolulu, Midland/Odessa, TX and Salinas, CA were the only markets outside of the Northeast or Midwest on the list.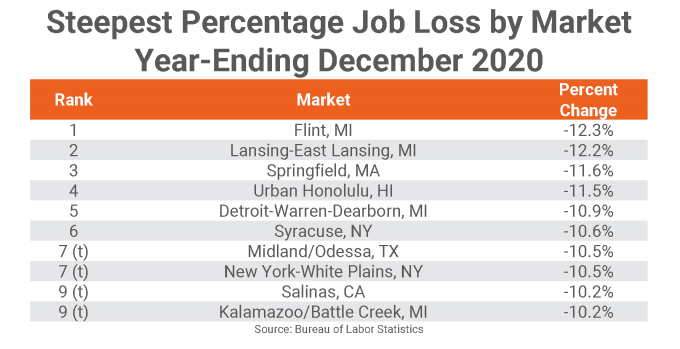 As has been the case throughout the pandemic, markets with the lowest percentage job losses are typically college-focused economies, including Salt Lake City, Fayetteville, AR, College Station, TX and Austin.