Job Growth Strengthens Among Top 10 Metros in January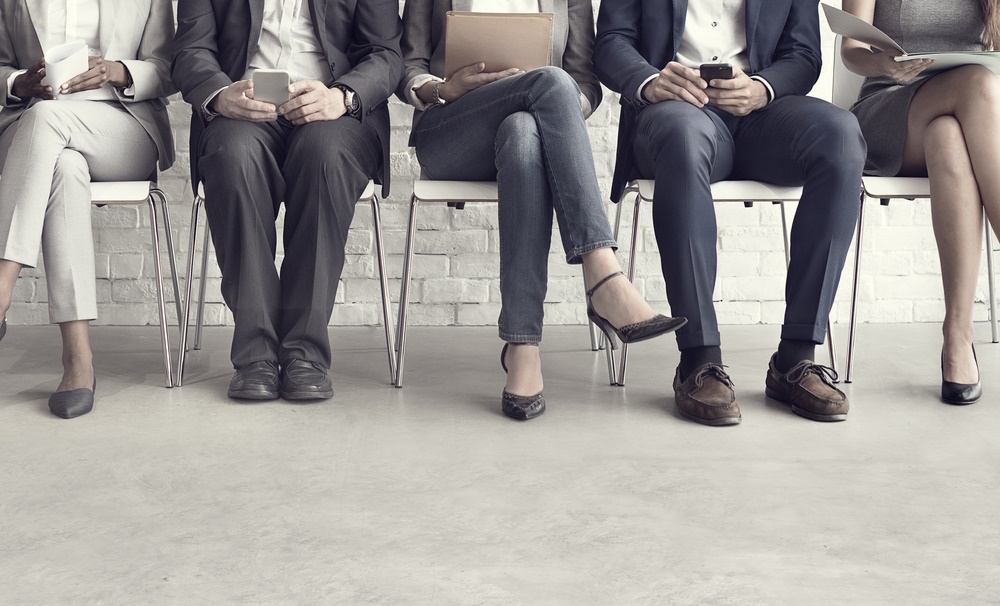 Hiring momentum experienced a slight pullback in January, with U.S. employers adding nearly 2.1 million jobs in the year-ending January 2018. That figure grew the nation's job base 1.4%, according to preliminary data from the Bureau of Labor Statistics (BLS).
Among U.S. metropolitan areas, eight of the top 10 metros from December returned to the list for January, though in somewhat scrambled order. For the year-ending January 2018, New York retained its #1 spot with 91,000 jobs gained – up from 84,200 one month prior – and Los Angeles jumped three spots to #2. That move pushed Dallas to #3, despite the metro posting a job gain total roughly 2,600 greater than its December mark.
Meanwhile, Houston continued to show an impressive rebound, tying Dallas for actual gains. During the 12-month period, the market grew by 64,400 jobs, or 2.2%. That 2.2% job growth is a full 240 basis point improvement from the employment base contraction registered during the year-ending January 2017.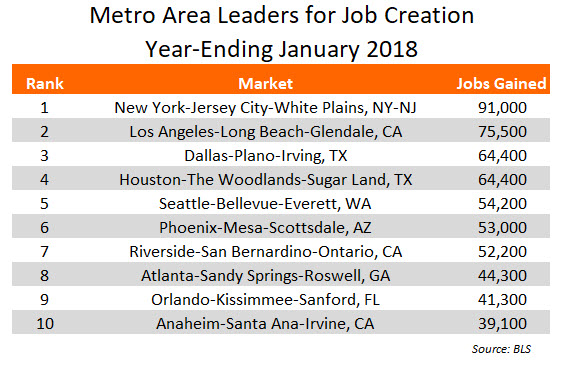 The top 10 job gain markets in January 2018 accounted for 579,400 jobs added – just over one-quarter of the nation's total gains during that period. Taking those same 10 markets and comparing their current gains to one year prior shows how strong performance was for those markets during this reporting period. The 579,400 jobs added were 54,100 greater than the 525,300 those 10 markets accounted for in January 2017.
Meanwhile, on the annual percent-change leaderboard, markets in the West and South regions dominated base growth performances. Odessa entered the list at #1, expanding by an impressive 7.2%, or 5,000 jobs, in the year-ending January 2018. More than 55% of Odessa's net gains were attributable to the Mining/Logging/Construction industry. The surge reflects the market's reenergized oil-dependent economy.
In a distant but still strong second place, Reno returned to the top 10 following a six-month hiatus. The metro grew its workforce 5.0%, or 10,900 positions, during the annual period.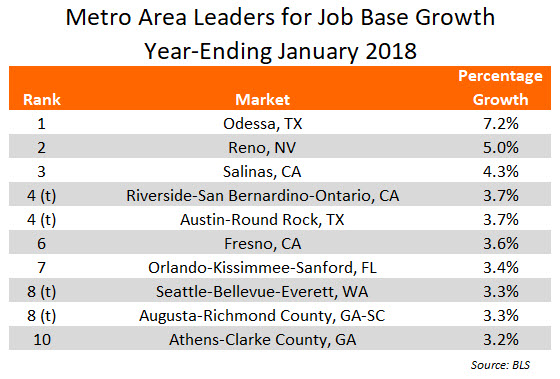 The introduction of Augusta-Richmond County, Austin, Fresno, Odessa, Reno, Salinas and Seattle pushed Deltona-Daytona Beach-Ormond Beach, Las Vegas, Naples-Immokalee-Marco Island, San Antonio, Sarasota/Bradenton, Tacoma and Wilmington from the standings.