Job Growth Slows Across Many Major Markets in September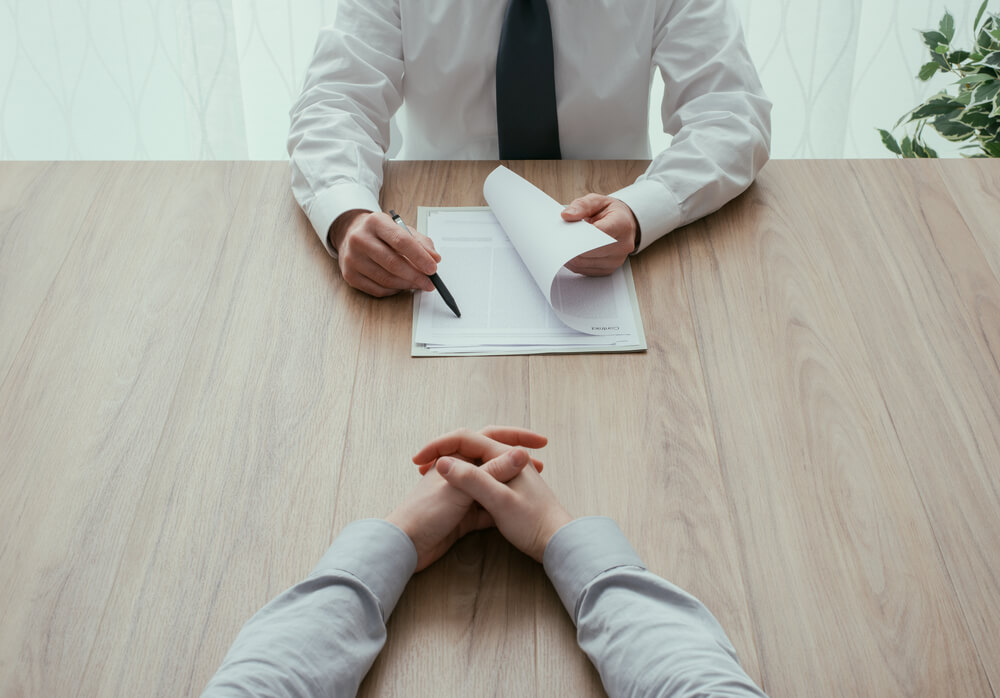 Nationwide hiring levels continued to decelerate in September, with U.S. employers adding just under 1.8 million jobs in the year-ending September 2017. That figure grew the country's job base 1.2%, according to preliminary data from the Bureau of Labor Statistics.
Among U.S. metropolitan areas, New York remained the top job gainer, though the gap between the Big Apple and runners up Atlanta and Dallas drastically narrowed. In the year ending September 2017, New York created 77,900 positions, roughly half the July 2017 and September 2016 annual totals. The drop-off suggests the metro is approaching a growth ceiling, following months of notable expansion.
With a contrasting narrative, Los Angeles reentered at #5. The West Coast hub added more than 50,000 positions in the year-ending September 2017. Subsector Health Care/Social Assistance accounted for 48.2% of the metro's net employment gains for the period.
Houston and several Florida markets – economies disrupted by disrupted by Hurricanes Harvey and Irma – tumbled down the rankings of top job gainers for the 12-month period. Houston, Tampa and Orlando dropped off the top 10 list from #6, #9 and #10 to #24, #28 and #16, respectively. Miami plunged from #29 to tie for #92 with Gainesville. Fort Lauderdale fell from #21 to #36.
Also notable is Washington, DC's five-spot tumble to #10. Hiring fluctuations have been the norm in the nation's capital in recent years.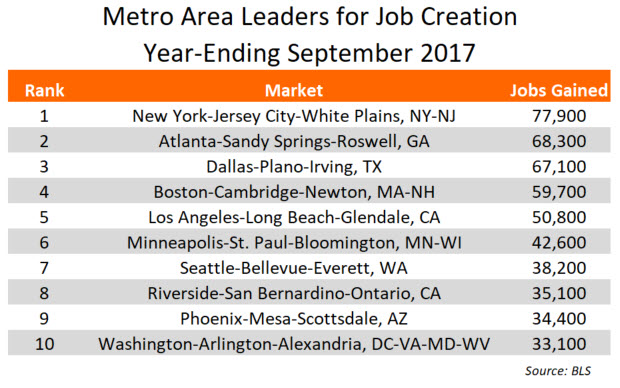 Minneapolis-St. Paul and Seattle each moved up one spot to #6 and #7, respectively, on the annual leaderboard, while Riverside-San Bernardino and Phoenix rejoined the top 10 at #8 and #9.
Together, the total jobs created in the top 10 metros for the 12 months ending in September 2017 were down 19.4% from August 2017's annual total, and down 32.1% from September 2016's 12-month tally. A comparison of the same top 10 metro job-gainers from August to September revealed a 15.8% decline in annual job gains.
On the annual percent-change leaderboard, the effects of Hurricane Irma pushed several Florida staples from the standings and made way for some newcomers. Athens-Clark County secured the #1 position, expanding its workforce 4.2% during the year-ending September 2017, while #2 Boulder trailed with 3.7% growth. In Boulder, the typically higher-paying sector of Professional/Business Services accounted for more than half of the metro's 6,800 new jobs for the 12-month period.
Also introduced to the top 10 were Nashville, Corpus Christi, Durham-Chapel Hill, El Paso and Dallas. The leaderboard's lowered barrier to entry allowed Dallas to slide into the #8 spot with 2.7% growth, a dip from recent performances.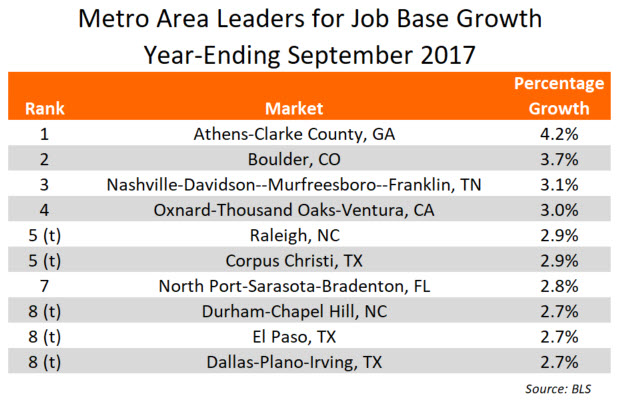 Meanwhile, exiting Florida metros Gainesville, Orlando and Fort Lauderdale were joined by Ann Arbor, Atlanta, Las Vegas and Tacoma.