Job Growth, While Healthy, Slows Across Top Metros in April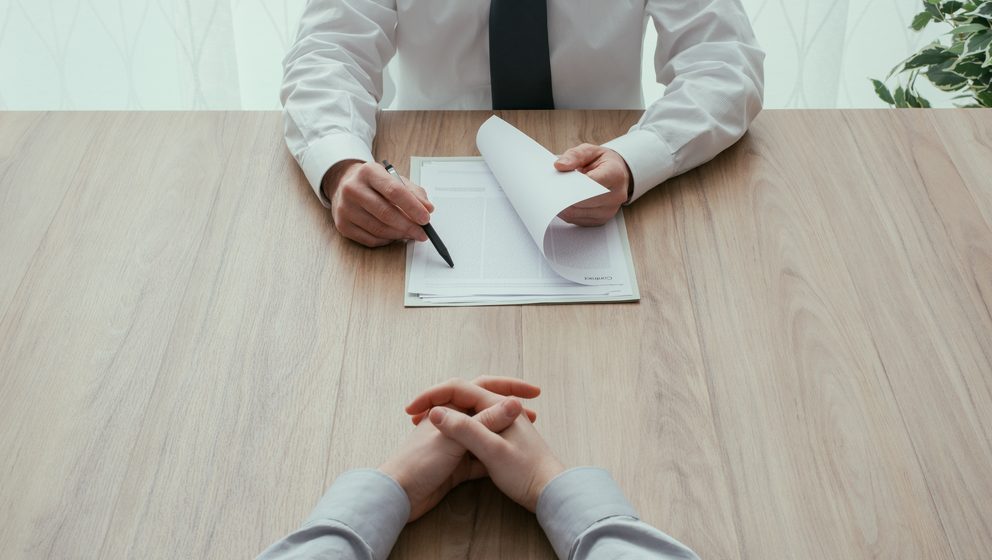 Continuing the slow-growth trend seen over much of the past six years, U.S. employers added nearly 2.1 million jobs in the year-ending April 2017, growing the country's employment base 1.4%, according to preliminary data from the Bureau of Labor Statistics.
By metro, hiring trends showed greater movement. Among U.S. metropolitan areas, Atlanta ranked #1, growing its workforce an impressive 90,500 jobs, or 3.3%, in the year-ending April 2017. Such growth is on par with performances seen in 2014, when the metro's late-cycle recovery kicked in. At least 27,500 of the positions added in the year-ending April 2017 were attributable to Professional/Business Services, a sector that grew roughly 5.7% during the same 12-month period.
Meanwhile, top-spot staples New York and Dallas landed at #2 and #3, respectively. The combined Dallas/Fort Worth area gained 104,600 jobs in the year-ending April 2017. Annual job growth levels in North Texas have remained around 100,000 or higher over much of the past five years.  Such job growth has generated developer interest, as the latest available U.S. Census data shows Dallas/Fort Worth's year-to-date permit volume is up 33.6% year-over-year.
Rounding out the list, the introduction of Orlando and Houston pushed out Washington, DC and Detroit. Houston's annual performance, its best since mid-2015, is notable, given dampened oil prices. A new MPF Research report credits much of Houston's recent growth to an increasingly diverse economy.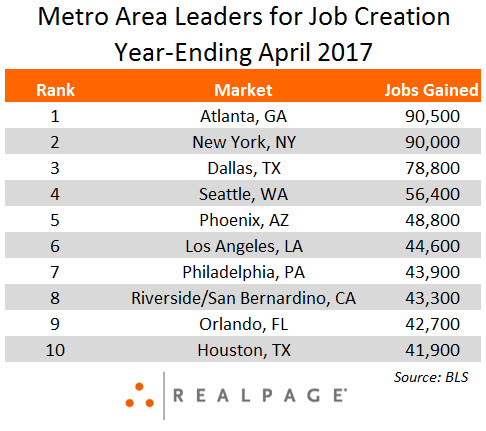 The percent-change leaderboard also saw a shakeup of major players, with Dallas falling to #7 from its runner-up placement in March 2017. The metro expanded by 3.2% in the year-ending April 2017 – a significant drop from the 4.1% registered in the year-ending March 2017.
In April, none of the top 10 recorded annual job base expansion of 4% – breaking from previous months, when multiple metros saw job growth at or above that mark. The standings' entry point of 2.9%, a 40 basis point decline from the year-ending March 2017 threshold, suggests employment momentum in the top 100 markets is healthy, but slowing. Orlando similarly reaped the benefits, rising six spots to secure the lead, despite growth remaining at 3.6% for the second straight month.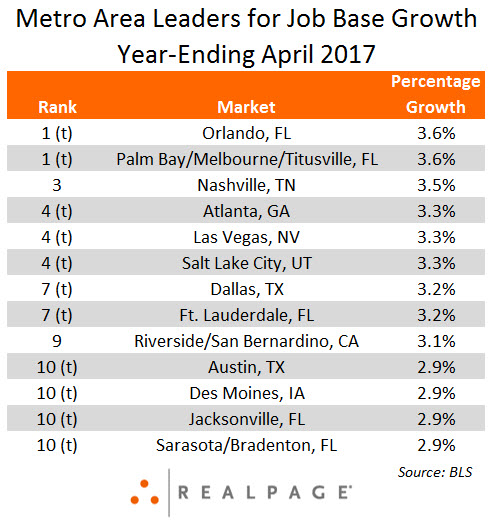 Meanwhile, Las Vegas and Des Moines entered the standings at #4 and #10. Las Vegas' greatest growth occurred in the Mining/Logging/Construction industry. The sector grew by 15.8%, accounting for 8,500 of the metro's 31,000 new jobs.