Job Growth Accelerates in December Data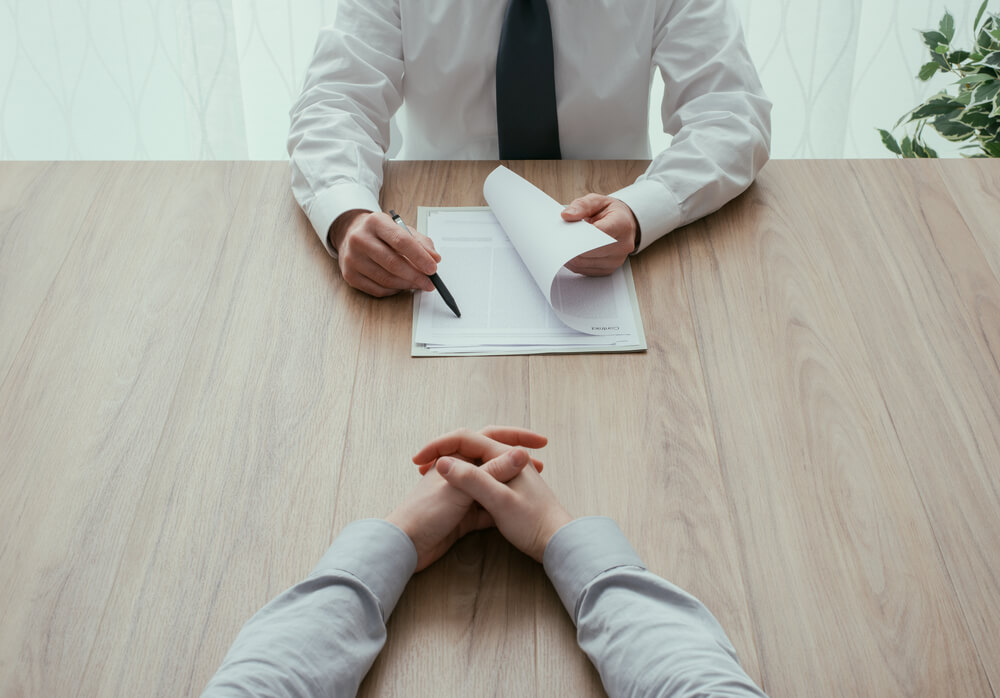 Nationwide hiring picked up in December, with U.S. employers adding around 2.3 million jobs in 2017. That figure grew the country's job base 1.6%, according to preliminary data from the Bureau of Labor Statistics (BLS).
Among U.S. metropolitan areas, nine of the top 10 metros from November returned to the list for December, but several changed places. New York, Dallas, Boston and Atlanta retained the top four spots, although Dallas and Atlanta experienced significant declines in total jobs gained compared to last year – down 41,600 and 34,700 positions, respectively. Those four markets, in addition to #5 Los Angeles, each made Amazon's short list for HQ2. In an analysis of the remaining contenders, RealPage recently ranked Dallas and Atlanta among the three apartment markets best positioned for Amazon.
Meanwhile, Los Angeles' seven-spot leap from #12 was partly attributable to the volatile motion picture and sound recording industry, which gained almost 12,000 jobs in 2017 after averaging slight losses in previous months throughout the year. Houston, which held the #5 spot last month, tumbled to #9, while Riverside/San Bernardino retained its #6 spot. Phoenix fell from #7 to #12 in December, replaced by Minneapolis-St. Paul, which moved into a tie for #7 with Orlando (moving up from #10). Seattle slipped one spot to #10 behind Houston.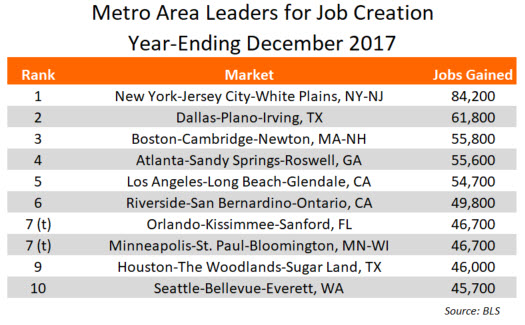 With slower job growth in half of this month's top 10 metros, the total jobs created in the top 10 for the 12 months ending in December were up slightly (0.2%) from November's annual total, and were down (-2.0%) from the 12-month total for December 2016. A comparison of the same top 10 metro job-gainers from November to December revealed a 1.8% increase in annual job gains as the five gainers slightly offset the five decliners.
On the annual percent-change leaderboard, Athens-Clark County held onto the #1 spot for the fourth consecutive month. Expanding by an impressive 5.4%, or 5,100 jobs, the market further distanced itself from runner-up Sarasota/Bradenton, which grew its workforce 3.9%. Coming in at #3, Orlando enjoyed a notable lift from November's #6 position. The Central Florida metro's employment base expanded by 3.8% in 2017. Leisure/Hospitality and Professional/Business Services each accounted for roughly 23% of Orlando's 46,700 new positions.
Meanwhile, with the leaderboard's higher barrier to entry, Riverside/San Bernardino and Wilmington slipped in the annual rankings, despite each recording slightly higher job growth than in the year-ending November 2017. At the same time, Dallas' growth momentum took a hit. The decline in year-over-year gains translated to growth of 2.4% – a deceleration from the year-ending November 2017 (2.9% growth) and the year-ending December 2016 (4.2% growth).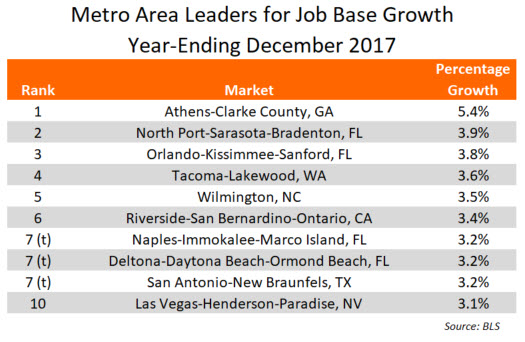 The introduction of Deltona-Daytona Beach-Ormond Beach, Las Vegas, Naples-Immokalee-Marco Island and Tacoma pushed Chattanooga, Corpus Christi, Dallas and Raleigh from the standings.