Monthly Job Gains Continue, Unemployment Keeps Falling in Latest National Numbers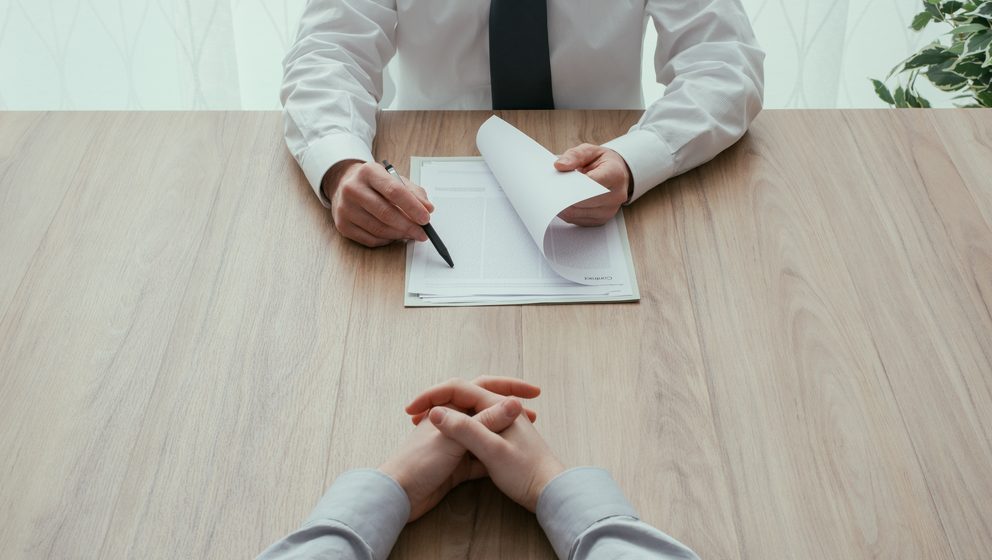 U.S. monthly job gains of 134,000 in September marked 96 consecutive months – eight straight years – of gains, according to the Bureau of Labor Statistics. The unemployment rate fell to 3.7% – its lowest level in nearly 50 years – and the average hourly earnings for all employees rose 2.8% from last September.
Almost 1.9 million jobs have been added in the first nine months of 2018 compared to just over 1.5 million in the same period in 2017. Annual job gains reached 2.54 million in September, about 500,000 jobs more than September 2017's annual total. This annual growth expanded the job base by 1.7%.
The U3, or "headline," unemployment rate dipped to its lowest level since 1969 despite a stubbornly low labor force participation rate and an improving, but weak, employment-population ratio. A survey of business economists by the National Association for Business Economics (NABE) revealed that many believe the unemployment rate could drop further, to about 3.5% to 3.6% by 2019.
Upward revisions to the previous two months' numbers resulted in a net increase of 87,000 jobs over the original estimates. July's job gain figure was revised from 147,000 to 165,000 jobs, and August's gains were revised from 201,000 to 270,000.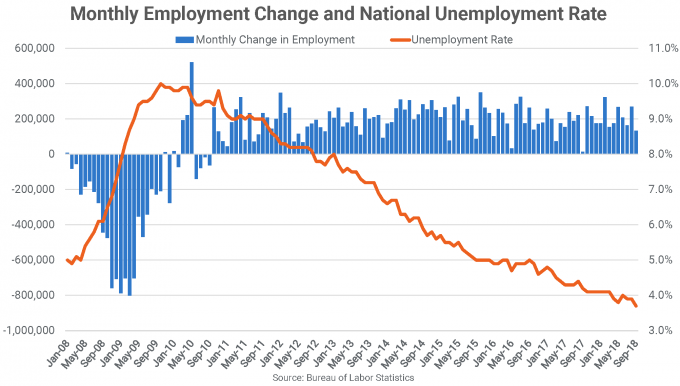 The tightening unemployment rate and steady influx of new jobs is finally pushing average hourly earnings for privately employed workers up. The monthly gain between August and September was 0.3%, but annually, the rate grew 2.8%, or eight cents, to $27.24. Annual wage growth had averaged 2.6% for all of 2016 and 2017, but has averaged 2.7% over the past nine months and 2.9% over the last two months. The civilian labor force participation rate trend has flattened, averaging 62.8% since 2014 and remaining at 62.7% from last month. Meanwhile, the employment-population ratio of 60.4% increased 10 basis points (bps) from the previous month but continues to trend up.
The number of part-time workers for economic reasons – 4.64 million in September – decreased by 263,000 from August, and was down by 508,000 from September 2017. The U6 unemployment rate, which includes these part-timers and marginally attached workers, ticked up to 7.5% in September, up 10 bps from August, but down 80 bps from one year ago.
The number of long-term unemployed workers out of work for 27 or more weeks increased by 52,000 from August, to 1.38 million in September. Still, the September 2018 count showed 349,000 fewer workers than the September 2017 figure, on a seasonally adjusted basis. The number of multiple jobholders increased by 281,000 year-over-year, to 7.67 million, as workers looking for additional income are finding second jobs. Meanwhile, the number of discouraged workers not in the workforce – 383,000 – decreased by 38,000 from one year ago.
Industry Focus
Seasonally adjusted industry job gains for September varied across industry categories, with a few strong performances and some weak-to-moderate losses. Solid gains occurred in the Professional and Business Services (+54,000), Construction (+23,000), Manufacturing (+18,000), and Education and Health Services (+18,000) industries.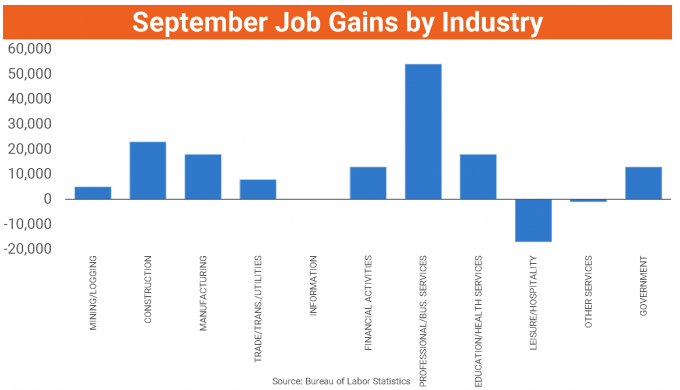 • The Professional and Business Services supersector had another strong month with broad gains across several subsectors of professional and technical services (+18,900), as well as a solid showing in administrative and waste services (+31,900). The bulk of the latter's gains were in the temporary help services subsector (+17,700).
• The Construction industry continues to grow with a net gain of 23,000 jobs in September, as both residential (+6,200) and nonresidential (+9,300) specialty trade contractors contributed. The heavy and civil engineering construction subsector added 7,100 jobs as well.
• The Manufacturing industry returned to its growth track in September, with a net gain of 18,000 jobs. Durable goods accounted for virtually all of this gain (+17,000) with growth in fabricated metal products (+3,700), nonmetallic mineral products (+2,700), and computer and electronic products (+2,100). Nondurable goods' food manufacturing (+2,600) and chemicals (+2,400) subsectors were offset by losses in apparel (-1,800), miscellaneous nondurable goods (-1,300), and textile mills (-800).
• Health care and social assistance continues to be a strong contributor to economic growth, with 29,800 jobs gained in September, offsetting 12,000 jobs lost in the education sector. Ambulatory health care services and hospitals added 10,300 and 12,000 jobs, respectively.
• The Financial Activities industry's net gain of 13,000 jobs in September were in the real estate and rental and leasing (+12,900) subsectors.
• The Government sector gained 13,000 jobs in September, as state government employment added 22,000 employees, while local government lost 8,000.
• E-commerce continues to drive growth in the Trade, Transportation and Utilities supersector (+8,000). Transportation and warehousing added 23,800 jobs in September, primarily in warehousing and storage (+8,400), couriers and messengers (+5,100), and truck transportation (+4,900). Retail trade lost 20,000 jobs spread across several subsectors, while wholesale trade contributed 4,400 jobs to the monthly total.
• Support activities for mining (+6,000) accounted for more than the monthly total of the 5,000 jobs gained in the Mining and Logging industry.
• The Information industry was a net zero in September as losses in telecommunications (-3,000) canceled gains in all other subsectors.
• The Other Services sector lost 1,000 jobs, with gains in the personal and laundry services (+4,200) and repair and maintenance (+1,600) subsectors only partially offsetting losses in membership associations and organizations (-6,900).
• The Leisure and Hospitality sector gave back its gains from last month with a loss of 17,000 jobs in September. Gains in arts, entertainment, and recreation (+6,300) were more than undone by losses in accommodation and food services (-22,900).