Annual Job Gains Top 100K in Three Metros in March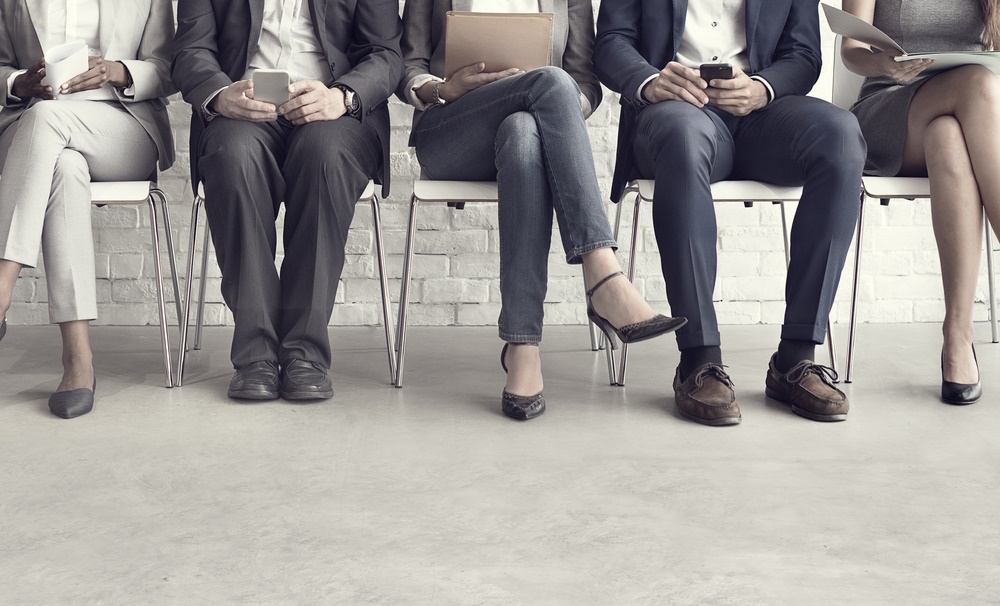 U.S. employers added more than 2.1 million jobs in the year-ending March 2017, growing the country's employment base 1.5%, according to preliminary data from the Bureau of Labor Statistics.
Among U.S. metropolitan areas, leaders for actual gains remained intact from February 2017, with the top three – New York, Atlanta and Dallas – each gaining more than 100,000 jobs, on net. New York led individual metros, adding 113,500 jobs, a 1.4% employment base expansion, in the year-ending March 2017.
Meanwhile, the Dallas metro provided the bulk of new jobs for the combined Dallas/Fort Worth region. Dallas gained 100,300 new jobs, pushing the region's job growth total to nearly 130,000 in the year-ending March 2017. That's a notable increase from the 119,300 positions the region gained in the year-ending February 2017. And developers remain receptive to North Texas' strong job growth. Dallas/Fort Worth led the nation's top 10 metros for multifamily permits in March 2017.
The remainder of the leaderboard saw a slight reshuffling from February. Most notably, Washington, DC dropped three spots, to #9. For the 12-month period, the capital metro registered net losses across multiple industries, including Mining/Logging/Construction, Manufacturing, Information and Financial Activities. Momentum slowed for most other sectors.
Meanwhile, Orlando fell from the standings, and Detroit entered the list at #10.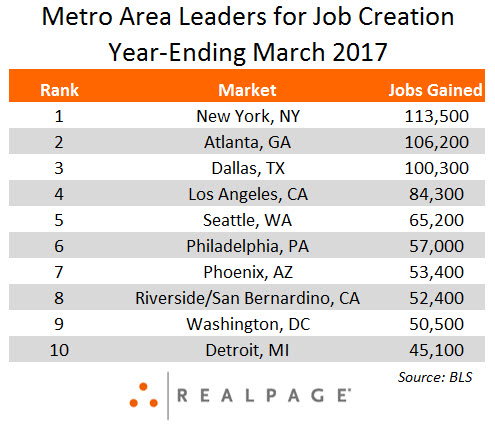 The percent-change leaderboard experienced greater shifts, with Orlando dropping from February's #1 placement, to #7 in March. Still, the metro sustained striking growth, expanding its workforce by 3.6% in the year-ending March 2017. Orlando currently ranks as one of the nation's lowest-risk markets.
Coastal neighbor Palm Bay/Melbourne/Titusville climbed to the top of the leaderboard, registering growth of 4.6%. The Florida market added 9,400 positions.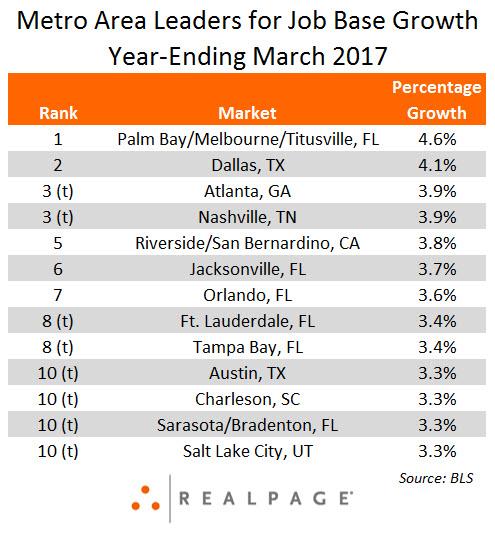 Meanwhile, the bottom half of the top 10 saw the introduction of Ft. Lauderdale, Tampa Bay, Austin, Charleston and Salt Lake City. Those markets pushed El Paso and Reno from the standings, marking the first time since the year-ending October 2016 that Reno has been absent from the percentage growth leaderboard. Reno's employment base expanded 3.2% with nearly 7,000 new jobs in the year-ending March 2017.