Job Gains Slow Sharply in Top Markets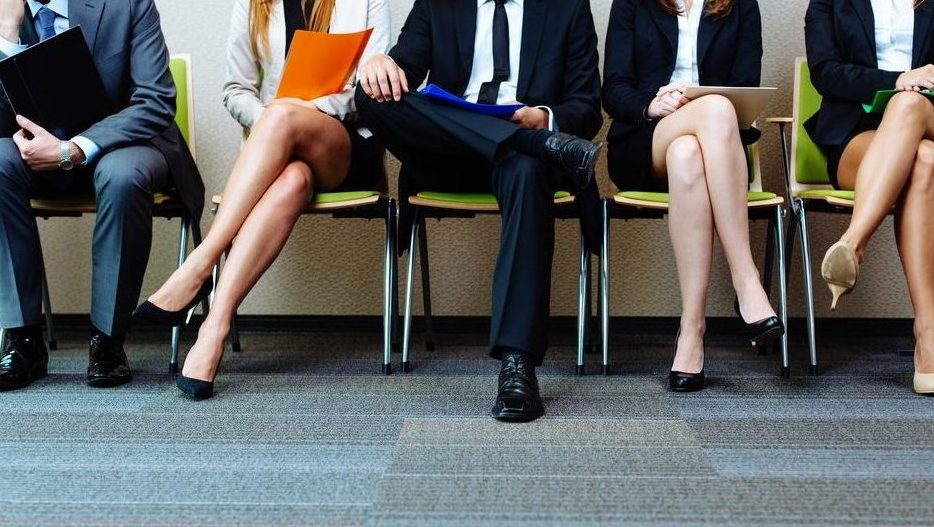 Posted September 20, 2021
Annual employment gains among the nation's top markets slowed significantly in August as the effects of the COVID-19 Delta variant slowed the economic recovery that had been building momentum. Nine of last month's top 10 markets for job gains returned to August's list but seven of those nine had lower annual job gains through August than they did last month. The average decrease in annual job gain was almost 38,000 jobs per market.
New York is still the leading job producer in the country but the market's annual gain through August (366,300 jobs) was 56,500 fewer than annual gains from July, according to the Bureau of Labor Statistics (BLS). Los Angeles returned to the #2 spot with a gain of 275,300 jobs, 32,400 more than in July. Dallas moved up two spots to #3, gaining 152,500 jobs in the year-ending August, but that annual gain dropped 19,300 jobs from last month.
Boston slipped one spot to #4, gaining almost 150,000 jobs for the year, roughly 44,000 jobs fewer than in July. The #5 job gain market in August was Houston, which jumped four spots from last month with an annual gain of 139,400 jobs, 3,000 greater than in July and one of only three markets to add to their annual gain totals from last month. Phoenix gained almost 20,000 fewer jobs than last month but still ranked #6 in the nation with an annual job gain of 134,400 jobs.
Atlanta followed Phoenix at #7, slipping one spot from July's top 10 list with an annual gain of 124,300 jobs, a decrease of more than 41,000 jobs from the previous month. Philadelphia remained at the #8 spot again this month but reported 19,200 fewer jobs in the annual total of 119,700 jobs. Anaheim replaced Washington, DC in this month's top 10 list, coming in at #9 with an annual gain of 119,400 jobs, gaining the same amount as Houston over last month's total (3,000 jobs). Chicago plunged from the #4 spot in July to #10 in August with an annual gain of 118,400 jobs, almost 63,000 jobs fewer than July's total gain.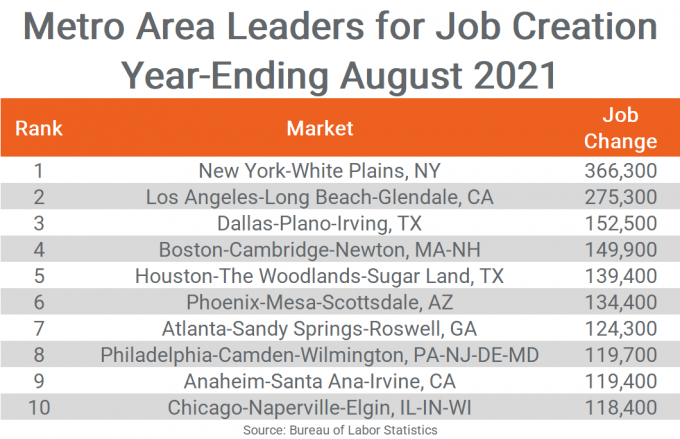 Despite the slowing in annual job gains across the country in August, most major markets continued to make up ground from the steep losses seen at the outset of the pandemic. Dallas is the first top 10 market to regain all of the jobs lost in 2020, with employment levels essentially matching the totals from February 2020. Close behind is Phoenix, which is just 0.7% or 16,200 jobs below pre-pandemic levels. Atlanta is 2.6% away from pre-pandemic norms, about 75,000 jobs left to make up. The remaining top 10 markets are about 4.4% to 5.5% below February 2020 employment levels. New York and Los Angeles continue to be the exceptions as both are about 8% below pre-pandemic levels.
Fifteen of the 150 markets RealPage tracks have regained all of the jobs lost during the pandemic. Along with the early recovery market of Salt Lake City, that list now includes Dallas, Kansas City and Austin. Major markets that are less than 1% from pre-pandemic employment levels include: Jacksonville, Indianapolis, Memphis, Phoenix and Denver. In addition to New York and Los Angeles, markets that still have a long road to full recovery include: Midland/Odessa, Urban Honolulu, New Orleans, Orlando, and Las Vegas. Each are still 8% or more below their February 2020 employment levels.
Comparing annual job gain on a month-over-month basis, only 20 out of the largest 150 markets had higher annual job gains in August than in July as the remaining 130 markets felt the Delta variant effect more keenly. The entertainment and tourism markets of Miami, Anaheim, Orlando, and Las Vegas were among the 20 markets to improve on annual job gains from last month. The biggest declines in annual job gains from July were in the eastern markets of Chicago, New York, Boston, Atlanta, and Washington, DC.
These month-over-month comparisons of not seasonally-adjusted labor data from the BLS can sometimes be misleading, but nonetheless give an idea of overall trends. In addition to the markets listed above, Charlotte, Greensboro/Winston-Salem, and Nassau County-Suffolk County, NY had declines of about 20,000 jobs or more compared to last month.
With the slowing job gains, only 11 markets had annual job gains of 100,000 or more compared to 13 in July and 23 in April. Another 17 markets gained between 50,000 and 99,999 jobs, five less than July. Only Flint, MI had an annual job loss from last August of the top 150 markets.
Annual percentage change in employment continues to be strong but with moderating job gains, the top performers have seen reduced job growth as well. Eight of July's top 10 returned in August with Los Angeles and Fayetteville, AR replacing Providence, RI, and Phoenix on the top job growth markets list. Eight of the top 10 growth markets had slower annual growth than last month and none had double-digit growth.
With more ground to make up, markets like Las Vegas, Urban Honolulu, Los Angeles, and Anaheim continue to show strong growth but from a lower base. Compared to July's list, the range of job growth slipped an average of 84 bps with July's range of 7.7% to 10.2% reduced to 6.9% to 9.7% in August. Urban Honolulu and Los Angeles were the only top 10 growth markets to improve from last month.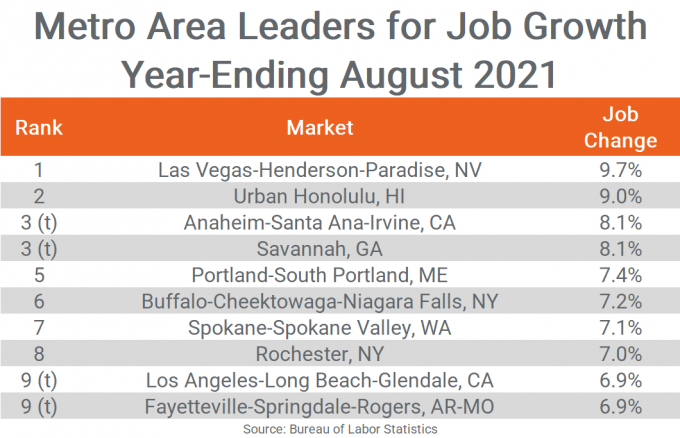 The weakest large markets for percentage growth had growth rates of less than 3% and were mostly in the Midwest (Chicago, Columbus, OH, Milwaukee, St. Louis, Omaha, Toledo, and Cleveland). In addition to the top 10, strong job growth markets include Austin, Phoenix, Orlando, Miami, San Francisco, and West Palm Beach. Forty-four markets had annual job growth rates below 3% compared to just 13 in July.