Job Gains Rebound as Unemployment Rate Remains Low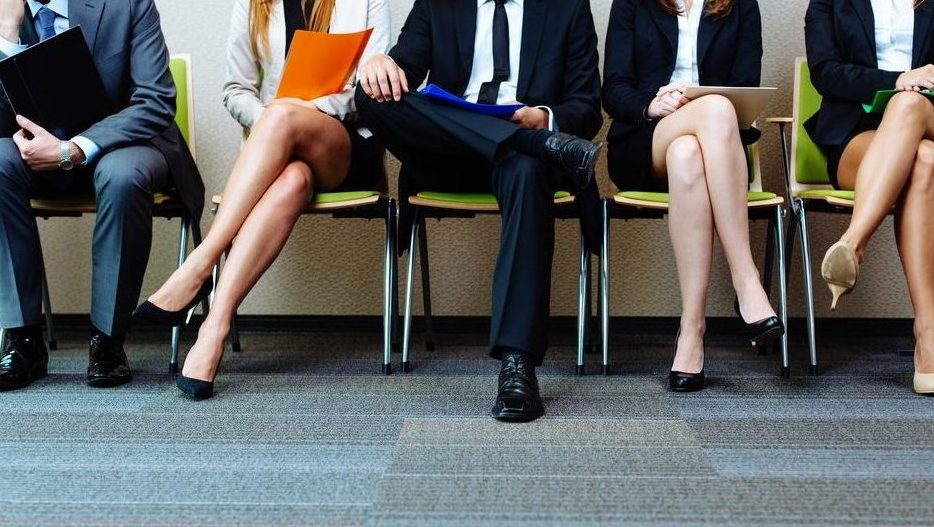 As expected, February's reportedly small number of jobs gained was followed by a sizable rebound in March.
The Bureau of Labor Statistics reported that the U.S. economy added 196,000 jobs in March, sharply higher than February's revised figure of 33,000 jobs. The unemployment rate remained at 3.8%.
The U.S. economy has been adding jobs for 102 consecutive months, and the monthly average in 2019 so far is about 180,000 jobs, more than enough to outpace gains to the civilian labor force. The 12-month average for monthly job gains since March 2018 exceeded 211,000 jobs per month. Unemployment averaged 3.8% over that time.
Average hourly earnings growth in March for all employees came in at 3.2%, the eighth consecutive month in which earnings growth topped 3%. The gain in average earnings between February and March was 0.1%, or $0.04. Annually, wages increased $0.86, to $27.70.
More than 2.5 million jobs were added in the 12 months ending March, compared to about 2.3 million for the same period a year earlier. This annual growth expanded the job base by 1.7%, equal to the average annual growth rate for the preceding 12 months. Revisions to the previous two months' numbers resulted in 14,000 more jobs than initially reported as January's job gain figure was revised from 311,000 to 312,000 jobs, and February gains were revised from 20,000 to 33,000.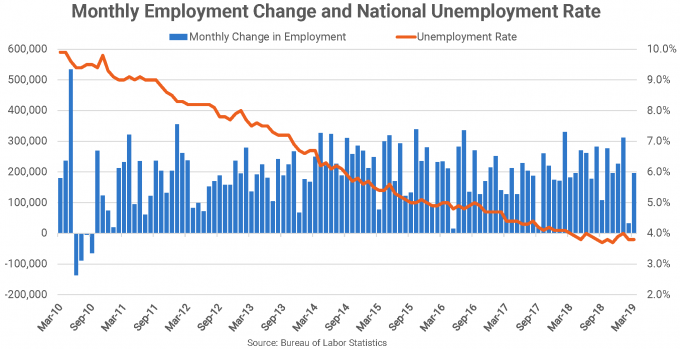 The civilian labor force participation rate dropped 20 basis points (bps) from last month to 63.0%, but was up 10 bps from last year. The employment-population ratio of 60.6% was down 10 bps from last month, but up 20 bps from March 2018. The total number of unemployed (6.2 million) is down more than 275,000 for the year, although the number of people not in the labor force who currently want a job remains stubbornly high at about 5 million.
In a possible sign that some caution is creeping in to the economy, the number of job leavers declined in March to 779,000, a decrease of 81,000 from March 2018. Job leavers are workers who quit or voluntarily leave their previous job and immediately began looking for new employment. The number of part-time workers for economic reasons (4.5 million in March) fell by 470,000 from March 2018, but the number of part-time workers for non-economic reasons essentially held steady at about 21.3 million. The U6 unemployment rate, which includes part-timers for economic reasons and marginally attached workers, remained at 7.3% from last month, but is down from 7.9% in March 2018.
The number of long-term unemployed workers – those out of work for 27 weeks or more – was not significantly different from March 2018 at 1.3 million, but the average duration of unemployment fell from 24.2 weeks to 22.2 weeks. The number of multiple jobholders increased by 276,000 year-over-year at 8.0 million. Meanwhile, the number of discouraged workers not in the workforce (412,000) decreased by 38,000 from one year ago.
Industry Focus
Seasonally adjusted industry job gains for March reflected the overall rebound, with notable exceptions in a few key industries that have previously performed well. Three of the economy's strongest industries experienced healthy gains in March: Education and Health Services (+70,000), Professional and Business Services (+37,000) and Leisure and Hospitality (+33,000). The Manufacturing industry's streak of 19 consecutive months of positive gains ended in March with a small loss of 6,000 jobs.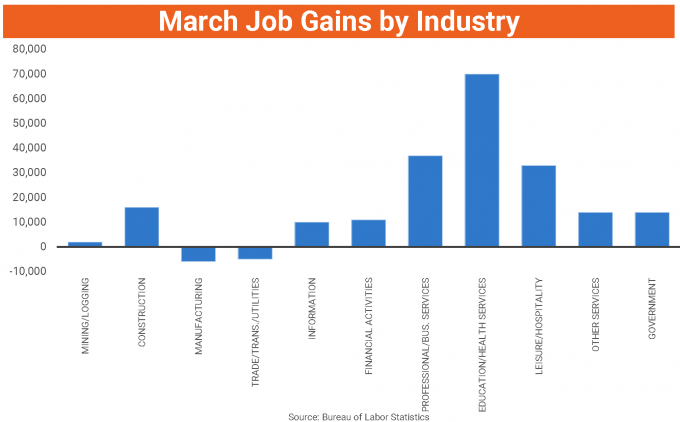 • The Education and Health Services industry's job gains in March were driven by ambulatory health care services (+27,000), hospitals (+13,600) and social assistance (+12,100). Not one industry subsector lost jobs for the month.
• Almost one-third of the Professional and Business Services supersector's gain in March was in the computer systems design subsector (+11,500), while the management and administrative sectors showed little change from February.
• Food services and drinking places (+27,300) accounted for almost 83% of the Leisure and Hospitality industry's monthly gain. The arts, entertainment and recreation sector added 6,300 jobs in March.
• Many construction projects got back on track in March after some bad weather in February as the Construction industry gained 16,000 jobs for the month. The strongest gains were in specialty trade contractors (+13,000), particularly residential specialty trade contractors (+7,500).
• The Government sector (+14,000) rebounded from moderate losses in February with significant gains in local government (+12,000). State governments expanded by 4,000 jobs in March while the Federal government contracted by 2,000.
• The Other Services sector also added 14,000 jobs in March with its largest gains in the repair and maintenance subsector (+8,300), although personal and laundry services (+3,200) and membership associations and organizations (+2,700) provided contributions.
• The Financial Activities industry's net gain of 11,000 jobs came primarily from the insurance carriers subsector (+7,400), with the real estate and rental and leasing sector adding another 4,000 jobs.
• The Information industry (+10,000) saw a particularly strong bounce in the motion picture and sound recording industry (+7,800), while the telecommunications and broadcasting subsectors experienced slight losses.
• The Mining and Logging industry had a modest 2,000 job gain in March, despite a small 200-job loss in support activities for mining.
• The Trade, Transportation and Utilities supersector's 5,000 job loss in March was all trade related as wholesale trade (-5,000) and retail trade (-11,700) more than offset solid gains in the transportation and warehousing sector (+7,300). The small utilities subsector also added 1,300 jobs for the month. Seven of the 12 retail trade subsectors lost jobs in March.
• The Manufacturing industry lost 6,000 jobs in March as durable goods manufacturing employment stalled, especially in transportation equipment (-4,500) and wood products (-3,000). Auto manufacturers cut 6,300 jobs in March even as nondurable goods manufacturing gained 1,000 jobs for the month.