Job Gains Plunge in New York in October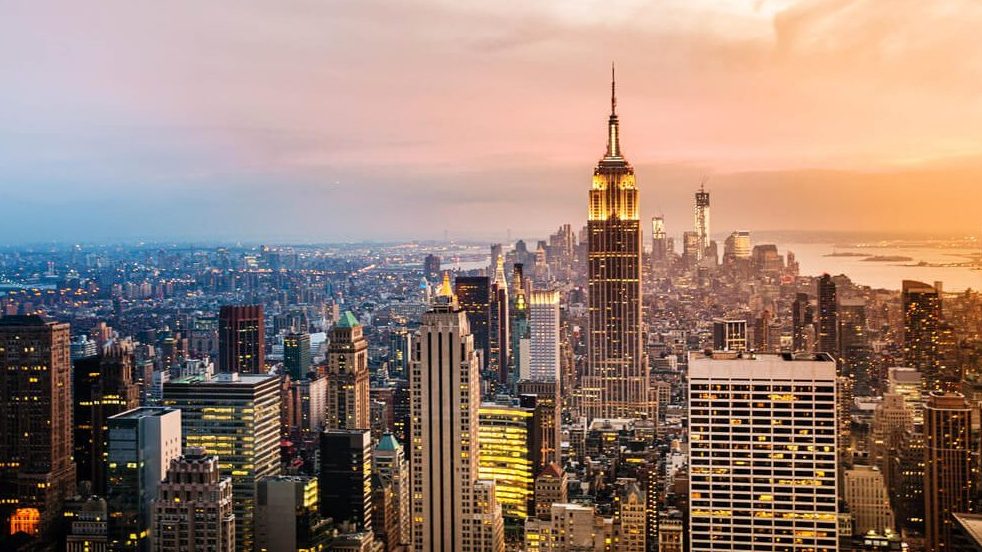 New York employers hired about half as many workers over the past year as they did in the year before, sending the nation's largest market tumbling down the job growth leaderboard in October.
New York added 57,700 jobs in the year-ending October, the fifth most among major U.S. markets. In most recent months, New York was a contender alongside Dallas for the top job gain market nationwide, so this month's sharp downturn in job production is out of the ordinary for the Big Apple.
While still healthy, job gains here are 46,700 positions below the previous year's gains. This was the steepest job growth slowdown seen nationwide.
Driving down job gains in New York were large cuts to the Financial Activities workforce. Other notable sectors losing jobs in the past 12 months include Trade, Transportation and Utilities and Manufacturing. Most employment sectors that added jobs in the past year underperformed their year-earlier job additions.
As New York fell further down the list, Dallas held on as the nation's job growth leader in October, a position it took from New York in September.
According to the Bureau of Labor Statistics, Dallas added 87,300 jobs in the year-ending October, These gains were a notable 21,300 jobs ahead of the gains seen in Dallas just a year ago. Adding the jobs created in Fort Worth, the Dallas-Fort Worth Metroplex added almost 99,000 jobs in the year-ending October.
Three additional markets pulled ahead of New York in October. Houston added 80,400 jobs in the past year, while Los Angeles gained 61,700 positions, a sizable 16,500 more jobs than the preceding 12-month period. Atlanta's job gain – of 59,200 positions – was ahead of the New York figure by 1,200 jobs.
Rounding out the national top 10, Phoenix remained in the #6 spot with 56,500 new jobs and Seattle slipped from #4 last month to #7 this month, adding 54,500 jobs to local payrolls. Washington, DC rejoined the top 10 at #8, adding 52,300 jobs and displacing Chicago. The nation's capital saw the most year-over-year gains out of any market, with current job growth coming in 27,400 positions ahead of job gains from the year-ending October 2018.
Filling the #9 and #10 spots, respectively, were Orlando (44,900 jobs) and San Francisco (41,400 jobs).
Half of the nation's top 10 job growth markets saw more jobs gained in the 12 months ending in October than in the 12-month period ending in September. Upturns were most significant in Washington, DC, Los Angeles, Atlanta, and Phoenix, which created from 5,300 to 13,700 jobs more than what was gained in September. The remainder of the markets saw job growth decrease between 2,400 and 28,400 jobs, with the steepest decreases in New York, Dallas, and Seattle.
Total gains of the top 10 national markets combined decreased from September, down 3.4% or about 21,000 fewer jobs. The 595,900 jobs added in the top 10 markets comprised 28% of the total U.S. employment gain for the year.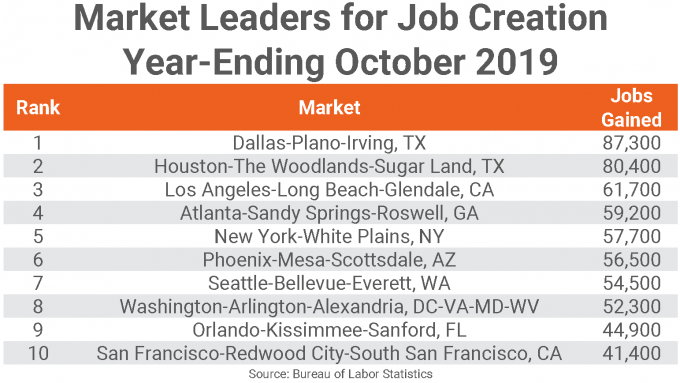 Aside from Chicago being bumped to the #13 spot, seven of the next nine markets in the top 20 spots were returning metros. Salt Lake City was the only metro returning to its previous spot from last month while Boston, Riverside, San Diego, and San Jose remained within one to three spots of their previous rankings. San Antonio jumped to the #12 spot in October from #20 in September, while Tampa and Denver joined the top 20 at #14 and #17, respectively. Philadelphia slipped from #15 to #20.
Outside of the top 10 list, the largest improvements in annual job gains occurred in Nassau County-Suffolk County, NY, San Antonio, St. Louis, Boston, and San Jose, with an average increase of about 18,000 additional jobs gained over the year before.
There were several metros that saw annual job gains slow by at least 10,000 jobs from the previous 12 months. In addition to New York, significant slowing in job gains occurred in Detroit, Chicago, Las Vegas, Minneapolis-St. Paul, Pittsburgh, and Nashville. Seventy-eight of the 150 markets on the list gained fewer jobs for the year-ending October than in the preceding 12 months.
Eighteen of RealPage's top 150 markets lost jobs in the year-ending October 2019, eight more than last month and nine more than last year. Detroit, Pittsburgh and Minneapolis are the only markets that lost jobs in October that are of a significant size.
The major metros of Dallas, Orlando, San Antonio, and San Francisco made the top 10 list of metro areas for job growth as a percentage of total employment for October 2019. Other familiar metros in the top growth list are Reno, NV, Wilmington, NC, Myrtle Beach, SC, Cape Coral-Fort Myers, FL, and Fayetteville, AR. Provo, UT rejoined the top job growth leaders list this month as well.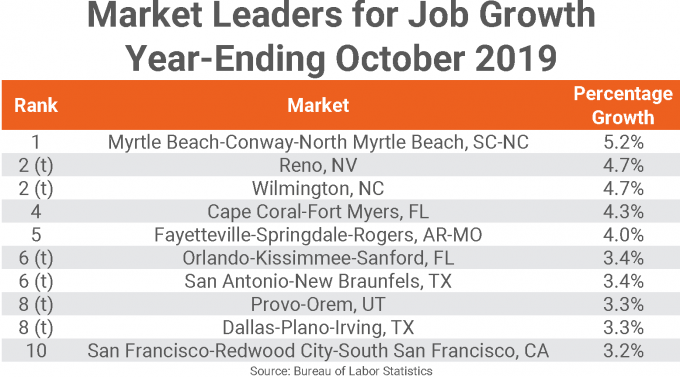 Looking at those markets with the greatest change in growth rates from one year ago, a handful saw improvement of at least 300 basis points (bps), including Wilmington, NC, Champaign-Urbana, IL, and Lexington-Fayette, KY. Metros with declining growth rates include: Midland/Odessa, TX (-1,060 bps), Lakeland-Winter Haven, FL (-450 bps), Flint, MI (-370 bps), and Charleston-North Charleston, SC (-340 bps).