Jacksonville Apartment Market's Strength Flies Under the Radar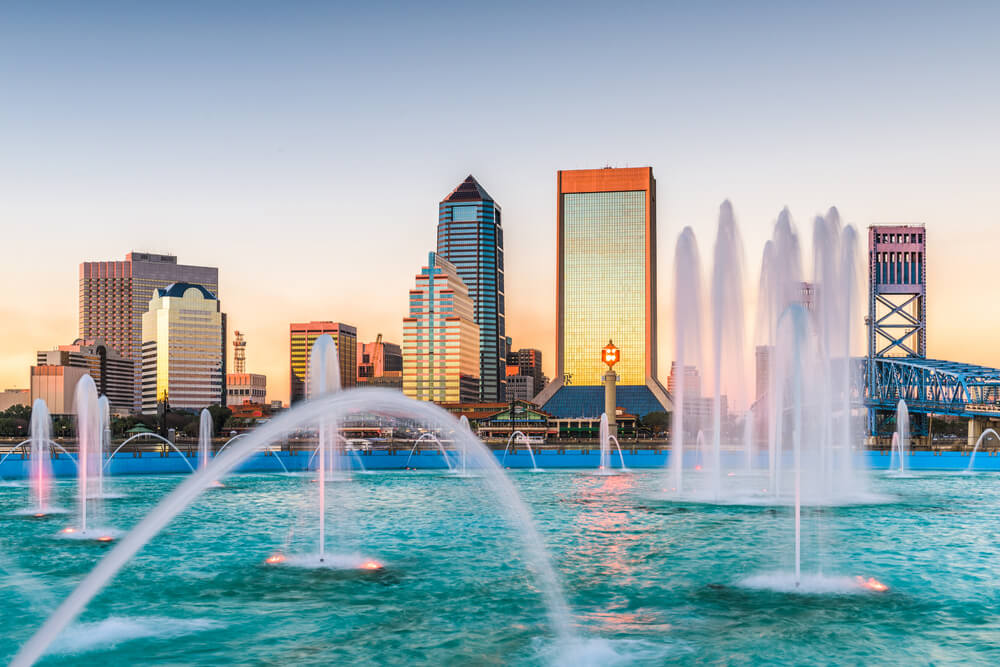 The Jacksonville apartment market stealthily made its way to the to the top echelon of major-market performance metrics during the second half of 2017, ranking in the top 12 since July and in the top five the past four months.
The North Florida oceanfront metro recorded 5.3% annual effective rent growth in December 2017, good for fifth place among major markets, according to monthly data from RealPage Analytics.
Jacksonville has been a volatile market over the past four years. A late bloomer in the immediate aftermath of the Great Recession, the metro's apartment market didn't have its first big climb in the decade until late 2014, into mid-2015, peaking at 6.4% in September 2015. Year-over-year job gains did not start averaging more than 10,000 per month until mid-2013, and construction of new supply didn't start in earnest until the following year.
Jacksonville occupancy rates have increased year over year, outperforming the nation and several other major metros.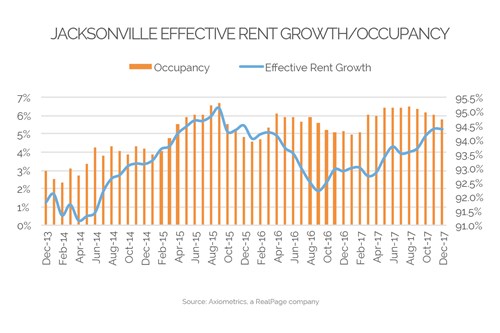 One of the last to rise, Jacksonville was also one of the first to fall, foreshadowing national apartment market moderation by descending rapidly to 1.9% in September 2016. The latest acceleration really began in April 2017.
One factor in Jacksonville's favor is relatively steady job growth over the past year. An average of 19,000 annual job growth over the past 13 months helped create demand for apartments. Though the metro experiences seasonal fluctuations, November's 2.8% job growth was 10 basis points (bps) higher than November 2016's 2.7%. Many markets have seen significant drops in job growth over the past year and more.
The metro has a diversified economy, with distribution, information services, and manufacturing among the strongest employment sectors. Trade, Transportation, and Utilities recorded the biggest job growth in November (+6,0%), followed by Other Services (+5.4%) and Construction (+4.9%). Jacksonville's port is a hub for automobile delivery.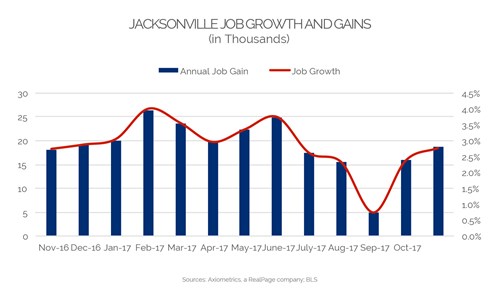 This steady job growth has combined with moderate new-supply deliveries to help keep rent growth far higher than the national average. Deliveries in 2015 surpassed those in 2016, and while the construction volume increased in 2017, the primary push didn't occur until the second half of the year.
Meanwhile, Jacksonville's population continues to grow. Estimations from the U.S. Census Bureau have Jacksonville's population totaling 913,010 in 2017, some 3.7% higher than 2016's estimated 880,619. The city's population has grown 11.1% since the 2010 Census and 24.1% this century.
If job growth continues at its current pace and new residents keep on moving in, the long-term forecast for Florida's fourth largest metro is positive.