Indianapolis Maintains Apartment Performance, Despite Stream of Supply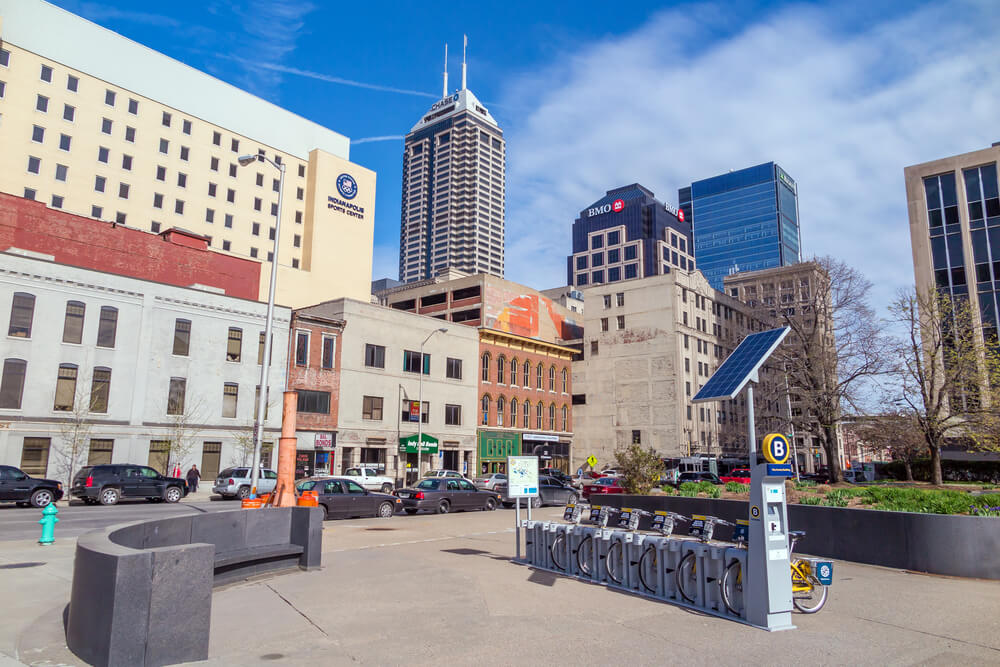 The Indianapolis apartment market has maintained its slow-and-steady performance trajectory, as job growth-fueled demand has prevented the metro from suffering from supply-induced slippage.
Effective rent growth of 3.1% in 4th quarter 2017 was among the largest increases in the metro over the past five years. Only in 3rd quarter 2016 did the market register a higher rent growth rate (3.5%).
One reason for Indy's consistent performance is the fact that overall demand has largely kept pace with or exceeded new supply. A total of 2,305 units completed in 2017, continuing a four-year streak of annual completion levels around 2,000 units to 4,5000 units. Some 2,894 units were absorbed in 2017, just 55 more than the number completed. Though the differences were not as narrow in previous years, relative equilibrium has been maintained.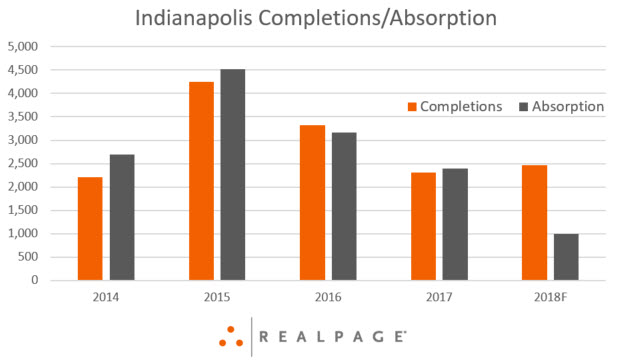 Fueling demand has been steady job growth. Some 18,800 jobs were added in the Indianapolis metro in 2017, compared to 19,200 in 2016 – a difference of just 400. The 2017 job-growth rate of 1.8% was the same as 2016's.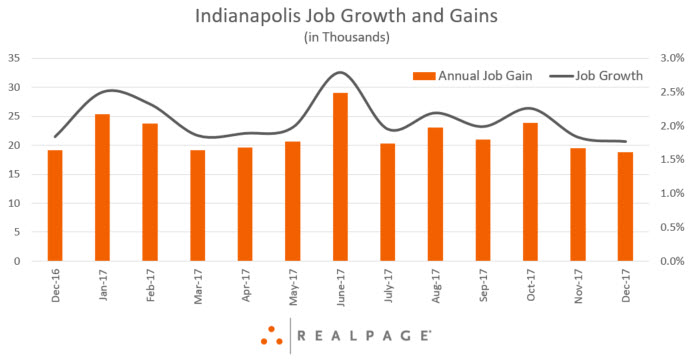 The biggest job growth has come in the Financial Activities sector, which added 4,400 new jobs last year, a 6.6% sector increase. The Trade/Transportation/Utilities, Professional/Business Services, Education/Health Services and Government sectors offer the most jobs in the area.
Those numbers could get a significant boost if Amazon decides to locate its HQ2 campus in Indianapolis, one of the 20 finalists on the company's list. However, a recent RealPage report found that Indianapolis' apartment market would struggle to absorb a sudden influx of 50,000 new jobs, were Amazon to come to the metro. That would result in significant pricing increases.
The story of Indianapolis' apartment market, at least in terms of supply, is the story of two submarkets: Downtown Indianapolis and Carmel/Hamilton County, a suburban area north of Indianapolis. Together, they have accounted for 72.5% of the new apartment construction in the metro, with Carmel/Hamilton County alone accounting for more than half.
Carmel/Hamilton County apartment development decelerated in 2017, and the outlook for 2018 shows further slowing of completions. After peaking in 2015 and 2016 with deliveries of 1,872 and 1,967 units, respectively, completions dropped to 1,286 in 2017, with 566 expected to open this year.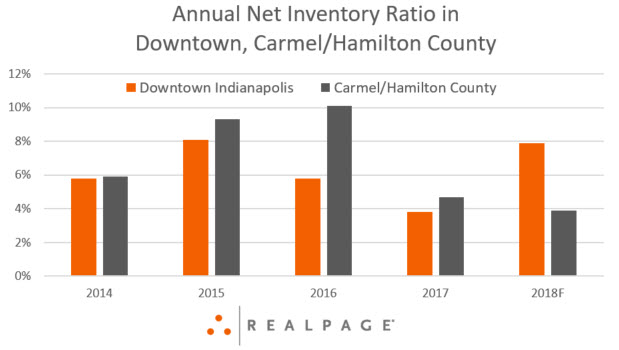 That decrease has boosted rent change figures in the submarket. The 2.2% annual growth in 2017 was surpassed over the past four years only by the 2.4% in 1st quarter 2017. Meanwhile, Downtown Indianapolis supply moderated in 2017 to 429 units, but a rise to 912 completions is on the horizon for 2018.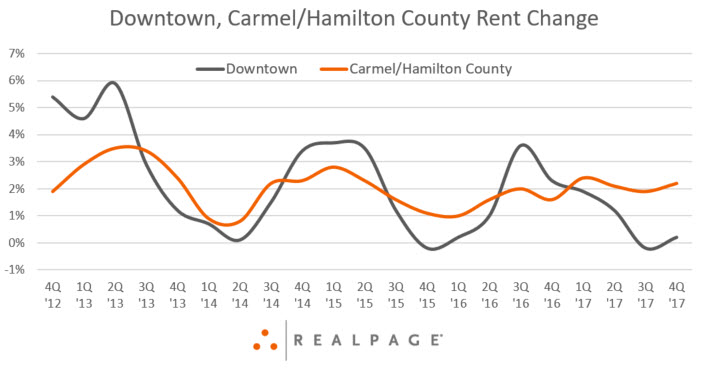 Rent change in the downtown submarket has been quite volatile in recent years as supply ebbed and flowed. It was toward the low end of the scale in late 2017, with 0.2% annual growth in 4th quarter, up from -0.2% in 3rd quarter. Downtown also sported the highest average rent in the metro – $1,276 at the end of 2017 – but a low occupancy rate of 91.8%.