The Nation's Fastest-Growing Renter Cohort: Independent Seniors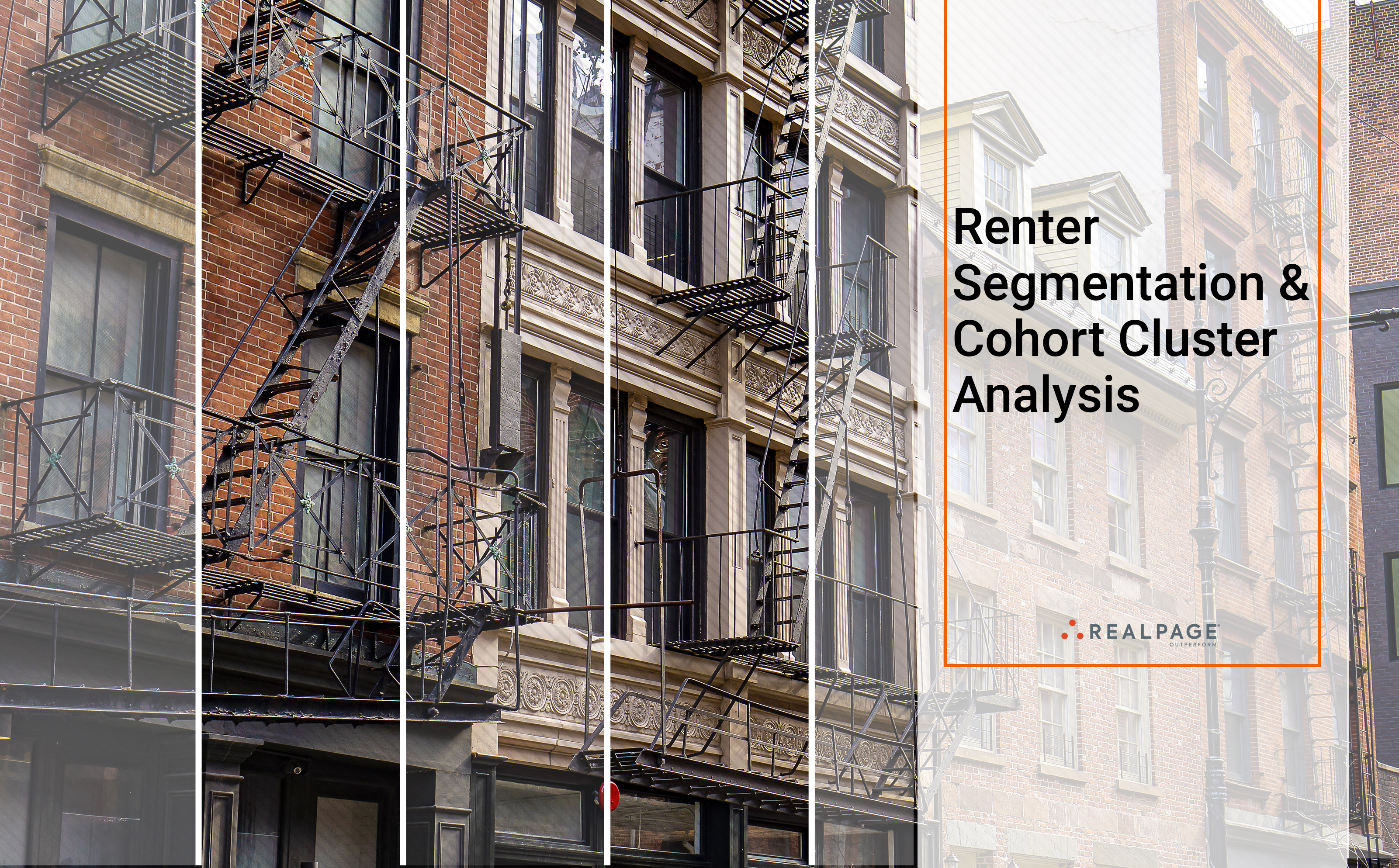 Independent Seniors is the nation's fourth-largest renter cohort, making up about 14% of apartment renter households in the U.S.
RealPage performed a massive study of more than 11 million individual apartment leases to create an industry-leading cluster analysis of U.S. apartment renters. Those 11+ million leases were analyzed by our team of data scientists who crunched the numbers and identified the most powerful and explanatory variables. Then, with their help, RealPage's team of data and market analysts combined that intel into seven individual renter cohorts based on a suite of demographic variables, including renter income, age, marital status, kids, pets, cars and so forth. Apartment product selection criteria were also included, such as property age, class, location, number of occupants, lease term, effective rent, rent-to-income ratio, length of stay and propensity to renew.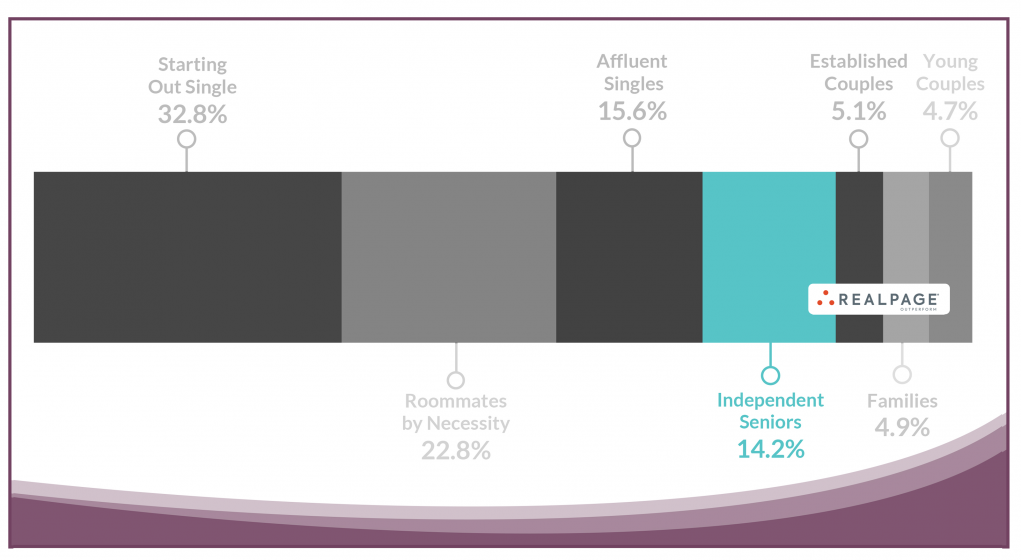 Independent Seniors makes up a similar share of the U.S. renter base as our last group of renters (Affluent Singles) but is in a very different phase of life. The Independent Seniors cohort comprises 14.2% of the U.S. renter population. The median age of 56.5 years old is a couple decades older than in any other renter segment.
This is actually the nation's fastest-growing renter cohort, partly because Baby Boomers have aged into this segment but also because of the rising divorce rate among those in their 50s and 60s. Using data from the Census Bureau, below is an illustration of the country's age cohorts. The first few bars of the purple section – the Baby Boomers – as well as the oldest people in the Gen X category shown in gray  comprise the Independent Seniors renter group. This cohort will grow faster than any other group over the next few years.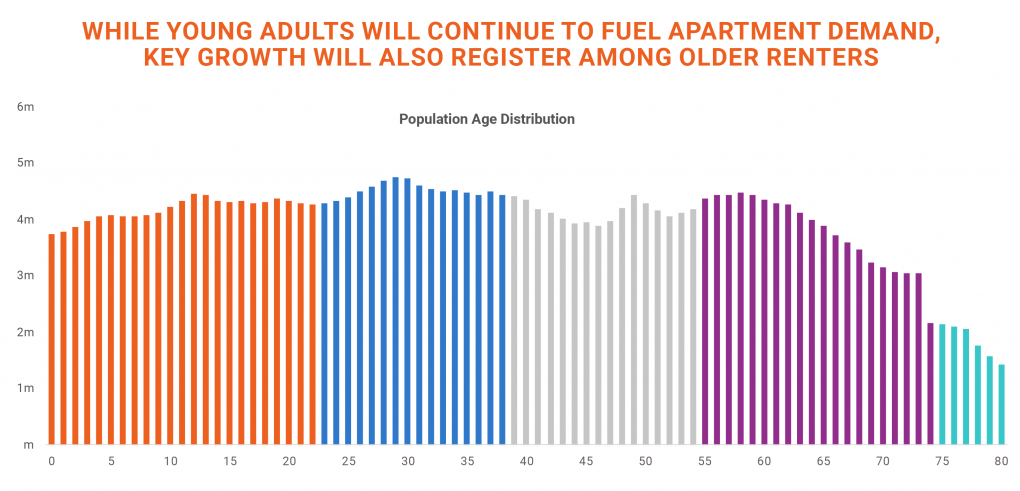 Independent Seniors earn the nation's second-lowest median income at about $48,000 per year, although that figure is lowered by the fact that some within the group are living on retirement savings. In turn, their rents also tend to run lower than typical at $1,074 per month. As such, it stands to reason that this group of renters also elects to rent from Class B or potentially even Class C properties that are older and often garden-style assets located in the suburbs. Still, with the wide variety of incomes and lifestyles in this renter cohort, don't be surprised to find Independent Seniors opting for urban product.
This group of renters is highly likely to live alone and move around less often than the other renter groups. With an average new lease term of 13.3 months, no other group tends to rent on lease terms longer than this. There's also a high propensity to renew expiring leases.
Since this group of renters is older, they will tend to have more household possessions that they've accumulated over the years, which means that moving will be more costly and less attractive for these folks. Another reason for the longer lease terms could be that Independent Seniors are more settled in their careers or communities and see less reason to move around.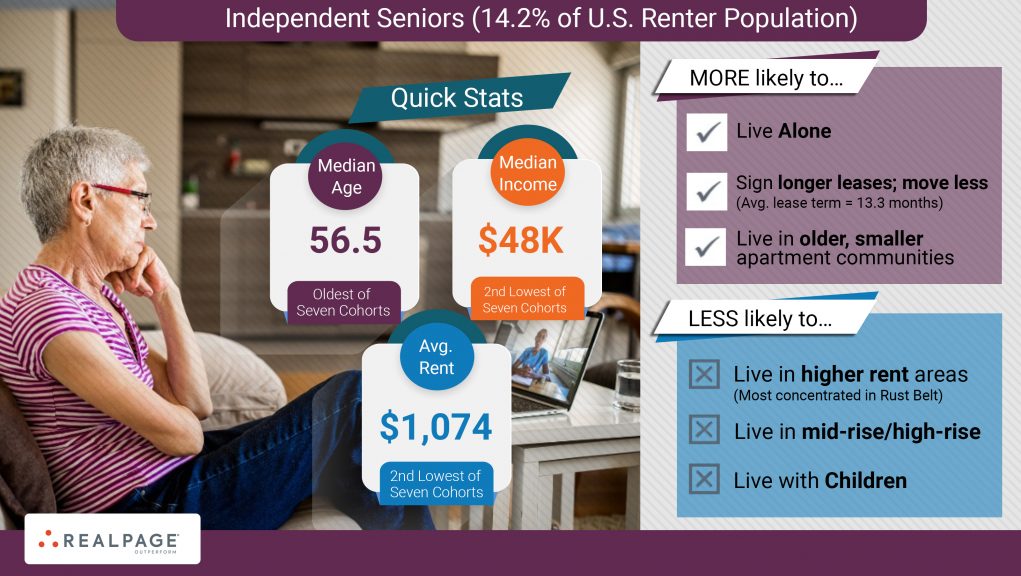 Looking at this renter cohort by geographical distribution, where are the largest clusters located?
Perhaps unsurprisingly, the Independent Seniors cohort is extremely rare in the Bay Area and Los Angeles, but this is also true among many of the technology-driven economies such as Seattle, Denver, and Austin. These cities are often quoted as having the most inward migration of younger professionals in those fields, so it's interesting to see the data support such a claim.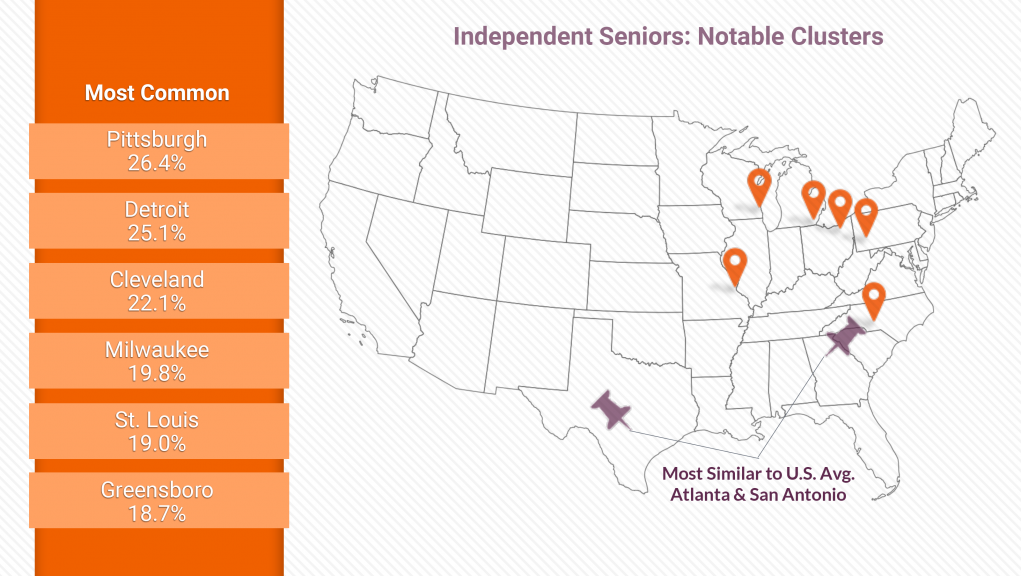 On the inverse, the Rust Belt cities see a pretty high share of renters that qualify as Independent Seniors. In fact, the renter bases in Pittsburgh, Detroit, Cleveland and Milwaukee house roughly one-in-five of renters belonging to this particular cohort.
It's worth noting that Rust Belt metros are more likely to skew towards an older population than many other areas of the country, which would influence the larger concentrations of the Independent Seniors cohort. Also notice that many of these cities experience cold, snowy winter seasons, which could make aging-in-place in a single-family home setting less attractive for many folks who have grown tired of shoveling snow.
Finally, two Sun Belt markets most closely mirror the overall U.S. composition when it comes to Independent Seniors. Those cities are Atlanta and San Antonio.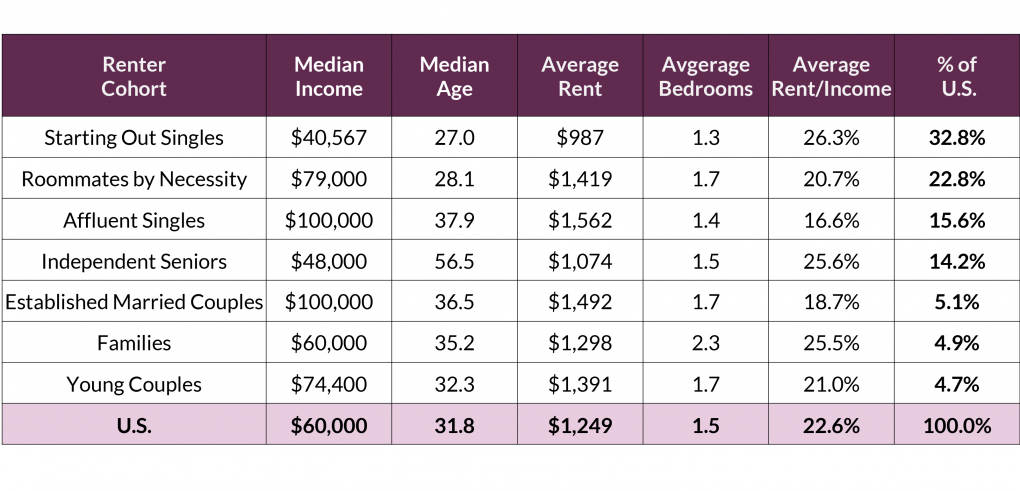 Learn more about renter segmentation by following along with our weekly renter cohort series, where we discuss each individual category of renter in the U.S. apartment market, pinpointing key trends and providing insights into business decisions, now and in the year to come.