Houston Regains Employment Momentum in July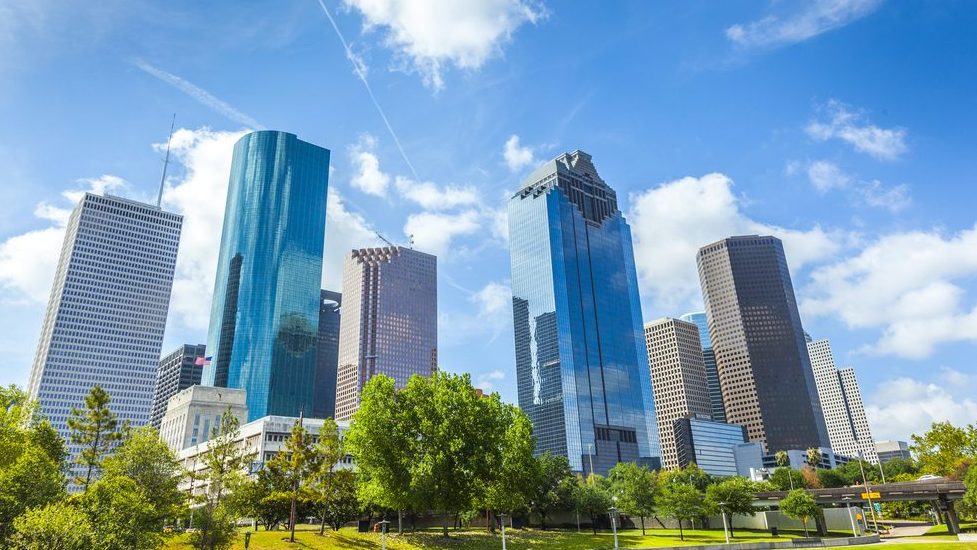 Houston returned to the top three job gain markets in July after being knocked out a month earlier by a surging Chicago.
The Houston-The Woodlands-Sugar Land metro scored an impressive annual total of 93,600 jobs gained for the 12-months ending in July. Chicago slipped to #4 after rising in the rankings with a strong jobs number in June.
New York and Dallas retained their places at #1 and #2 in July, according to the Bureau of Labor Statistics' employment data. Almost all of the remaining markets were in the top 10 list last month.
Los Angeles and Seattle moved ahead of Phoenix to the #5 and #6 spots, dropping Phoenix to #7. Atlanta and Orlando returned in their spots at #8 and #9. Washington, DC leapfrogged from #16 in June to supplant San Francisco at #10.
All but two of the top 10 had more jobs gained in the 12 months ending in July than in the 12-month period ending in June, with Washington, DC and Houston seeing the sharpest increases of 17,100 and 10,700 each, respectively. The remainder of the positive markets increased by between 400 and 8,200 jobs, while Chicago and Phoenix gained about 18,100 and 7,900 fewer jobs on an annual basis than last month, respectively.
Compared to the 12-month period ending in July 2018, only three markets had annual job gains less than the current annual pace, with Phoenix, Atlanta and New York slowing by about 5,400 jobs. Dallas, Seattle and Houston gained an average of about 29,000 more jobs in the year-ending July 2019 than in the preceding 12 months, while the remainder of the top 10 averaged about 5,000 to 10,000 more jobs than last year.
In terms of overall gains, the total gains of the top 10 markets combined increased from June, up 1.5%, or about 10,500 more jobs added. The 716,100 jobs added in the top 10 markets comprised 32% of the total U.S. employment gain for the year.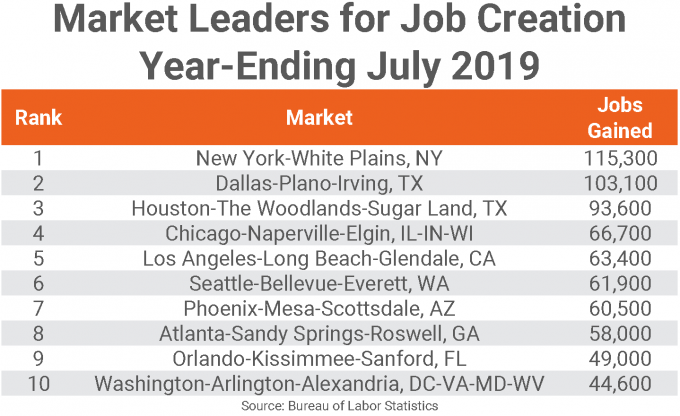 Aside from San Francisco being bumped to the #11 spot, seven of the next nine in the top 20 spots were returning metros. Philadelphia, Boston and Riverside/San Bernardino remained close to their rankings from last month, but two – Charlotte and Tampa – moved down four spots, while two others – San Jose and San Diego – moved down two spots. Moving into the top 20 in July were Salt Lake City and Miami, both of which had fallen out of the top 20 list last month.
Outside of the top 10 list, the largest improvements in annual job gains occurred in St. Louis, Miami and Cincinnati, with an average increase of about 14,200 additional jobs gained than the year before.
Sixty-five of RealPage's top 150 markets gained fewer jobs for the year-ending in July than the preceding 12 months. Significant slowing in job gains occurred in Detroit, Minneapolis/St. Paul, Denver, Midland/Odessa, Riverside and Austin.
However, only seven of RealPage's top 150 markets lost jobs in the year-ending July 2019, one less than last month and only one more than last year. None of the markets that lost jobs in July logged sizable losses.
The major markets of Dallas, Orlando and Seattle made the top 10 list of metro areas for job growth as a percentage of total employment for July 2019. Other familiar markets in the top growth list are Reno, NV, Boise City, ID, and the Florida markets of Port St. Lucie, Naples and Cape Coral-Fort Myers. Provo, UT and Phoenix dropped from this month's list as Fresno, CA and Salinas, CA replaced them.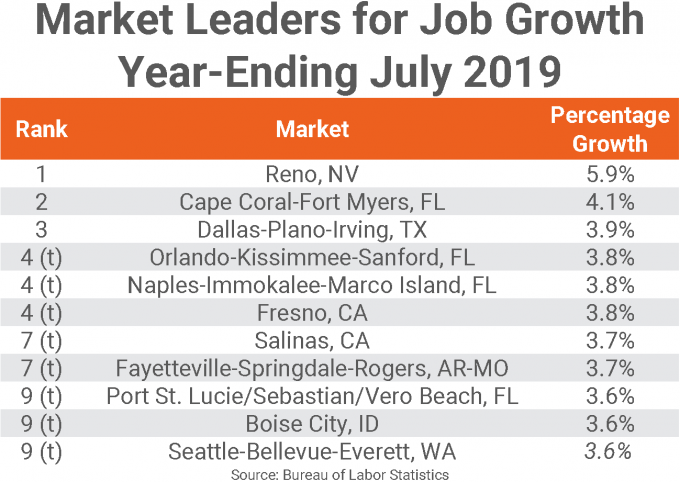 Comparing current annual job growth rates with those from one year ago, Lexington, KY, Springfield, MA, Jackson, MS, and Santa Maria-Santa Barbara, CA more than doubled their growth rates with improvements of 250 to 380 basis points (bps). Markets with declining growth rates include: Midland/Odessa, TX (-1,130 bps), Pensacola, FL (-230 bps), College Station, TX (-220 bps), Shreveport, LA (-200 bps), Columbus, GA (-200 bps), and Lincoln, NE (-200 bps).