Houston Reaps Second Quarter of Solid Demand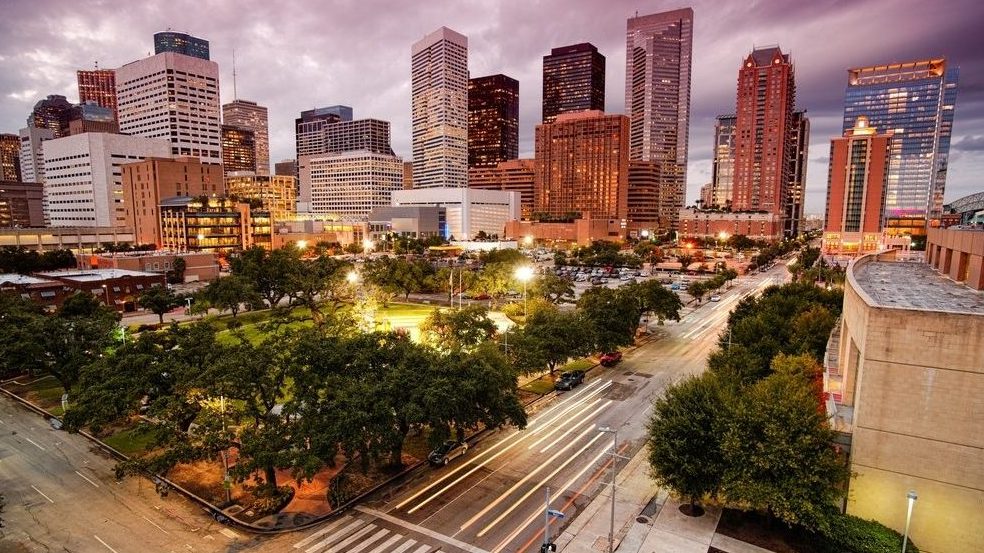 For the second consecutive quarter, Houston's apartment demand volume was significant, helping the market regain a bit of the momentum lost in the wake of Hurricane Harvey.
Houston absorbed roughly 7,020 units in 3rd quarter, marking the second quarter in a row of nation-leading demand topping 7,000 units. Only New York and Dallas absorbed more apartments in 3rd quarter. However, these two quarters of solid demand in Houston followed five quarters that netted essentially no absorption, as new renters just replaced hurricane-affected residents who had been temporary renters. The last two quarters of high demand in Houston resulted in strengthening, though still below average, annual absorption of about 8,700 units. In turn, fundamentals are still soft in Houston.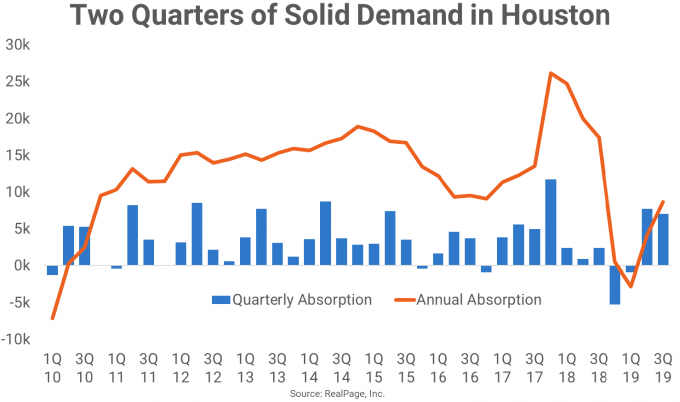 Four of Houston's 35 submarkets accounted for about one-third of the market's total absorption volume in 3rd quarter. The Hobby Airport submarket absorbed more than 800 units between June and September, followed by performances in Downtown/Montrose/River Oaks (572 units), Bear Creek (455 units) and Braeswood Place/Astrodome/South Union (405 units). The remaining demand was relatively spread out across the market, with only a handful of neighborhoods recording net move-outs: Sharpstown/Fondren Southwest, Northwest Houston, Pasadena/Southeast Houston, Northeast Houston and Spring Branch.
Two quarters of strong demand helped Houston's occupancy rate get back above the 94% mark for the first time in four years. In 3rd quarter 2019, occupancy in Houston stood at 94.3%. However, that rate stood as the lowest among the nation's 50 largest markets. Occupancy averaged 96.3% in the U.S. overall.
With low occupancy, rent growth was also weak in Houston. The market managed an annual increase of just 0.8%, again the weakest nationally.
Occupancy across all asset classes strengthened in the past two quarters and, unlike what was seen in many other major markets, is tightly clustered in Houston. Class A and C units ran slightly fuller than the market average of 94.5%, while Class B units are a bit behind, but still solid, with occupancy at 94.2%.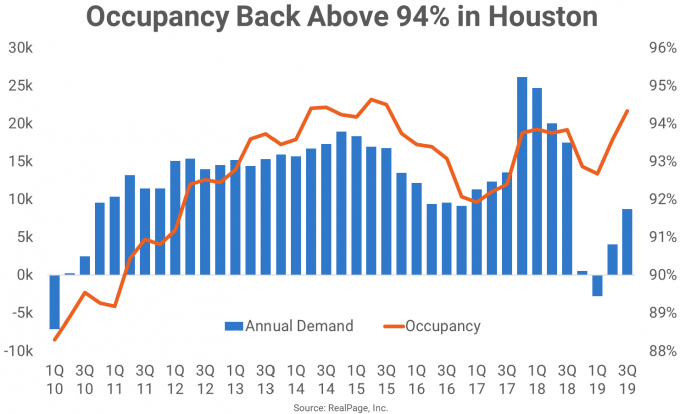 In the near-term, occupancy is expected to soften slightly as Houston works to absorb high levels of new supply. Though annual completions have hovered below 7,000 units in the last few quarters, as developers pulled back on starts following Harvey, supply is scheduled to ramp up in the next year. By 3rd quarter 2020, annual completions are expected to top 14,600 units. Annual absorption is forecasted to continue climbing in the near-term but may not be able to keep up with expanding supply volumes.
For more information on Houston apartment performance, watch the recent RealPage Asset Optimization webcast, Up Close and Local: Houston Market Update.