Houston, Dallas Outpace New York for 2018 Job Gains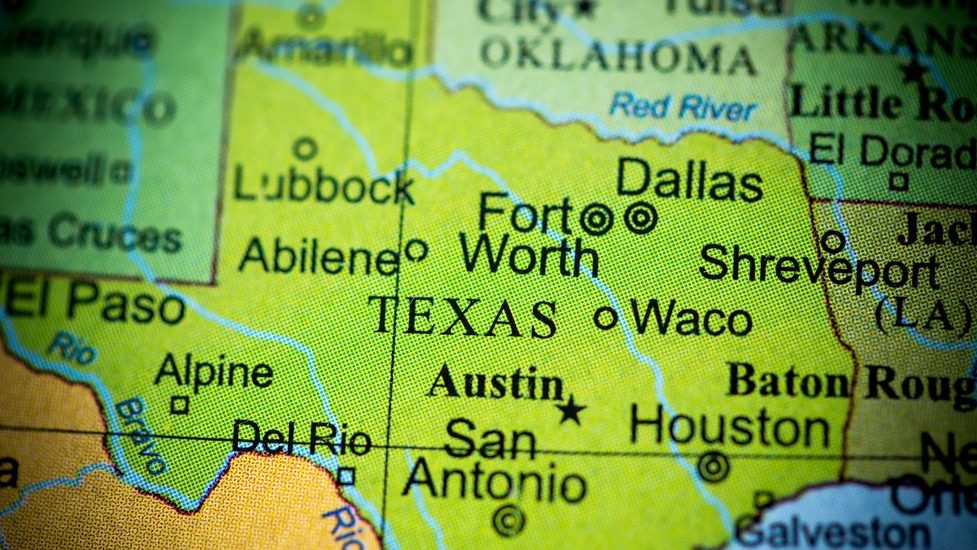 Houston once again led the country with annual job gains exceeding 100,000 for the sixth consecutive month in December, and New York continued to fall back from its lead position earlier in the year as job gains in the market slow.
Houston gained 108,300 jobs in 2018, while Dallas edged past New York to take the #2 spot with 88,600 jobs gained, according to the Bureau of Labor Statistics. New York finished #3 with a gain of 83,800 jobs, the fewest for the market since June 2011.
Houston has remained atop the national rankings since August, following a surge of job growth related to recovery and clean up from Hurricane Harvey. New York has seen diminishing job growth over the same time.
At #4 in December, Phoenix recorded job gains of 76,900 in the past year. Atlanta and Los Angeles remained in the top 10, at #5 and #6, with 69,300 and 60,000 jobs gained each.
Seattle slipped down the rankings to #8, gaining 57,800 jobs in 2018, while Chicago jumped into the top 10 – at #7 with 58,400 new jobs – displacing Orlando. Philadelphia also cracked the top 10, gaining 54,900 jobs as of December, enough for the #9 spot. Washington, DC rounded out the top 10, pushing out Boston by gaining 53,600 jobs.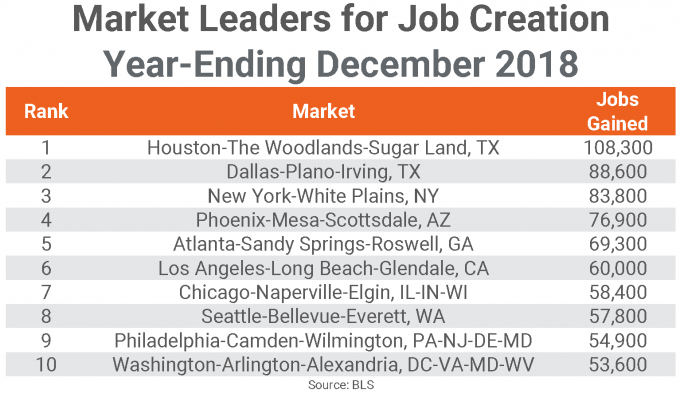 The markets in the #11 to #15 spots reflect a broad spread of geographic diversity with Orlando, Boston, San Jose, Austin and Las Vegas gaining at least 33,000 jobs each.
The total annual gains of the top 10 markets in December decreased slightly – 0.3%, or about 2,000 fewer jobs – from November. However, the 711,000 jobs added in the top 10 markets still comprised 29% of the total U.S. employment gain for the year.
Houston's comparative improvement in job gains from 2017 continues to lead the nation with more than 45,000 more jobs added in the 12-months ending December 2018. Chicago had the second-largest improvement in annual job gains with almost 43,000 more jobs added than last year. Strong employment improvement was also seen in Philadelphia, Baltimore, Cleveland and Atlanta.
Anaheim had the largest decrease in annual job gains compared to last year, registered job cuts totaling 3,400 in 2018. Weakness in several key industries – notably Manufacturing, Construction, Government and Other Services – has softened the local economy. Other markets with cutbacks in annual employment gains include: Riverside/San Bernardino, Pittsburgh, Charlotte and San Antonio.
Anaheim was one of only three of RealPage's top 150 markets to lose jobs in 2018. The others include Dayton, OH and Shreveport, LA – although Youngstown, OH reported a net zero new jobs in 2018.
Four Florida markets made the top 10 list of top markets for job growth as a percentage of total employment for December 2018, but Orlando was the only one of significant size. The Southwest region was likewise well represented with Phoenix, Houston and Austin making the top growth list. Perennial favorites Midland/Odessa, Reno, Colorado Springs and Huntsville, AL rounded out the list this month.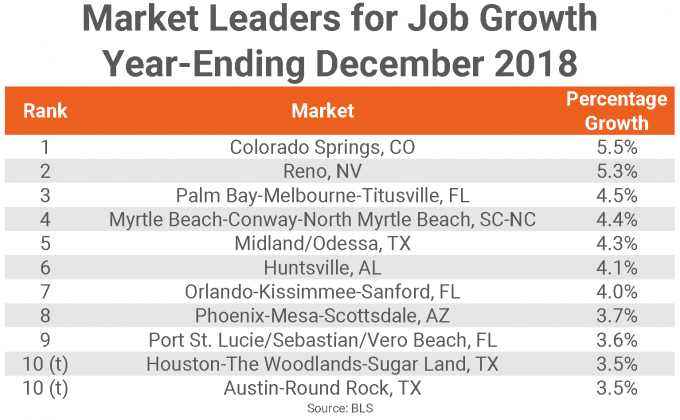 Comparing current annual job growth rates with those from one year ago, Naples-Immokalee-Marco Island jumped 540 basis points (bps), swinging from a decrease of -2.8% in 2017 to job growth of 2.6% in 2018. Palm Bay-Melbourne-Titusville, FL also saw a marked improvement in percentage job growth, gaining 470 bps from last year. Other strongly improving markets include: Columbia, SC (+320 bps) and Port St. Lucie/Sebastian/Vero Beach, FL (+320 bps).
Metros with declining growth rates include: Midland/Odessa (-470 bps), Dayton, OH (-230 bps), Augusta, GA (-200 bps) and Anaheim (-200 bps).