Housing Starts Rise but Building Permits Portend Slowing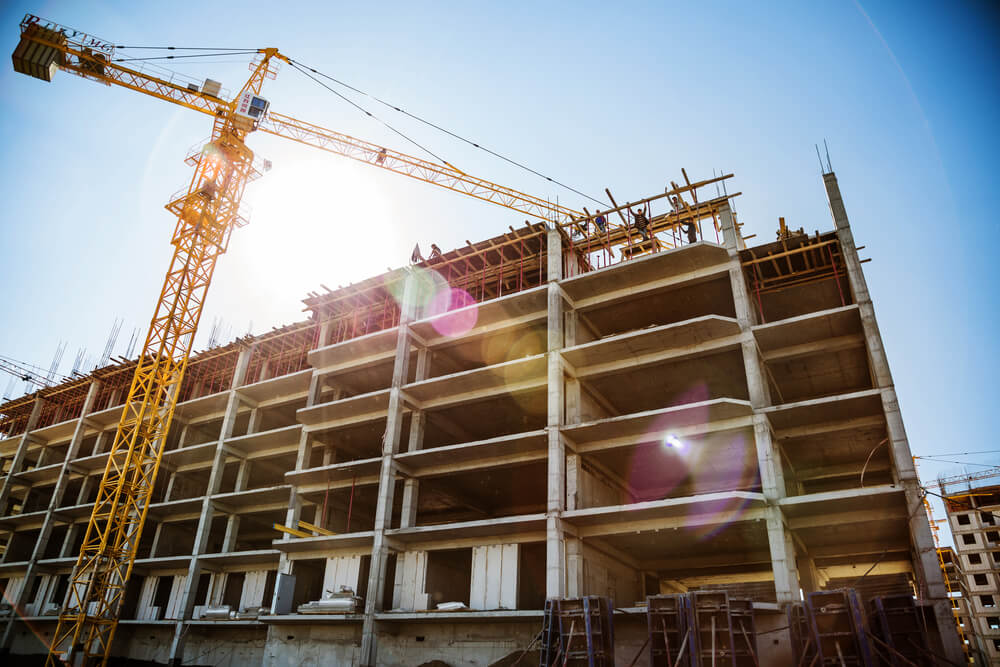 Residential construction starts were up in June, but a lull in building permits points to a slowing of this measure in the near term.
U.S. housing starts increased by 6.3% in June to 1.643 million units despite higher costs for lumber and shortages of labor, appliances and furniture. At the same time, the U.S. Census Bureau reported that building permits for residential construction fell 5.1% from May to 1.598 million units, the lowest seasonally adjusted annual rate for building permits since October. Total residential building permits lead starts by about a month or two, so expect a slowing in building starts in July.
Multifamily starts were up 6.8% for the month to 474,000 units and are up more than 30% from June 2020. Multifamily permits slipped only 1.6% from May to 483,000 units but are up 19.3% from last year. Seasonally adjusted multifamily building permits have fallen below 400,000 units only once in the past 12 months.
Single-family starts were also up 6.3% from last month to 1.160 million units and are up 28.5% for the year but are about even with the average annual rate seen over the past 12 months. Meanwhile, single-family permitting fell 6.3% from May to 1.063 million units, the lowest annualized level since August 2020. Still, single-family permits are up more than 25% from June of last year.

Multifamily completions rose 10.1% from May's annual rate to 416,000 units and are up by more than a third for the year. Single-family completions slowed 6.1% from last month and are down 2.7% for the year as affordability and availability headwinds temper low interest rates and high demand.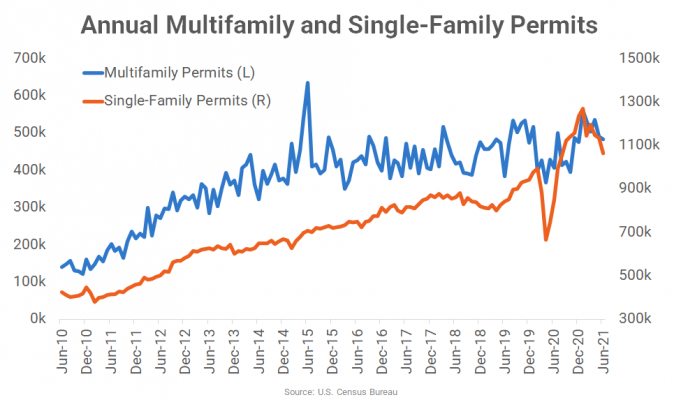 Regionally, the annual rate for multifamily permitting was up from last year in all four regions, with a jump of 40.8% in the West (to 132,000 units), 15.9% in the South (to 221,000 units) and 14.5% in the Midwest (to 65,000 units). The increase was more modest at 2% in the Northeast (to 65,000 units). Compared to the previous month, the South increased annual permitting by 7.5%. On the other hand, the Northeast and Midwest each retrenched by 7.8%, while the West region decreased by 8.7% from last month.
Regional annual multifamily starts were also up in all four regions compared to June 2020 with the West region jumping by 68.5% (to 154,000 units) and the South climbing 28% (to 208,000 units). Meanwhile the Midwest was up just 3.5% (to 75,000 units) and the Northeast inched up only 1.3% (to 38,000 units started). Annual starts in the Northeast and South regions were down from last month but were up in the West and Midwest.
At the metro level, nine of the top 10 permitting markets in June returned to the list from May and a few changed places. Despite slowing by almost 5,400 units from last year's pace, New York continues to lead the nation in multifamily permitting with about 33,800 units. Austin and Houston ranked #2 and #3 again but continued to move in opposite directions with Austin increasing annual permitting by 6,845 units or 40% from last year to 24,091 units, while Houston slowed by about 7,600 units or 34% to an annual rate of 14,611 units.
Nashville continues to move up the top 10 list, sliding into the #4 spot with 13,824 units permitted, 4,240 more than last year. Washington, DC slipped to the #5 spot with 13,332 multifamily units permitted, increasing the market's annual pace by 1,518 units from last June, while Los Angeles remained in the #6 spot with 13,203 multifamily units permitted, down about 970 units or 7%. Phoenix fell two spots from last month to the #7 spot but still managed a 3.6% increase from last year or about 450 more units to an annual pace of 13,063 units.
Seattle and Dallas returned to the same spots on the top 10 list from last month at #8 and #9 with 12,935 units and 12,521 units, respectively. Both markets decreased from the year before, with Dallas permitting almost 3,800 fewer units in the year-ending June than the previous 12 months. Philadelphia displaced Minneapolis-St. Paul at the #10 spot this month with an incredible 94.7% increase in annual permitting or almost 6,000 more units than last year to 12,312 units.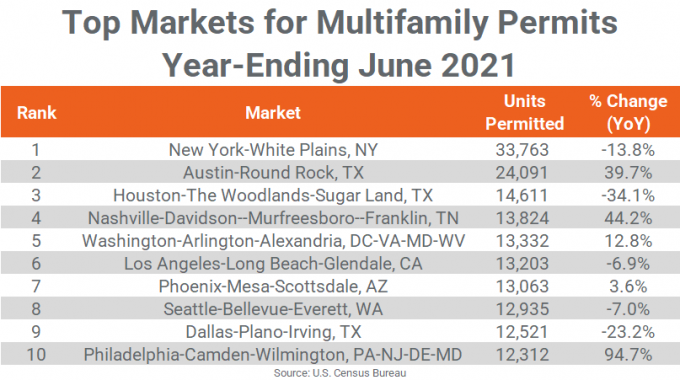 Half of the top 10 multifamily permitting markets had increases from the year before but ranged from a low of 452 units in Phoenix to more than 6,800 additional units in Austin. The mild increase in Phoenix contrasts sharply with the almost doubling of multifamily permits in Philadelphia in the last year.
Other markets outside of the top 10 that saw significant year-over-year increases in annual multifamily permitting in the year-ending June were Denver (+4,004 units), Raleigh/Durham (+2,984 units), Madison, WI (+1,940 units), San Diego (+1,796 units), and Boston (+1,746 units).
The declining half of the top 10 saw decreases ranging from around 970 units (Los Angeles and Seattle) to almost 7,600 units (Houston). Combined, the Texas markets of Houston, Dallas, San Antonio, and Fort Worth had a total decrease of almost 14,000 fewer units permitted from last year's pace, which stands in notable contrast to the Austin increase of over 6,800 units.
Significant slowing in annual multifamily permitting also occurred in the non-top 10 markets of Portland, OR (-3,534 units), Chicago (-2,651 units), Cape Coral-Fort Meyers, FL (-2,398 units), Orlando (-2,103 units), and Fort Lauderdale (-2,021 units).
Five of the top 10 markets had more annual multifamily permits than the previous month, with Austin experiencing a 10.3% increase from May's annual rate, and Philadelphia jumping 8.8%, while the others increased by less than 5%. Decreasing top 10 markets averaged declines of about 4% from last month's annual pace but the numerical decrease ranged from 50 units to 1,324 units.
The annual total of multifamily permits issued in the top 10 metros – 163,655 – was almost the same as the 163,296 issued in the previous 12 months. The total number of permits issued in the top 10 metros was almost equal to the number of permits issued for the #11 through #39 ranked metros.
All of last month's top 10 permit-issuing places returned to this month's list with the first seven remaining in the same order. The list of top individual permitting places (cities, towns, boroughs, and unincorporated counties) generally include the principal city of some of the most active metro areas.
The city of Austin retained the #1 spot for permitting places, increasing by about 130 units from last month to 12,959 units. The city-county of Nashville-Davidson and the city of Los Angeles returned in order, each permitting 12,576 units and 10,204 units, respectively.
The city of Houston came in at #4 on the list with about 7,100 units permitted while the city of Denver also topped 7,000 units for the year. The city of Seattle increased by about 300 units from May's annual rate to 6,806 units, while the Brooklyn borough permitted close to 6,700 units for the year-ending June, ranking at #7.
The Bronx borough and the city of Phoenix switched spots on the top permitting places list with 6,237 units and 5,518 units permitted between them, and Mecklenburg County (Charlotte) rounded out the top 10 with 4,705 units permitted, 356 units fewer than last year.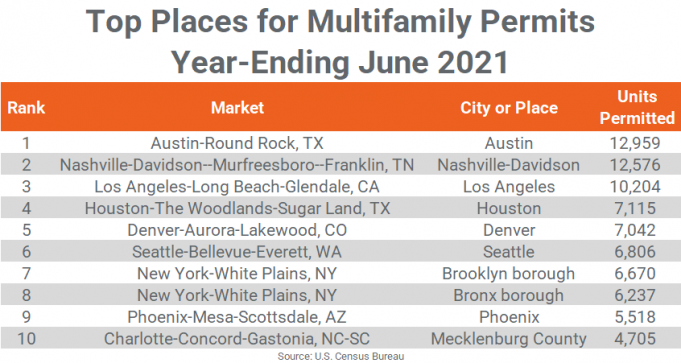 The city of Houston had a slight increase of about 260 units from May's annual total but the cities of Dallas and Fort Worth declined enough to fall out of the top 20 annual multifamily permitting places for the year-ending in June. In addition to Mecklenburg County, the city of Phoenix was the only other top 10 permitting place to see a decline from the previous month's annual total, falling by about 600 units.