Housing Industry Should Shift Its Views on Millennials, NMHC Panelist Says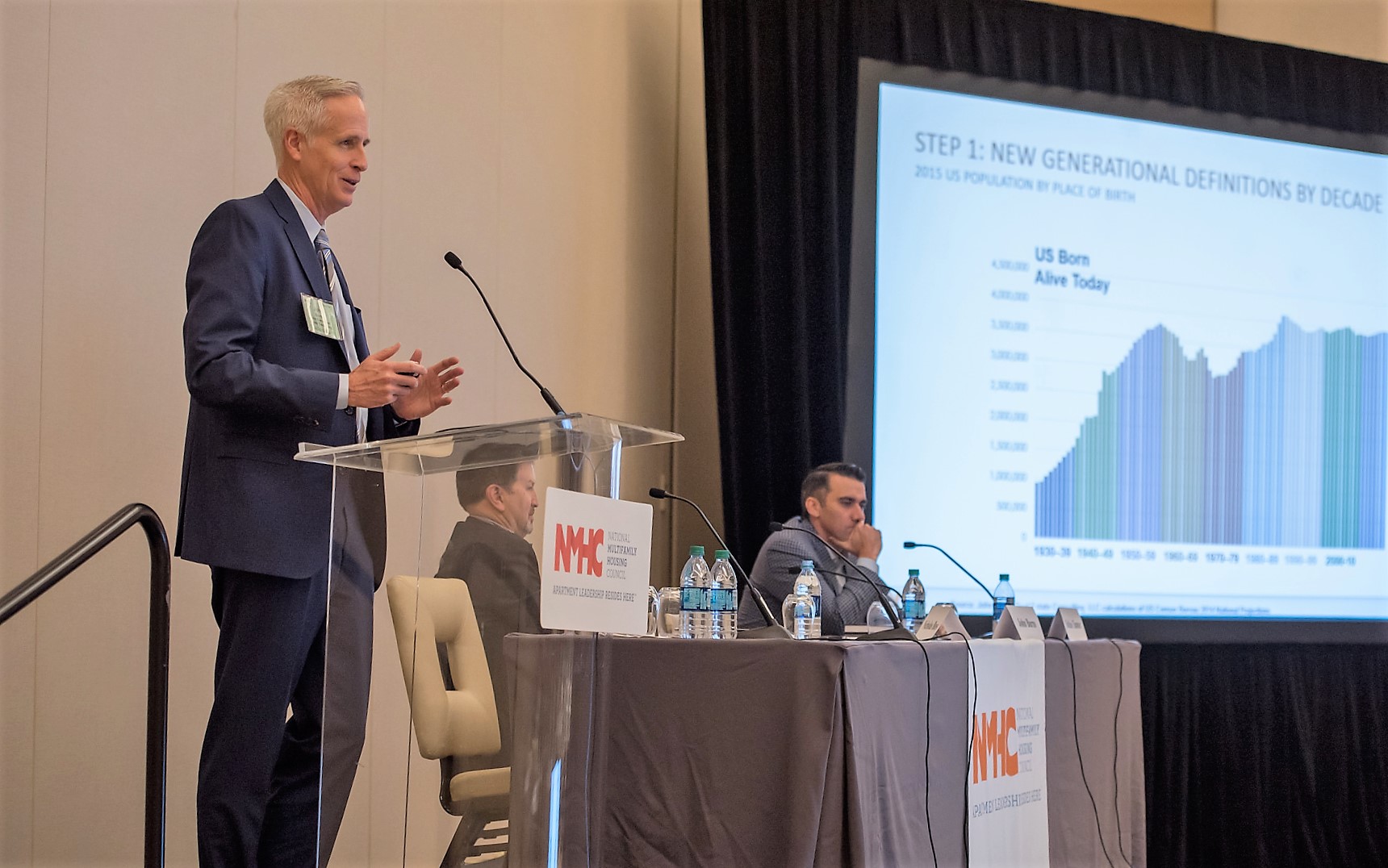 As more millennials enter adulthood, apartment owners and operators keep trying to understand and satisfy the sprawling group's housing preferences.
But that's an impractical pursuit, according to one demographics and housing expert who says the term "millennial" includes such a broad and diverse population that it doesn't hold much meaning. Take Mark Zuckerburg and the 16-year-old daughter of John Burns, the demographics and housing expert. Both Zuckerburg, Facebook CEO and a 32-year-old working father, and the high school junior are considered millennials – but that's about all they have in common.
"We act like they're making the same choices … but they're not," Burns, CEO of John Burns Real Estate Consulting, said at the National Multifamily Housing Council research conference in Plano, Texas this month.
The housing industry would do well to ditch the existing generational definitions, Burns said, and instead examine housing preferences of populations by the decade in which they were born.
Generational Relationships with Housing
Those new definitions make it easier to find commonalities among groups of people, Burns said. And they make each generational segment roughly the same size. There were between 40 million and 44 million people born in each decade since the 1950s, Burns said.
People born in the same decade generally undergo common experiences that shape worldviews. And they enter different life stages at roughly the same time. In his research, Burns determined that there are four big external factors – government policies, economic conditions, technological advancements and societal shifts – that influence behavior. Internally, behaviors are influenced by which of the five main life stages – childhood, early career, family formation, late career and retirement – a person is in. These factors make it easier to gain answers to housing demand questions, he said.
As an example, Burns pointed to current young adult sentiment, noting the group is "scared of debt" because of the Great Recession. They want to own a house, but do not want the debt, Burns said. As such, they show a higher tendency to rent or live with family.
In contrast, older generations were "unique" and "got out of [their parents'] house as soon as they could," Burns said.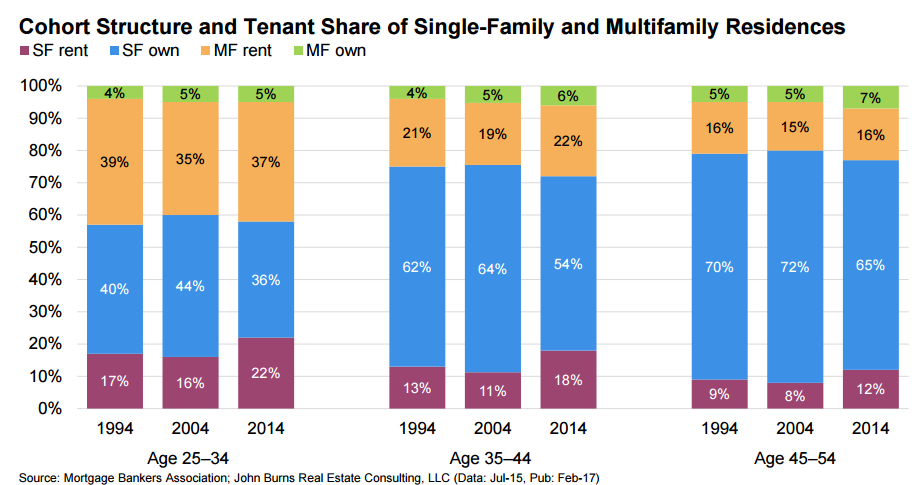 Renter Profiles and Preferences
Regardless of generation, general trends are seen across the entire renter base. For example, Burns noted, of single-family renters, about 51% have kids and 38% are married. Among multifamily renters, those numbers respectively drop to 30% and 21%.
Options for the single-family renter profile are increasing, with rentals accounting for a growing share of single-family homes in major markets. Burns noted 18 major metros saw the share of rental homes in the single-family market increase by at least 15% from 2005 to 2015. In Las Vegas, Miami and Riverside/San Bernardino, shares jumped by more than 25%.
"The big threat to single-family rentals," Burns said, "is will everyone want to become homeowners?"
Meanwhile, across all renter groups, the appeal of square footage might be waning.
"I think all generations are transitioning to more stuff being less important," Burns said, noting people now value experiences over material possessions. "That younger generation, particularly, is perfectly okay without that dining room, if it saves money."
Opportunities for the Housing Industry
Burns estimates that from 2016 to 2025, a net 12.5 million households should form. Through that period, Burns said, six types of households present the greatest opportunity for the housing industry: young households, senior households, immigrants, homeowners, renters and what Burns called "surban" lifestyle-focused households. In a recent MPF Research webcast, Burns described surban as the trend of "bringing the best of urban to the suburbs."
"Urban has gotten so great and the suburbs are saying, 'we want to clean up our downtown, we want some great retail – that takes some rooftops – we're going to allow some apartments to be built around the corner, and everything's walkable,'" Burns explained. "I think that's the big trend, and people totally want that."
Consensus of that trend was apparent throughout the NMHC event. A session on suburban strength and opportunity highlighted supporting migration patterns and rent growth.
Featured photo courtesy of NMHC