U.S. Homeownership Rate Hits 12-Year High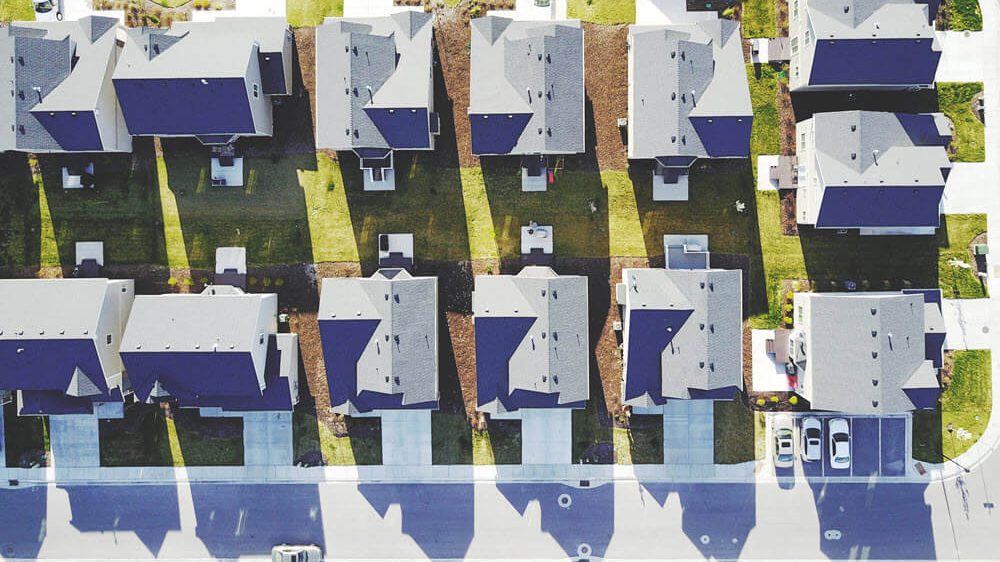 In the first full quarter since the coronavirus outbreak, the U.S. homeownership rate hit a high unseen since 2008. In 2nd quarter 2020, the homeownership rate hit 67.9%, up from 65.3% in 1st quarter.
"It's no surprise that the homeownership rate has moved up," RealPage Chief Economist Greg Willett said. "The magnitude of the shift looks suspect, however, especially when the result coincides with a change in data collection methodology."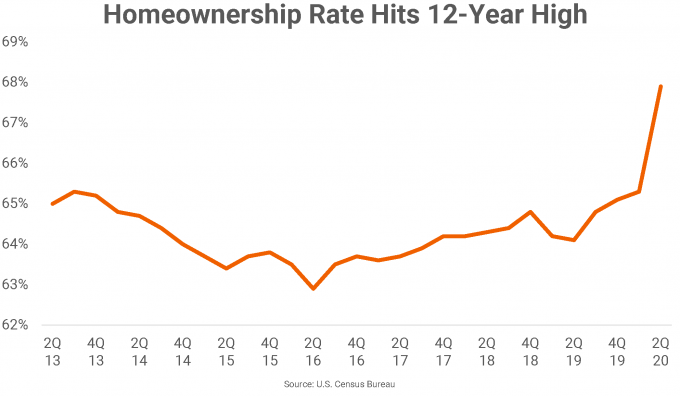 Due to the pandemic, the U.S. Census Bureau was forced to conduct this quarterly survey all online, which resulted in a reduced response rate. The response rate in 2nd quarter 2020 was about 67%, compared to 79% in 1st quarter.
It's a common thought that homeownership rates and apartment occupancy run in negative correlation to each other. That's often inaccurate. During 2019's record apartment occupancy, the homeownership rate also hit a near-term high. In 2nd quarter 2020, the U.S. apartment occupancy rate slumped to 95.3%, a five-quarter low.
"With so much of what contributes to the appeal of city living shut down in recent months, housing demand for both for-sale and rental product has shifted to the suburbs for the moment," Willett said. "At the same time, low mortgage rates have made it a great time to buy suburban single-family homes."
Rising homeownership and apartment demand reflects the depth of the overall housing market as millennials continue to form households. In the last quarter, the homeownership rate among those aged 35 and under rose 330 basis points (bps). According to Pew Research, the oldest millennials turn 39 in 2020. The youngest are 24.
The homeownership rate in those aged 35 to 44 rose nearly as much, climbing 280 bps from 1st quarter to 2nd quarter and surging 490 bps year-over-year. In all age categories, homeownership rates climbed on an annual basis in 2nd quarter.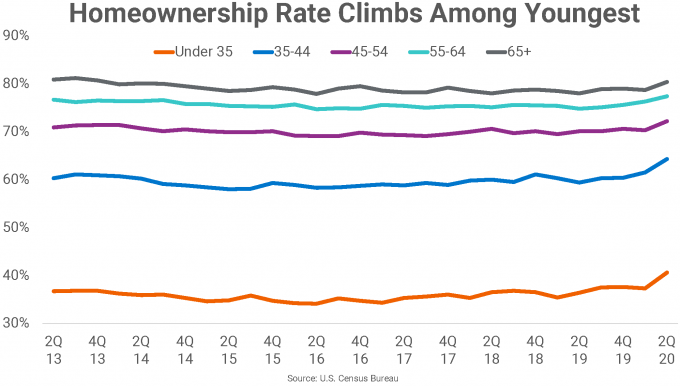 Enticing would-be buyers are ultra-low mortgage rates. According to Freddie Mac, mortgage rates fell below 3% in late July, the second-lowest rate on record. Median single-family home prices were at $295,300 in June, according to the National Association of Realtors.