Holiday Weekend and Severe Weather Derail Rent Payments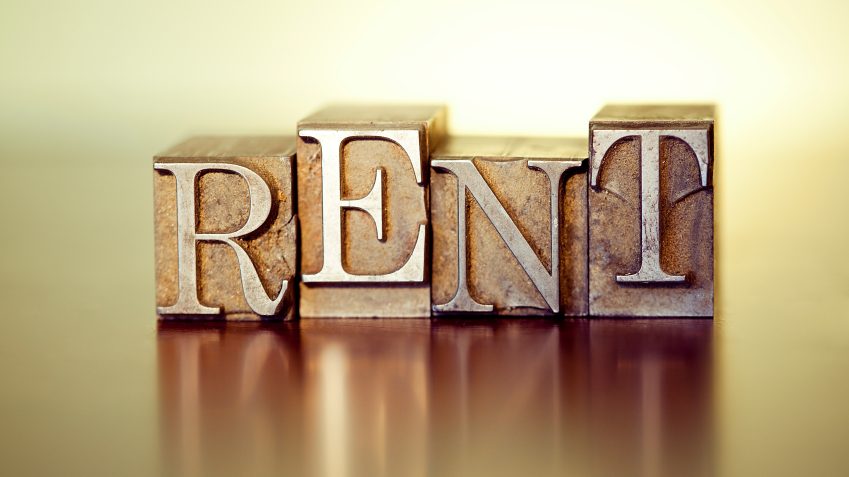 Rent collections at the country's professionally managed apartments got off to a rough start in September, with Labor Day weekend travel and the effects of Hurricane Ida delaying the receipt of payments from many households.
The National Multifamily Housing Council (NMHC) reports payments received from only 72% of those living in professionally managed properties, down from 80.2% making payments during the initial week of August and 76.4% paying their September 2020 rent by the 6th.
The NMHC calculation reflects payment results for more than 11 million units that use property management software from five key companies, including RealPage, Inc.
Hurting the Numbers
Rent collections normally are delayed a little when a holiday occurs in the initial week of the month, reflecting that some households travel or are just busy with holiday activities. Payment levels then usually return to typical levels in the second week of the month.
Thus, the Labor Day weekend likely led to some of the collections miss for the September 1-6 timeframe.
There was a bigger impact on rent payment levels when Hurricane Ida and its storm remnants inconvenienced or even displaced so many households. The most extreme challenges were seen in especially hard-hit New Orleans and New York, according to the results for properties where RealPage software is in place.
In New Orleans, only 33% of the residents of professionally managed apartments paid their September rent by the 6th. That figure was off a stunning 47.9 percentage points from the payment rate recorded in the initial week of September 2020. In New York, payments were received from just 39.1% of the households, off 31.2% from early September 2020 collections.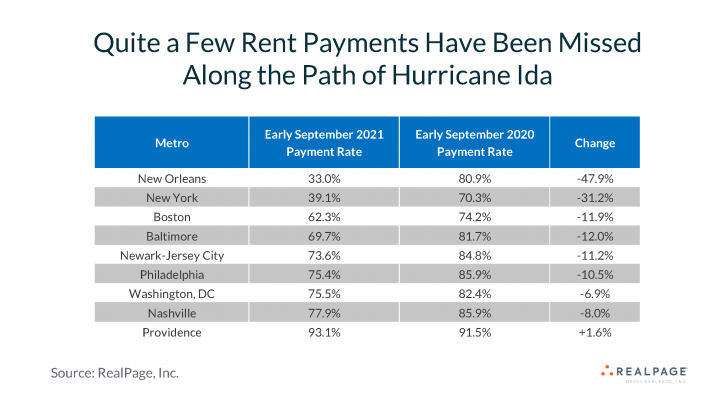 Elsewhere along Ida's path, payments generally ran roughly 7 to 12 percentage points below year-ago levels, with that performance seen in spots such as Nashville, the Washington, DC area, Baltimore, Philadelphia, metro Newark-Jersey City and Boston.
In an interesting deviation from the pattern, payments were received from 93.1% of those living in Providence, RI. That was the best collections rate anywhere across the country, topping the year-ago level by 1.6 percentage points.
Florida and Texas Are Payment Leaders
While Providence ranked as the country's top metro for collections in the initial week of September, Florida and Texas metros dominated the remainder of the leaderboard.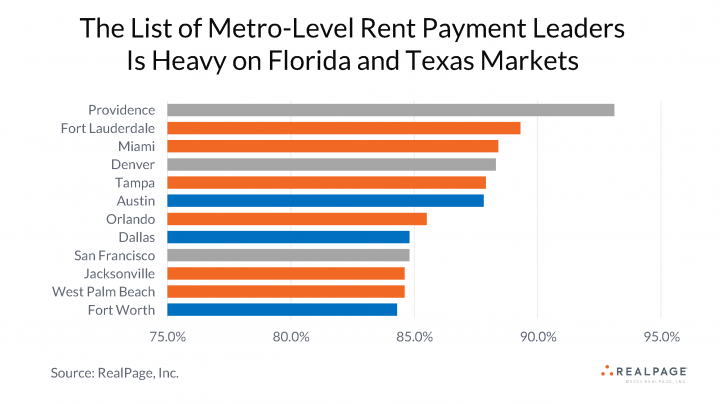 Florida accounted for half of the 12 markets with the best collections performance. Payments came in by September 6 for 84.6% to 89.3% of the households in Fort Lauderdale, Miami, Tampa, Orlando, Jacksonville and West Palm Beach.
In Texas, payments proved timely for 84.3% to 87.8% of the renters in Austin, Dallas and Fort Worth. Houston's 84% collections rate wasn't far behind.