Hiring in Top Job Markets Dips in May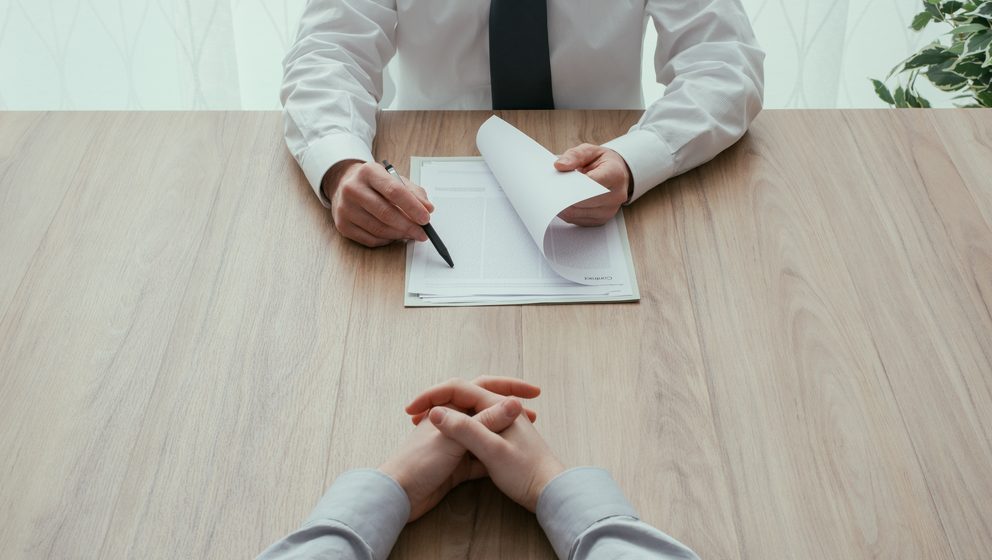 All of last month's top 10 markets for job gains returned to the list in May, but hiring slowed in eight, according to the latest Bureau of Labor Statistics employment data.
New York, Dallas and Houston continued to place in the top three and in the same order as in April. Phoenix and Chicago switched places at #4 and #5, while Los Angeles, Atlanta and Seattle each moved up one spot from last month to #6 through #8. San Francisco fell from #6 in April to #9 in May, and Orlando remained in the #10 spot.
Of those markets, San Francisco, New York and Chicago saw the sharpest slowing with gains down from last month by 17,300 jobs, 15,800 jobs and 9,000 jobs in each. Dallas, Houston and Orlando only slowed by between 4,000 jobs and 6,000 jobs, with Seattle's growth held steady.
Only Los Angeles and Atlanta saw improved growth, but improvement was minimal at just 2,800 jobs and 2,300 jobs, respectively.
Compared to the 12-month period ending in May 2018, however, only four markets had annual job gains less than the current annual pace, with Atlanta and New York slowing by 10,000 jobs or more. Dallas, Chicago and Houston gained an average of about 30,000 more jobs in the year-ending May 2019 than in the preceding 12 months.
In terms of overall gains, the total gains of the top 10 markets combined decreased sharply from April, down 7.7% or about 54,600 fewer jobs added. The 654,500 jobs added in the top 10 markets comprised 29% of the total U.S. employment gain for the year.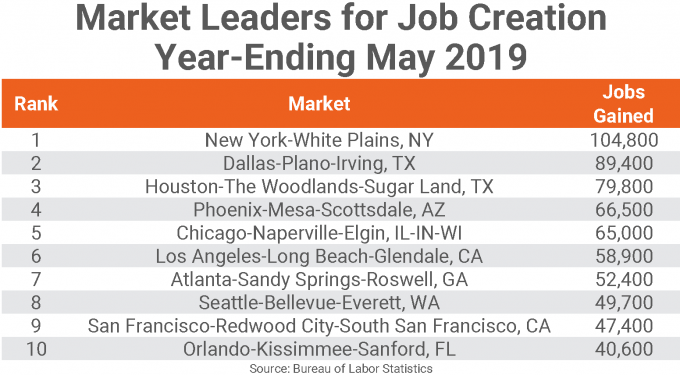 Six of the markets in the #11 through #20 spots were returning metros. Philadelphia, San Jose, Charlotte and Miami remained close to their rankings from last month with Las Vegas joining the top 15. The four markets that fell out of the top 20 – Austin, Washington, DC, Sacramento, and Nashville – fell into the #21 to #24 slots. Washington, DC fell the furthest in ranking – from #13 to #22 – as annual job gains slowed from 29,800 in April to 25,000 in May.
As mentioned previously, Dallas, Houston, and Chicago had large job gain improvements from the same 12-month period one year ago, adding about 90,000 jobs to their total gains than the previous year. The Midwest markets of St. Louis, Cincinnati and Akron, OH had significant improvements in their annual job gains with 19,000, 11,000 and 10,000 more jobs than the year before, respectively. Strong employment improvement was also seen in Sacramento, San Francisco, Miami and Seattle.
Minneapolis-St. Paul, Riverside, Raleigh/Durham, Denver and Boston had some of the largest decreases in annual job gains compared to last year. Midland/Odessa, Washington, DC, Detroit and Anaheim also experienced cutbacks in annual employment gains. Eighty-five of the 150 markets in the list gained fewer jobs for the year-ending May than the preceding 12 months.
However, only nine of RealPage's top 150 markets lost jobs in the year-ending May 2019, two more than last month and only three more than last year. Minneapolis-St. Paul is the only one of the nine markets that lost jobs in May of a significant size.
The major markets of San Francisco and Dallas made the top 10 list for job growth as a percentage of total employment for May 2019. Other familiar metros in the top growth list are Reno, NV; Myrtle Beach, SC; Boise City, ID; Fresno, CA; Boulder, CO and the Florida markets of Palm Bay, Naples and Cape Coral.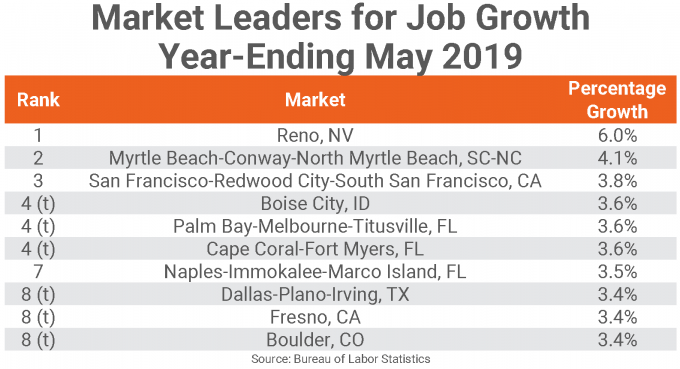 Comparing current annual job growth rates with those from one year ago, Akron, Sacramento, Jackson, MS and Springfield, MA more than doubled their growth rates with improvements of 210 to 280 basis points (bps).
Markets with declining growth rates include: Midland/Odessa, TX (-1,110 bps); Shreveport-Bossier City, LA (-290 bps); Raleigh/Durham (-280 bps); Youngstown, OH (-270 bps); Vallejo/Fairfield/Napa, CA (-240 bps); Stockton, CA (-230 bps); Savannah, GA (-210 bps) and Salisbury, MD (-200 bps).