Hiring Among Metro Leaders Picks Up in October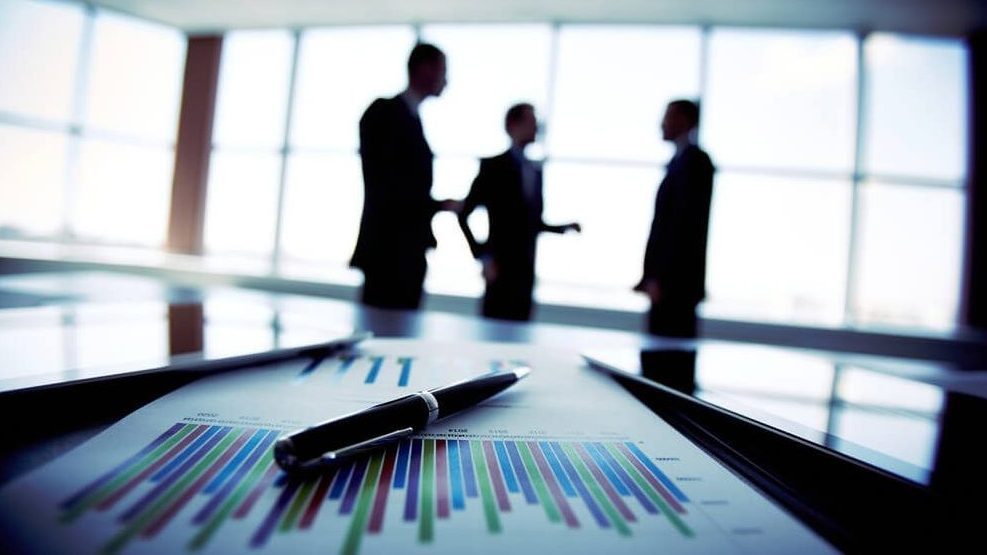 Nationwide hiring picked up slightly in October, with U.S. employers adding just over 2 million jobs in the year-ending October 2017. That figure grew the country's job base 1.4%, according to preliminary data from the Bureau of Labor Statistics.
Among U.S. metropolitan areas, nine of the top 10 metros from September returned to the leaderboard. New York strengthened its hold on the leading position while Dallas, rising one spot to #2, swapped rankings with Atlanta. For the same 12-month period ending in October 2017, Boston returned at #4 and last month's #5 – Los Angeles – slipped to #8. Los Angeles' annual job gains have fluctuated throughout 2017, as metro hiring activity struggles to return to late 2015 and early 2016 levels.
On the lower half of the leaderboard, Minneapolis-St. Paul ranked #6 again, and Riverside/San Bernardino moved up one spot to #7. In the year-ending October 2017, Riverside/San Bernardino expanded by 42,800 positions, or 3.0%. Nearly 35% of those new jobs belonged to the market's active Mining/Logging/Construction sector. Meanwhile, Seattle fell two spots to #9, while Washington, DC remained at #10 and Phoenix fell out of the top 10 to #12.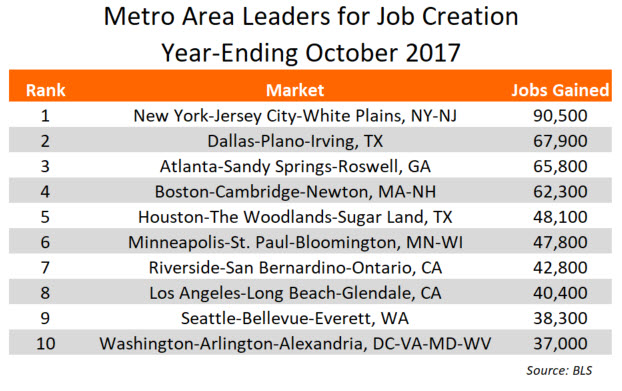 Together, the total jobs created in the top 10 metros for the 12 months ending in October were up 6.6% from September's annual total, but were 7.2% lower than the 12-month total for October 2016. A comparison of the same top 10 metro job-gainers from September to October revealed a 9.9% increase in annual job gains.
On the annual percent-change leaderboard, Athens-Clark County held onto the #1 spot, expanding its workforce 4.3%. During the year-ending October 2017, the smaller market added 4,100 jobs, its highest annual tally since 1996. Those new positions spanned several service-providing industries.
At the same time, Sarasota/Bradenton rose five spots to the runner-up position. The metro was among several Florida markets to register notable improvement following Hurricane Irma. As expected, much of that rebound was attributable to the restaurant-inclusive Leisure/Hospitality industry returning to normal pace.
Also noteworthy is North Carolina's strengthened presence in the top 10 standings. Durham-Chapel Hill, Wilmington and Raleigh saw respective growth of 3.5%, 3.3% and 3.0% in the year-ending October 2017. In the joint Raleigh-Durham market, those employment gains could translate to an apartment rent growth rebound.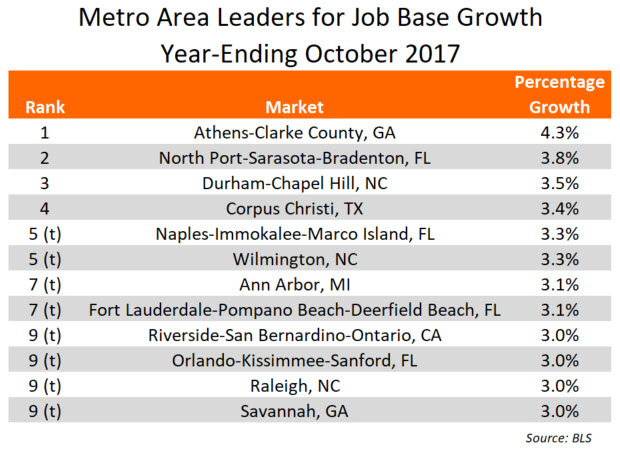 The introduction of Ann Arbor, Fort Lauderdale, Naples-Immokalee-Marco Island, Orlando, Riverside/San Bernardino, Savannah and Wilmington pushed Boulder, Dallas, El Paso, Nashville and Ventura County from the standings.