High Demand Spurs Apartment Performance in Albuquerque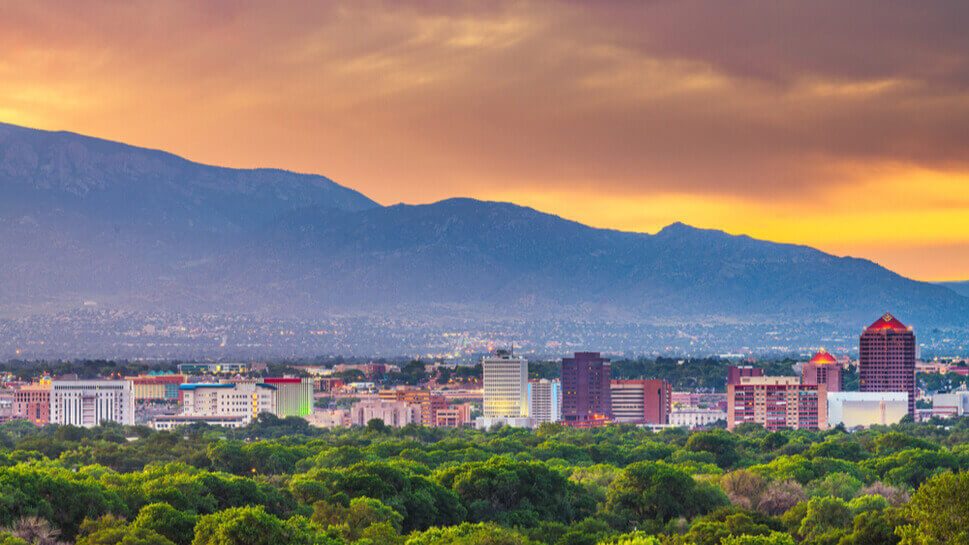 High demand, low supply and a resilient economy helped Albuquerque become one of the nation's best markets for apartment performance in 2020.
Albuquerque's effective asking rent increased 6.8% in 2020, the market's biggest annual jump on record, and well above its 10-year average annual increase of about 2.5%. That was also the 13th largest increase among the nation's 150 largest apartment markets in 2020.
During a year that proved challenging for many apartment markets, Albuquerque saw record apartment demand, which pushed up occupancy. Occupancy stood at 96.8% in December, up about 170 basis points on an annual basis, setting a record for the metro.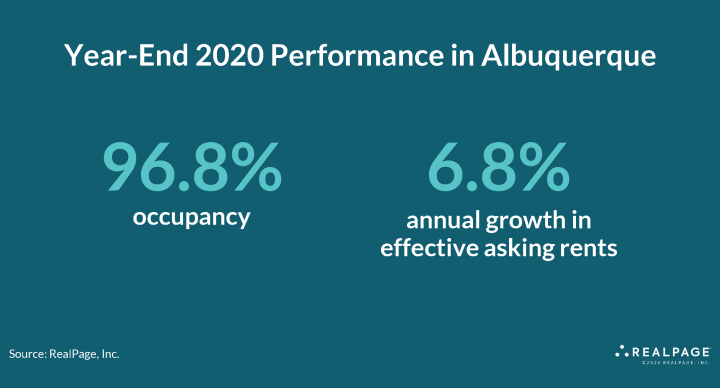 More than 1,200 new units were absorbed in 2020, nearly triple the market's 10-year average annual demand. The last time Albuquerque absorbed more units in a year was in 2010 when the market was recovering from the last recession.
New supply has essentially been a nonfactor for the market. Only 268 new apartments opened for leasing in the past year. Another 540 units were under construction at year-end, with those units representing just 1% of the total existing stock.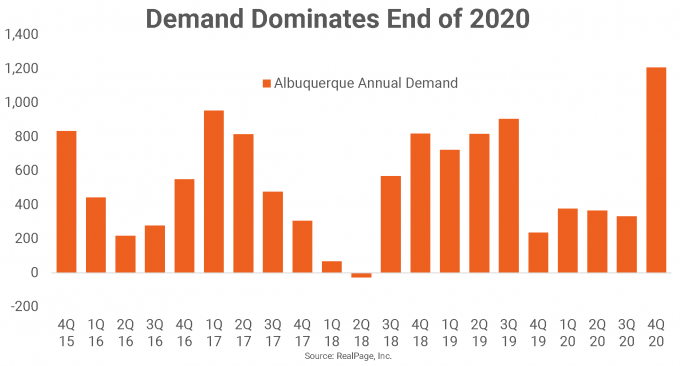 Helping apartment demand in Albuquerque was a local economy that proved more resilient than most to the COVID-19 induced downturn. Albuquerque lost 3.0% of its total jobs in 2020, with cuts coming across all industry sectors except one – Government, where jobs grew by 5.3%, or about 4,400 from November 2019 to November 2020. Major employers such as General Mills and the University of New Mexico and newcomers like Netflix have kept the economy strong in recent months.
The metro also appears to have benefited from its proximity to West Cost, as many households have relocated to more affordable metros in recent years. That flight to affordability accelerated over the past year due to the severity of COVID-19 and its economic consequences in California.
In another boon to Albuquerque demand, New Mexico Gov. Michelle Lujan Grisham limited university dorm occupancy in May, forcing many students into conventional apartments. Albuquerque is home to the state's largest university, The University of New Mexico, with an enrollment of about 25,000 students. Demand was particularly high in the Uptown submarket, adjacent to campus.
It appears unlikely that conventional apartment performance in 2020 is sustainable, especially as the COVID-19 situation winds down and student dorms can be utilized at full capacity. The influx of higher-paying jobs and newcomers from the West Coast will help, but rent growth in Albuquerque is likely to slow over the next 12 months as normalcy – or something like it – creeps back into the market. Occupancy will remain high, but come down a bit from its record rate as supply picks up to a still manageable rate in the near term.
For more on the metros that have shown resilience throughout the COVID-19 pandemic, watch the recent webcast: Up Close and Local: New and Improved Markets.