Product Class Performance Varies In High-Construction Markets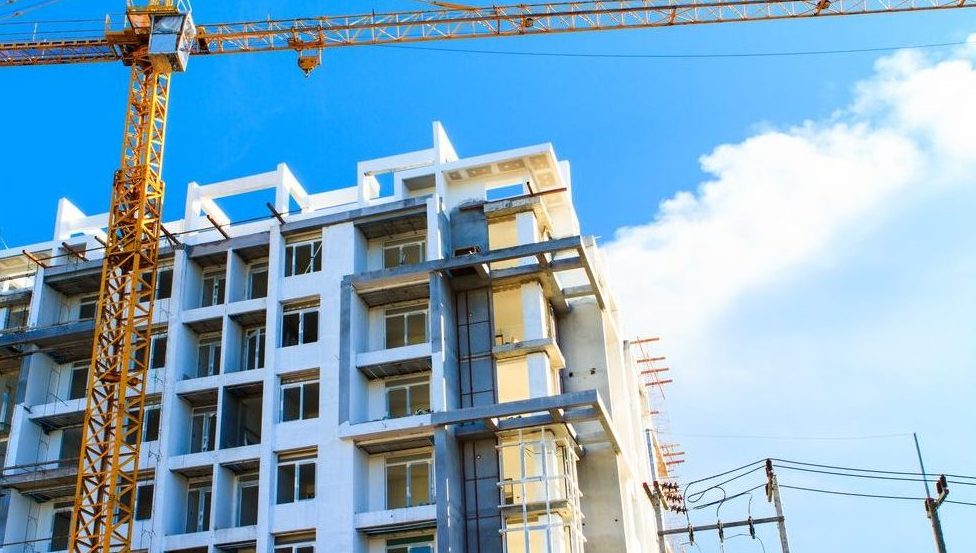 As national performance moderates, annual rent growth is tightly clustered across product classes. In Class A and C, rent growth was 2.4% in mid-2018. In Class B, it was 2.7%. But in the dozen local markets with the highest construction volumes in June 2018, that's not necessarily the case.
The metros where development is having the largest impact on rent growth — and where the rent performance spread among classes is most pronounced — include Seattle, Atlanta, Dallas and Chicago. In each market, development is concentrated in a few submarkets and overall rent growth is stymied thanks to competition for renters in these areas.
This can be seen especially in Seattle's urban core, where the supply-heavy submarkets of Downtown Seattle, South Lake Union/Queen Anne and Capitol Hill/Central District are slashing rents to keep up with growing inventories. Year-over-year, rents were down 3.9% in both the Downtown Seattle and Salt Lake Union/Queen Anne submarkets, while Capitol Hill/Central District saw rents fall 1.1% year-over-year. The three submarkets account for about 60% of new deliveries in the past year and roughly 50% of units under construction this quarter. As a result, Class A in Seattle performed poorly, cutting rents by 1.4% for the year, dragging down Seattle's once-hot annual rent growth to just 1% this quarter.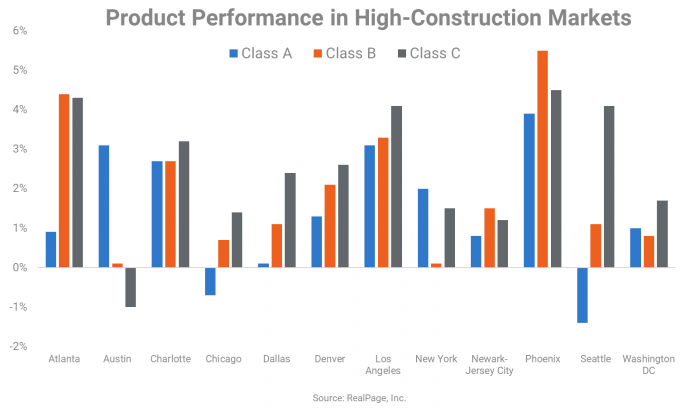 The same is true in Atlanta. Apartment operators slashed rents in the development-heavy submarkets of Downtown Atlanta, Midtown Atlanta and Buckhead to keep up with supply, resulting in Atlanta leading the country in concessions, with discounts equal to about one month free rent. As a result, Atlanta's overall rent growth was 3.1%, paced by strong rent growth in Class B at 4.4% and Class C at 4.3%, while Class A lagged at just 0.9% growth year-over-year.
Annual rent growth was 1.1% in Dallas, where the nation-leading amount of new supply is clustered in the urban core and high-end northern suburbs.  After experiencing higher rent growth levels earlier in the cycle, Class A performance dropped to just 0.1%. The lower-tier Class C stock in Dallas, however, saw rents grow in line with the national average at 2.4%.
Chicago's 0.3% annual rent change is the weakest among the nation's largest 50 metros in mid-2018. Much of Chicago's rent woes are concentrated in the downtown area, which tends to drive the market's overall performance due to its superior pricing potential, which lures the bulk of the market's development activity. Perhaps more worrisome for the Windy City, there's not much sign of relief ahead: Chicago continues to rank among the highest in the country for multifamily permitting.
Rent growth spreads are smaller in high-development markets of Phoenix Los Angeles and Northern New Jersey. In Phoenix and Los Angeles, rent growth is solid across the product spectrum. Northern New Jersey generally follows the national trend of moderating performance in all product lines.
While Class A performance lags in other high-build markets like Charlotte, Denver and Washington, DC, the impact of prolonged supply waves can be seen across classes. Whereas Charlotte has seen annual rent growth of 4.5% this cycle, that number has slowed to 2.8% in mid-2018, with performance around that mark in each segment. Denver's rent growth of 2.1% this quarter is less than half the 5.9% cycle average. There, Class A rent growth registered 1.3% this quarter. In Washington, DC, the effects of elevated new supply levels trickled into the middle- and lower-tiers several years ago and have remained thanks to the nation's longest, most intense supply wave.
Finally, the outliers are Austin and New York. The Big Apple sees Class A holding steady at 2% annual rent growth, just 40 basis points off the national average — but performances in Class B and C trail the national average significantly. The same is observed in Austin, where rent growth is concentrated in the urban core — where rents are about $1,000 more than they are in the rest of the market. Despite seeing 3.1% rent growth in top-tier apartment stock this quarter, Austin also saw rent growth of 0.1% in Class B product and a cut of 1% in Class C units.