Here's a List: Renter Mobility by Market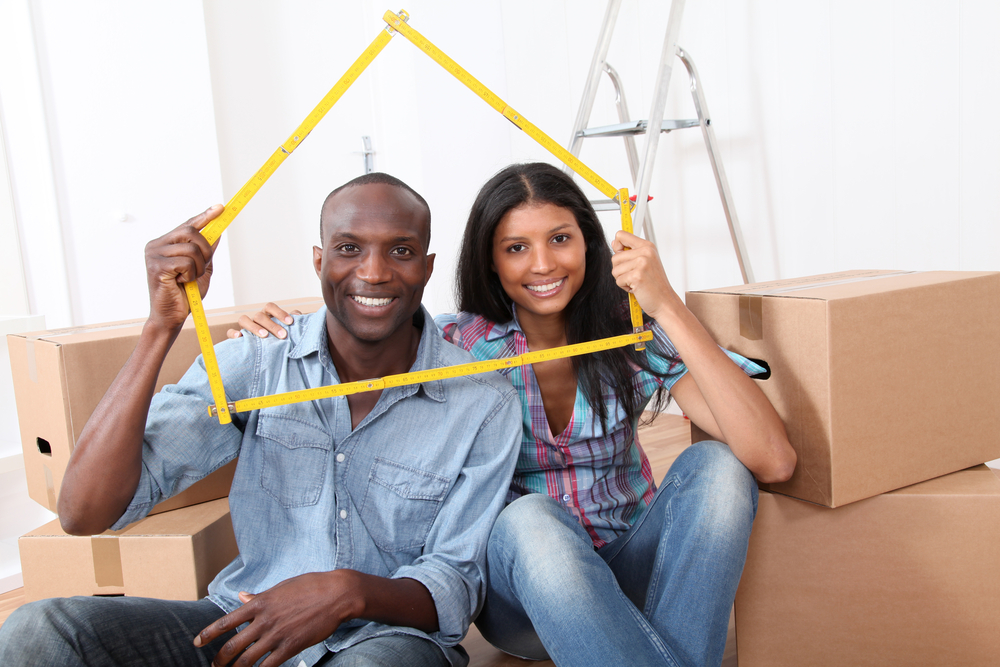 When leases expire, apartment owners and operators in some areas of the country face more challenges holding onto residents than owners and operators in other areas. Looking at the extremes in renter mobility among the nation's 50 largest apartment markets, about 56% of renters in San Antonio moved when leases expired in 2016 compared to a move-out ratio of only 33% in Hartford.
There are two primary geographic clusters of metros where renters move especially frequently. One is the West Coast and Mountain/Desert region, including San Diego, Phoenix, Denver, Salt Lake City and Portland. The other is in the Southeast, including Jacksonville, Orlando, Charlotte and Tampa. Demographic and economic characteristics are a heavy influence on which metros appear on this list.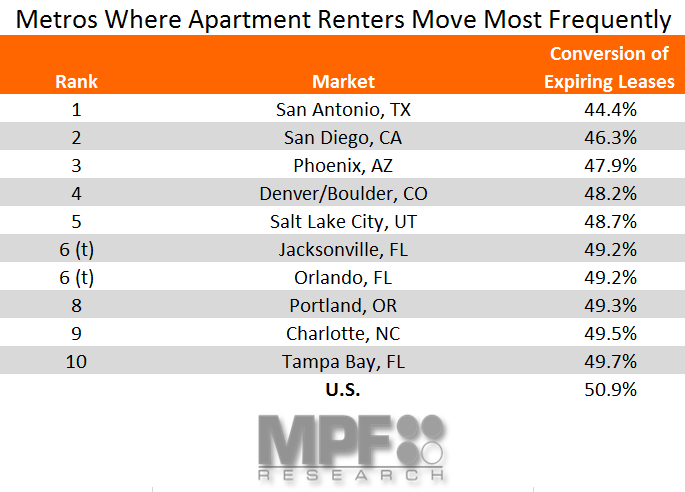 Metros where renters are least likely to move when leases expire are concentrated in the Northeast and Midwest. In addition to Hartford, the list of areas with comparatively limited renter mobility includes Northern New Jersey, Milwaukee, New York, Detroit, Providence, Minneapolis/St. Paul, Cleveland and Philadelphia.
Economic Growth Influences Mobility
Sun Belt metros that add lots of jobs generally register the nation's strongest demand for apartments. That same job availability, however, means that residents of those markets can switch jobs more readily. Most apartment operators cite job change among the most frequent reasons for resident loss.
The metros where apartment renters moved most frequently last year posted average annual job growth rates from 2.3% in San Antonio to 4.4% in Orlando. All of the areas registered job expansion levels ahead of the U.S. employment growth rate of 1.7%.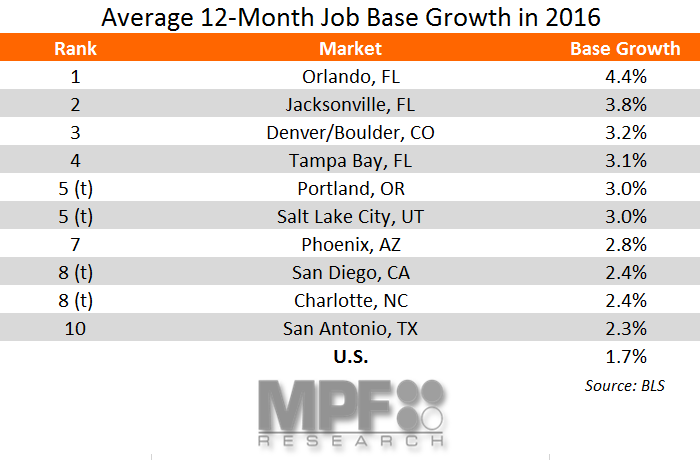 Do Hospitality and Military Concentrations Shape the Numbers?
Conversations with RealPage clients operating in the metros with substantial apartment renter churn suggest that industry composition of a metro's workforce influences propensity to renew expiring leases. Holding onto renters working in the hospitality and tourism-influenced retail segments of the economy can be especially challenging, the discussions indicate. That pattern makes sense as workers in those industries seem apt to change jobs frequently. Furthermore, those are types of jobs where wage growth tends to be sluggish, making it more likely that rent increases would push those households beyond their affordability constraints.
Especially big military bases are found in three of the 10 metros where renters move most frequently: San Antonio, San Diego and Jacksonville. It's certainly true that the troops stationed at the military bases in San Diego and Jacksonville can be there one day and be deployed the next. However, many of San Antonio's military personnel don't move around much, as their specialties in training or healthcare are stay-in-place types of positions.
Young Adults Move the Most
A recent RealPage examination of more than 4 million lease transactions in market-rate apartments showed that younger renters move more frequently than their older counterparts. Addressed earlier, employment change often triggers a move, and those early in their careers simply switch jobs a lot. Also, household composition can be comparatively fluid among younger renters. Overnight, roommates become singles living alone become couples become some other arrangement.
The metros where apartment renters exhibit the most mobility tend to have populations heavy with young adults. Eight of the 10 metros feature above-average concentrations of 20- to 34-year-olds, with resident bases in San Diego and Salt Lake City proving to be especially young. Charlotte's age distribution is similar to the national norm, while Tampa's population skews comparatively older than in most U.S. metros.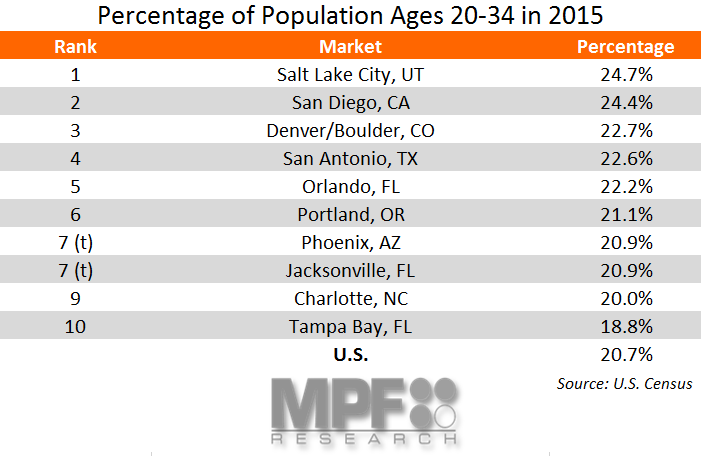 Is There a New Construction Effect?
Metros where active construction provides options for renters to choose from seem like they ought to experience more mobility. To some degree that pattern holds true. Quite a few of the metros registering comparatively greater mobility are places where apartment building activity surpasses the national norm. Conversely, almost none of the metros where renters have the most propensity to stay in place are big construction markets.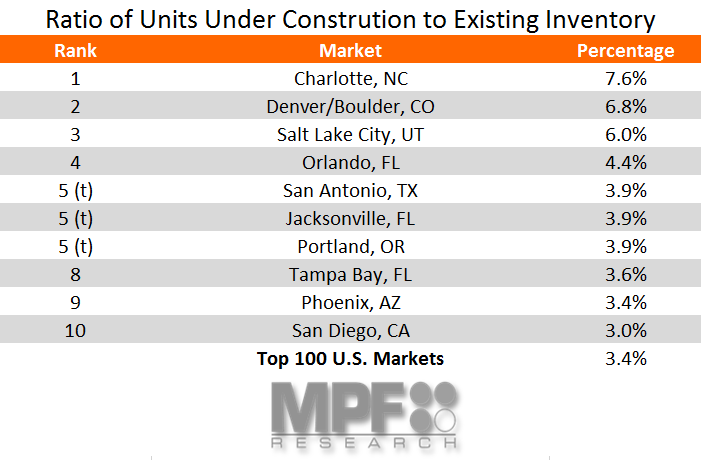 However, mobility runs only slightly above the national norm in Austin and Nashville, both especially aggressive building centers. In even more counter-intuitive performance results, there's actually a comparatively low likelihood of renter moves in Seattle, Atlanta, Dallas and Washington, DC – all giant building markets.
Product availability probably does influence mobility, but not to the same degree as economic growth levels or renter age.