Here's a List: Metro Atlanta's Neighborhood-Level Rent Growth Leaders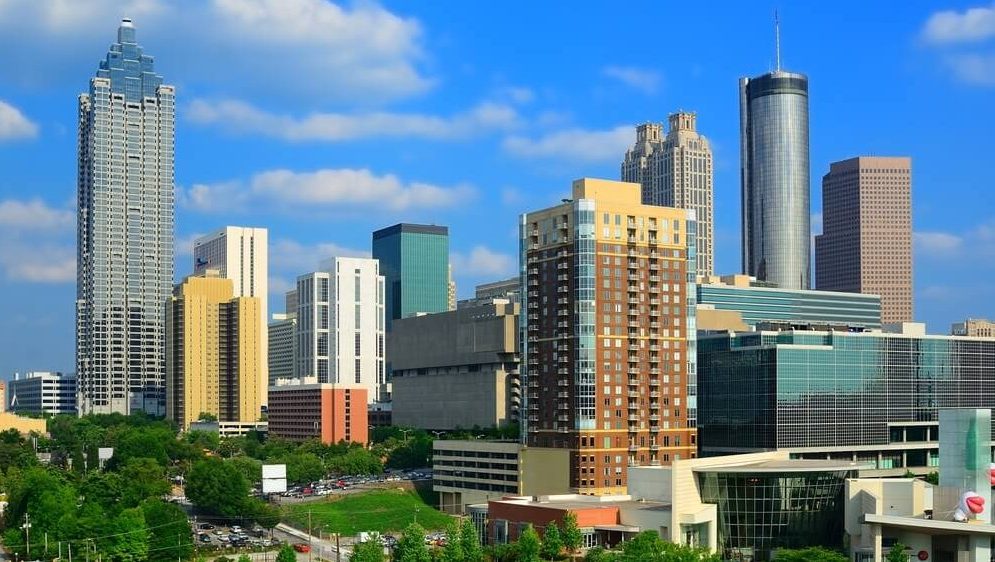 Quite a few of the metros posting premium rent growth for apartments right now are late-recovery markets. The return of employment expansion in the post-recession period took a little longer in these locales, but new job formation currently is hefty, generating considerable demand for housing. At the same time, new apartment deliveries – while definitely trending upward – aren't yet at sky-high levels.
Atlanta is a great example of a late-recovery metro, and its current annual rent growth pace is stellar at 6.3%.
Since rent growth returned in the metro around mid-2010, effective rents for new leases have climbed a total of 28.7%.
In the same pattern exhibited in many places across the U.S., select upscale suburbs rank as Atlanta's top neighborhood-level rent growth performers for this market cycle. Roswell and Alpharetta/Cumming, two north side suburbs, are at the top of the charts, followed by the northwest side suburbs of Northeast Cobb County/Woodstock and Smyrna.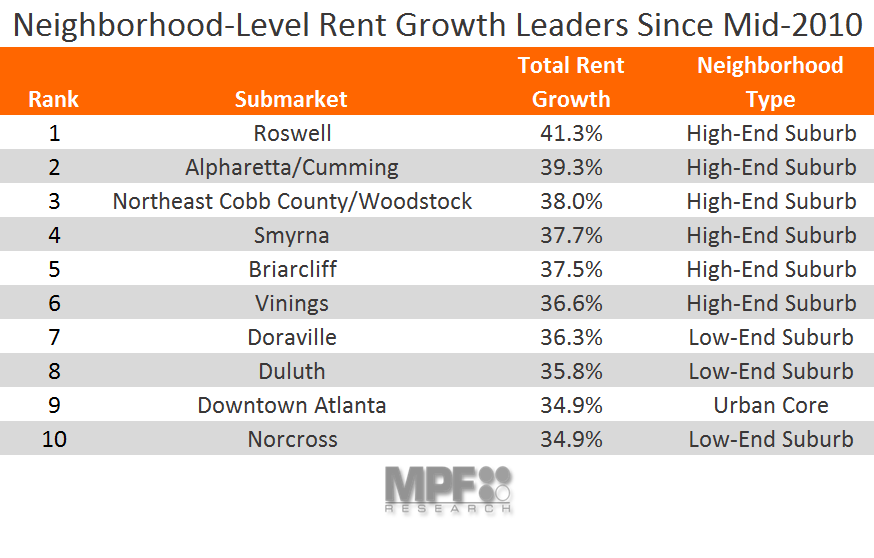 Another interesting clustering of premium rent growth performers consists of the Interstate 85 corridor's closer-in suburbs. The Briarcliff neighborhood, located just south of Interstate 85 inside the Perimeter (Interstate 285), marks where Atlanta neighborhoods begin to transition to a suburban feel. More traditional suburban environments exist in strong-performing locales like Doraville, Norcross and Duluth. MPF Research classifies Briarcliff as a high-end suburb and Doraville, Norcross and Duluth as low-end suburbs simply reflecting whether average monthly rent in the submarket is above or below the metro norm.
Downtown Atlanta total rent growth since mid-2010 moderately surpasses the metro average, but a couple of other key urban submarkets are notably missing from the cycle's rent growth leaderboard. Midtown Atlanta's 32.8% rent growth during the period examined, while not a top 10 neighborhood-level performance, does register above the metro norm. Buckhead's growth of 24.3%, however, trails the metro standard and is well below the rates achieved by the submarkets leading the charts.
Certainly influencing the results, lots of new product has been built in both Midtown and Buckhead, with the constant flow of recent completions in initial lease-up at least modestly dampening rent growth for top-of-the market properties.