Here's a List: Houston's Neighborhood Apartment Demand Leaders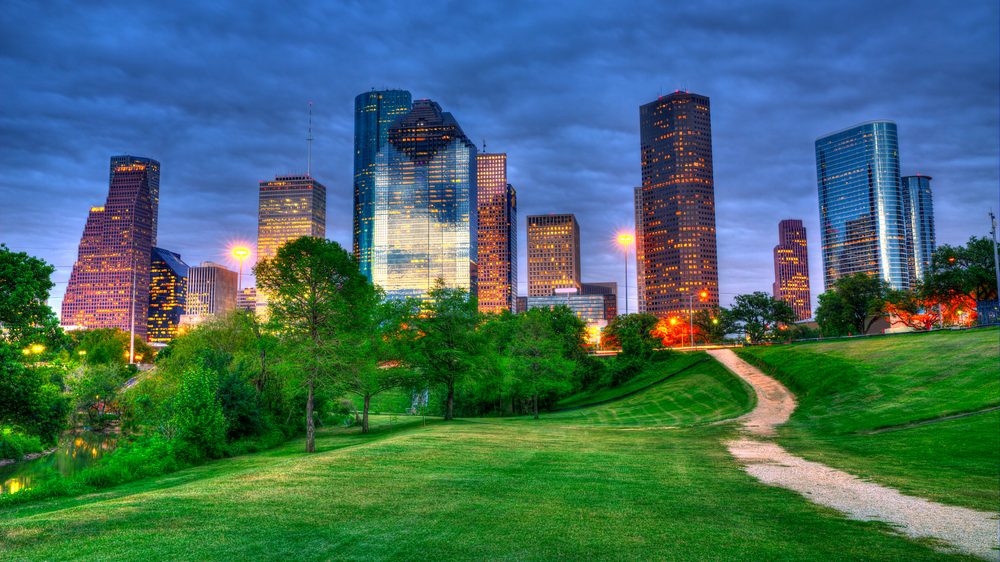 For a metro where the Bureau of Labor Statistics reports minimal job growth, Houston sure is absorbing a lot of housing.
Single-family home sales this year are running about in line with 2015's pace, and last year's tally was an all-time high.
Houston apartment demand isn't anywhere close to past peak volumes, but the absorption pace isn't awful either. During the initial three quarters of 2016, demand for 10,850 units registered in the metro. That tally falls short of the 14,689 units completed in the January-September span. That means occupancy is drifting downward, and pricing for top-tier units is suffering in an effort to get the new properties filled.
Still, demand ranking among the biggest totals anywhere in the country has to be surprising for many.
Within the 35 submarkets that MPF Research has defined for metro Houston, 26 are posting positive apartment demand this year, while nine are losing residents.
Demand Correlates with Completions
The Memorial and Katy submarkets, two Energy Corridor areas on the metro's west side, rank as Houston's demand leaders for the initial three quarters of 2016. Absorption comes in at just over 1,500 units for the Memorial neighborhood and just under 1,400 units in Katy. These two submarkets likewise rank as metro Houston's completion leaders in the January-September period, with Memorial completions unfortunately running way above the absorption volume by a big margin.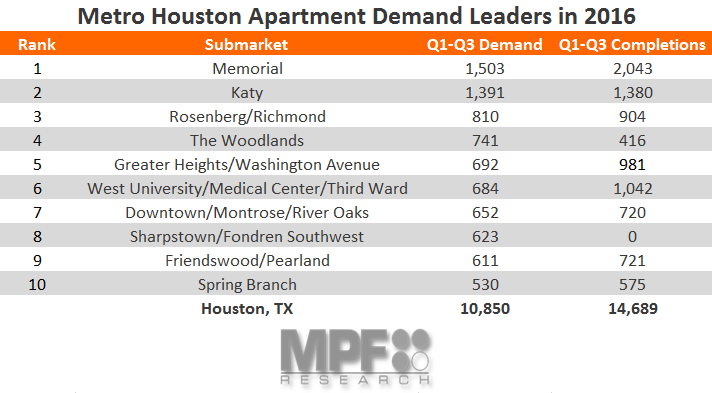 Houston's other strong demand centers on the neighborhood level include both suburban zones, like Rosenberg/Richmond and The Woodlands, as well as urban core spots, like Greater Heights/Washington Avenue, the West University/Medical Center area and Downtown/Montrose/River Oaks.
The most notable neighborhood-level center of substantial demand that hasn't added quite a bit of new product this year is the Sharpstown/Fondren Southwest submarket. This Southwest Freeway corridor locale is a close-in suburb that was one of Houston's first master-planned developments. It is one of the metro's comparatively appealing clusters of affordably-priced housing, featuring lots of reasonably well-preserved apartment product from the 1970s.
Older North Side Zones Are Struggling
Looking at the spots where net move-outs are occurring, the two submarkets hit hardest are North Central Houston (-872 units) and Northwest Houston (-556 units). To some degree, the loss of residents in these north side areas between Houston's inner and outer freeway loops appears to reflect that these are the same locales where Houston employment has faltered. Consolidating energy companies have opted to maintain their more desirable locations in the urban core or in upscale suburbs along the Energy Corridor and in The Woodlands, moving out of the in-between areas. Furthermore, since North Central and Northwest Houston contain huge blocks of mostly moderate-quality product from the 1970s and 1980s, there's not much opportunity for individual apartment communities to establish distinct profiles.