Here's a List: Dallas/Fort Worth's Most Expensive Neighborhoods for Apartments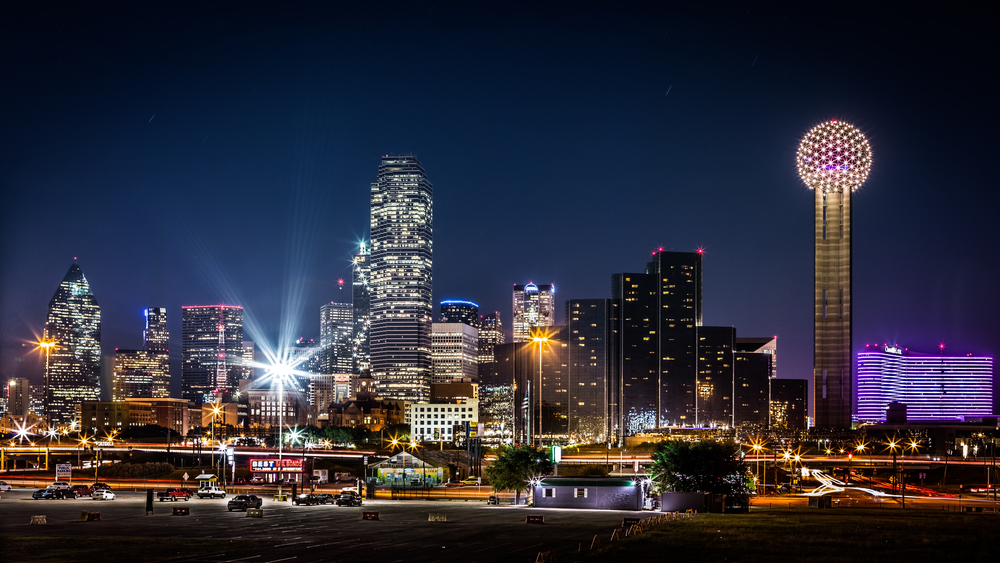 A few months ago, average monthly apartment rent in Dallas/Fort Worth topped $1,000 for the first time. Typical pricing now registers at $1,048.
There are a variety of types of neighborhoods at the top of the submarket-level rent producers in North Texas, and the general characteristics of those areas point out several big-picture apartment sector trends seen both locally and nationally.
The Urban Core Is King
The highest average monthly rents are in the Intown Dallas submarket (that's the combo of Uptown and downtown) and the adjacent Oak Lawn/Park Cities area. It's no surprise that these two spots are the leaders, but maybe it is surprising just how big their pricing premiums are. Typical monthly rents reach $1,707 in Intown Dallas and $1,561 in Oak Lawn/Park Cities, whereas the neighborhoods at the next tier of pricing command rates of $1,200 to $1,300. Also interesting to note, Class A rents in Intown Dallas are virtually identical to overall rents in that submarket, as nearly every community meets the Class A definition. In Oak Lawn/Park Cities, however, there's still some Class B product, so a bigger difference remains between Class A rents and overall rents.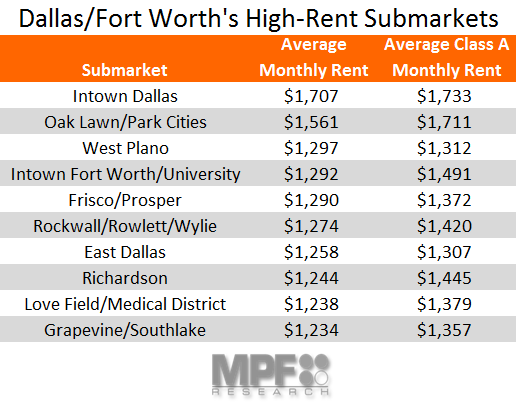 The High-End Northern Dallas Suburbs Rank Next
West Plano is the #3 apartment rent producer in North Texas, posting rates that average $1,297. Frisco/Prosper and Richardson are similar neighborhoods on the list, in that all are generally upscale areas housing those working at the huge cluster of employers in D/FW's northern suburbs. Rockwall/Rowlett/Wylie fits this description to some degree, too. These high-end northern suburbs feature product that's diverse in character. While the newest projects tend to be high-density mid-rise properties with garage parking, there are also lots of garden-style developments with surface parking from the previous couple of development cycles.
Revitalizing Infill Neighborhoods Make the Grade
Two locales that some probably wouldn't have expected to see on the list of North Texas neighborhood-level rent leaders are East Dallas and the Love Field/Medical District area. After three to four decades of gradual deterioration, East Dallas began to come back to life in a big way in the 2000s development cycle, and – thanks in large part to the introduction of a light-rail line – the Love Field/Medical District submarket has experienced a drastic transformation in just the past few years. Virtually everything coming on stream now in these two submarkets meets the Class A product definition. Furthermore, much of the old stock in these zones has already received major upgrades.
Don't Forget Fort Worth
Two of the top 10 neighborhoods for rent achievement in North Texas lie in metro Fort Worth. The Intown Fort Worth/University submarket is a bargain relative to the pricing seen in and around downtown Dallas, but it still ranks as the region's fourth most expensive neighborhood for apartment rents. Grapevine/Southlake grabs the last spot on the regional leaderboard. In general character, this area has a lot in common with the high-end northern Dallas suburbs, making it a desirable suburban option on the west side of DFW International Airport.