Here's a List: California Rent Change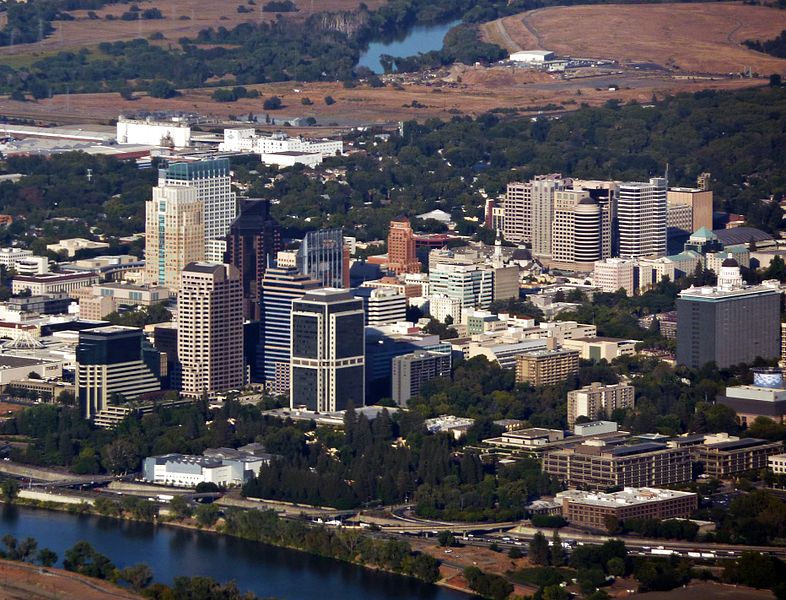 Select California apartment markets rank among the country's biggest winners for rent growth in 2016. Others record some of the nation's weakest performances. Furthermore, the shifts in momentum experienced in several California metros place among the most extreme recorded across the country.
Sacramento and the Inland Empire Look Good
Among the dozen California metros with enough apartments to make the cut as top 100 markets nationally, Sacramento and Riverside/San Bernardino are posting the most aggressive rent growth by a big margin. Pricing is up 9.9% on an annual basis in Sacramento, and Inland Empire rents are up 9.2%. These are the two best rent growth performances in U.S. metros that rank among the top 50 in size, while among the top 100 markets they trail only the double-digit rent growth rates in Reno and Colorado Springs.
Sacramento and Riverside/San Bernardino both are performing better now than was the case a year ago.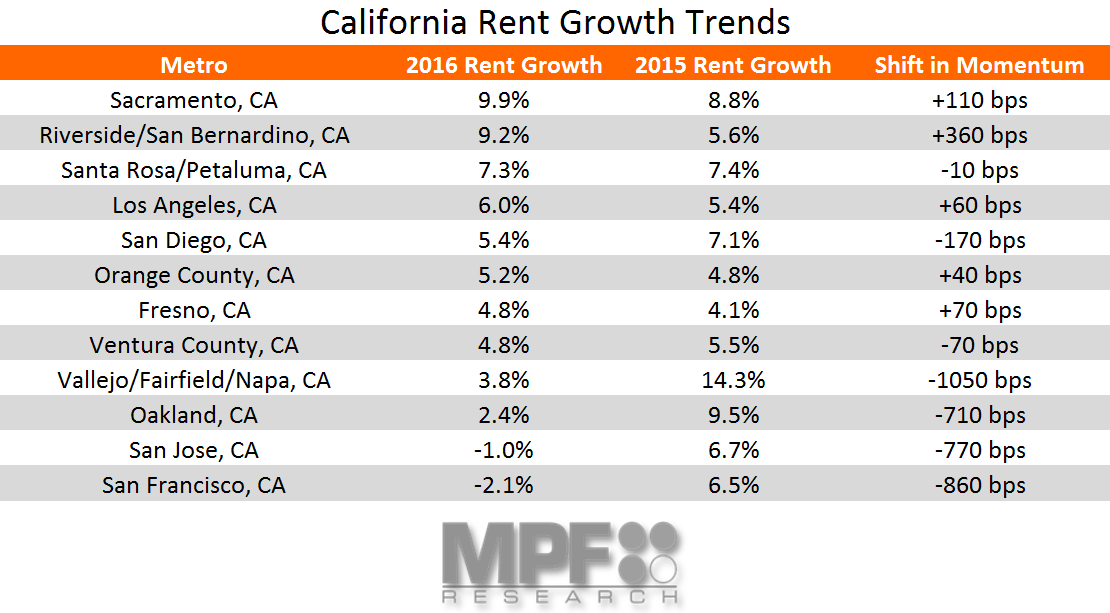 Another half-dozen metros in California also register rent growth well above the U.S. norm. Growth is at roughly 7% in Santa Rosa/Petaluma, approximately 6% in Los Angeles and about 5% in San Diego, Orange County, Fresno and Ventura County.
There's a Big Slowdown in the Bay Area
Vallejo/Fairfield/Napa rent growth of 3.8% is in line with the U.S. average. However, the slowdown in momentum there is particularly extreme, as pricing increases were running at more than 14% a year ago.
Pricing growth has slowed about 700 to 900 basis points during the past year in the heart of the Bay Area. Oakland's 2.4% growth in 2016 compares to 9.5% growth in 2015. San Jose and San Francisco are now experiencing pricing cuts, with rents down around 1% in San Jose and about 2% in San Francisco.
As has been discussed in a couple of MPF Research's recent webcasts, you can make a case that Bay Area operators are overreacting to a leasing environment that, while certainly more competitive than it was early, still is essentially healthy. Of course, you can argue that Bay Area operators overreached on the upside earlier in this cycle, so maybe some pricing correction is due.