Here's a List: Apartment Rent Stratification by Market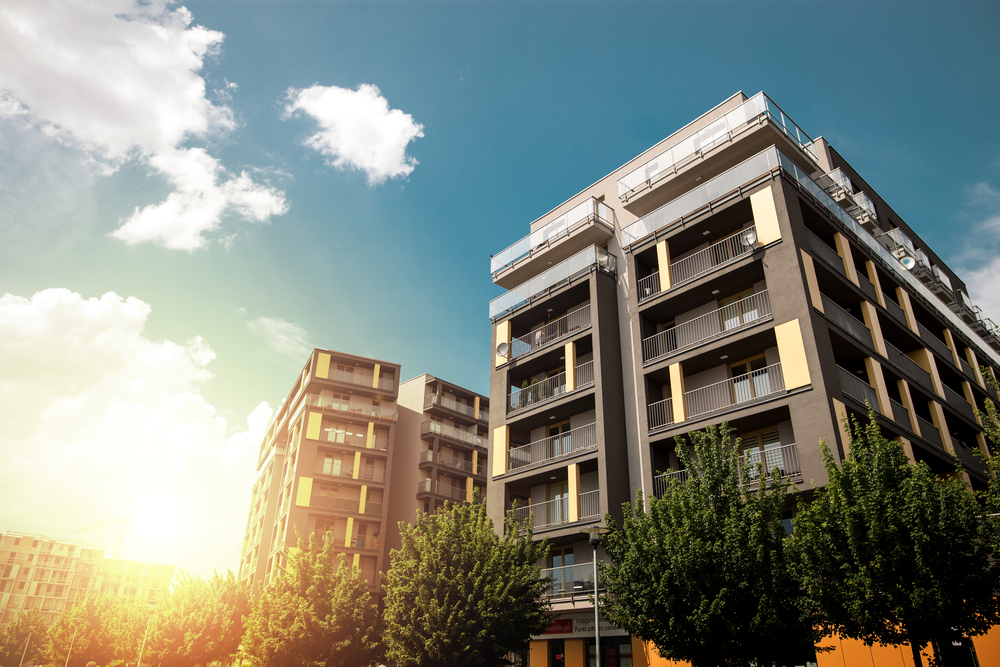 Today's new apartment properties are lots more expensive than the stock built earlier.
That's true in every market cycle. But the difference is getting more pronounced because of where we're building and what we're building. A bigger share of all construction is occurring in urban core settings, and sites in or near most downtown locales simply are more expensive than those in most suburbs. Furthermore, suburban construction now is heavy on mid-rise communities with garage parking rather than low-rise projects with surface parking, again trending toward an inherently more expensive development profile.
Across the country's 100 largest metros, the most expensive Class A product now rents for $1,663 per month on average, basically double the average $850 monthly rents for the lower priced Class C properties.
Rent by Product Quality Varies Drastically on the Coasts
The most stunning rent stratification in individual metros registers in Boston, Southwest Connecticut and New York. Class A properties command 169.5% more than their Class C counterparts in Boston and Bridgeport/Stamford/Norwalk, while the difference is 165.2% in New York. Those are giant variations in the renter lifestyles of the haves and have-nots.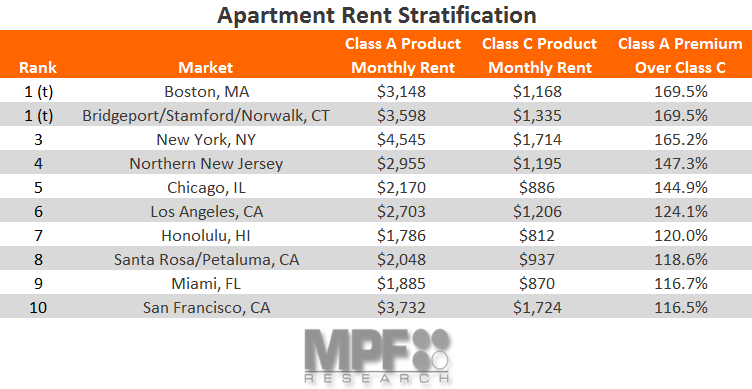 Rent stratification that's quite a bit more pronounced than the national norm is common in expensive coastal markets, including Northern New Jersey, Los Angeles, Honolulu, Northern California's Santa Rosa/Petaluma area, Miami and San Francisco.
The spot in the middle of the country where rent stratification is most apparent is Chicago.
Aggressive Building Tends to Hold Down Price Differences
A few locations that some might expect to see on the list of markets with drastic stratification in the rent structure are missing. Perhaps most notably, where are Seattle and Washington, DC, since they also are expensive coastal metros?
Seattle's rent premium for Class A apartments over Class C apartments, at 107.9%, is mildly bigger than the national average. In Washington, DC, however, the difference of 88.1% is smaller than the U.S. norm. Influencing that relationship, Washington, DC's building pace in this market cycle has been among the most aggressive across the country, with more than 64,100 units added to the metro's inventory since the beginning of 2010. So much new supply coming on stream has held back top-end rent growth to some degree.
Looking at some other key building centers, the rent premiums for Class A units over Class C product also run marginally below the national average, at roughly 85% to 90% in Charlotte, Houston, Denver and Raleigh. The premium is somewhat smaller at 78.4% in the top building center of Dallas.
There's Limited Rent Stratification in Some Spots
Maybe the most surprising result seen in the comparison of apartment rent stratification by metro registers in Orange County, where Class A units are a comparatively modest 53.9% more expensive than their Class C counterparts. That's not because the area doesn't have nice new product. It's because of the severe shortage of lower-priced bottom-tier units. While Class A units in Orange County are priced at levels fairly similar to the top-end rents in neighboring Los Angeles and San Diego, Orange County Class C product rents of $1,399 are much, much higher than the Class C rents of $1,206 in Los Angeles and $1,087 in San Diego.
Metros with the most uniform apartment rents tend to be small slow-growth areas, where additions of expensive Class A units in this cycle have barely registered. The 28.8% Class A rent premium in Allentown, Pennsylvania is the smallest nationally. Other spots where top-tier units are less than 50% more expensive than their Class C counterparts are Harrisburg, El Paso, Tucson, Albuquerque, Omaha and Providence.