Heavy Supply Volumes Weigh Down Seattle Rent Growth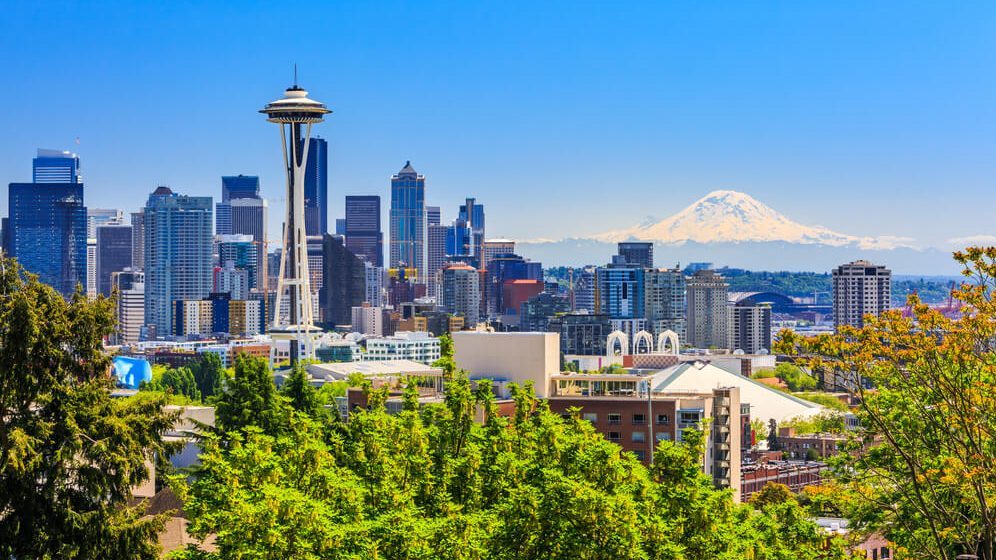 Seattle rent growth fell below the U.S. average recently, a spot this generally outperforming market hasn't been in since before the current economic cycle began eight years ago. While occupancy has held relatively steady in recent years, supply volumes have surged, and operators have responded by reining in pricing strategies.
While the nation overall saw price increases move in a gentle downward trend throughout much of the past few years, Seattle endured a sharper decline. After peaking at 8.6% in 2nd quarter 2016, year-over-year rent growth in Seattle has fallen nearly every quarter. Despite the slight uptick seen in the past three months, specifically, year-over-year rent growth is at just 1.7% in 3rd quarter 2018, registering at a little more than half the national average of 3%.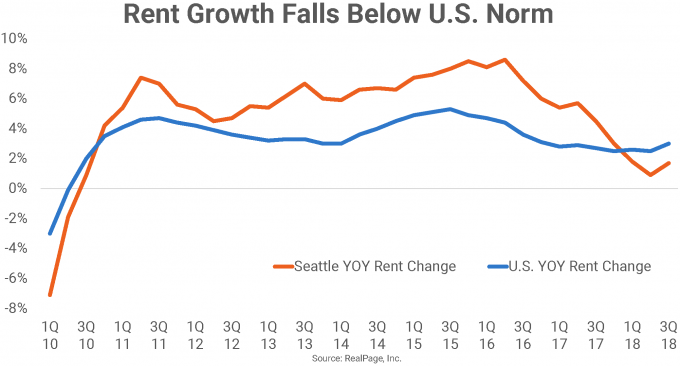 Despite increases hitting below the U.S. norm in recent months, however, apartment rents in Seattle have climbed a total of 50.1% since the current cycle began in early 2010. This performance remains well above the U.S. average (32.6%) and ranks Seattle among the nation's leaders for cycle ret growth alongside the three Bay Area markets and Denver, according to the recent RealPage Asset Optimization webcast.
Among product lines, Seattle's Class A stock recorded the most drastic setback recently. In fact, rent change in this expensive segment turned negative at the start of 2018, and remained there as of fall, with mild year-over-year price cuts of 0.1%. The Class B units were still in positive territory, but softer than normal at 1.8%, while the least pricey Class C stock was in better shape, with growth of 4.3%.
Following that pattern, Seattle's weakest rent change performers by submarket were neighborhoods with large volumes of Class A stock, and those that have received big blocks of new product in recent years. Rent cuts were steep at around 2% in the South Lake Union/Queen Anne and Downtown Seattle areas, while prices dropped 0.6% to 0.7% in Capitol Hill/Central District and University District/Ballard.
On the other hand, submarkets heavy in Class B and C product and lagging in recent completion volumes performed better. The biggest year-over-year increases as of 3rd quarter were seen in Everett and Kent/Auburn, with price hikes of 5.5% and 5.4%, respectively.
Weighing down rent potential, Seattle saw one of the country's biggest new supply waves during the current cycle. Roughly 63,000 units were delivered here in the past eight years, ranking as the nation's fifth largest block of new additions, following the volumes in Dallas/Fort Worth, Houston, Washington, DC and New York.
On a local level, Seattle hasn't seen this much new supply in at least two decades. In fact, in early 2013, annual deliveries here passed the 20-year peak from late 2009. Since then, deliveries have averaged at nearly 9,000 units annually, sizably ahead of long-term norms.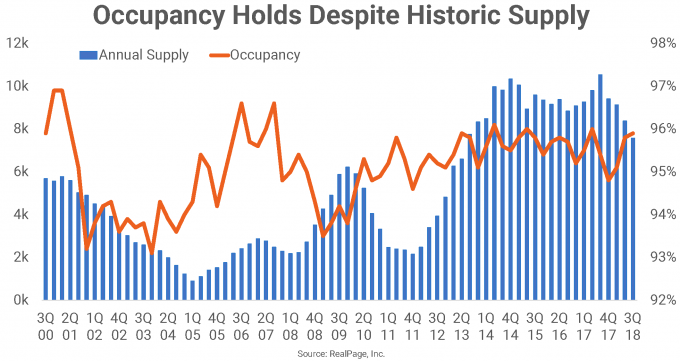 Roughly 40% of Seattle's huge volume of deliveries during the current cycle came online in the urban core neighborhoods of Downtown Seattle, South Lake Union/Queen Anne and Capitol Hill/Central District. In the past year, the share of market-wide deliveries occurring in these centrally located submarkets increased to a notable 58%.
Even with sizable volumes of new supply, occupancy in the Seattle apartment market has remained strong, hovering relatively steady between 95% and 96% since mid-2010. As of 3rd quarter 2018, occupancy was on the high end of that spectrum, at 95.9%.
Not surprisingly, Class C units recorded the tightest occupancy rates in fall 2018, with a reading of 96.5%. Class B stock was essentially in line with the market norm at 95.8%, while Class A units were a bit softer – but still not bad – at 95.3%.
Helping support occupancy, Seattle job growth has been at peak levels recently. In the year-ending 3rd quarter, 67,000 new jobs were added to the market, increasing the existing employment base by 4%. This was Seattle's strongest annual job increase in at least twenty years. For perspective, annual job growth here has averaged at about 37,000 units during the eight years of the current cycle, while annual employment growth has averaged at about 2.4%.