Unlikely Markets Boost Apartment Pricing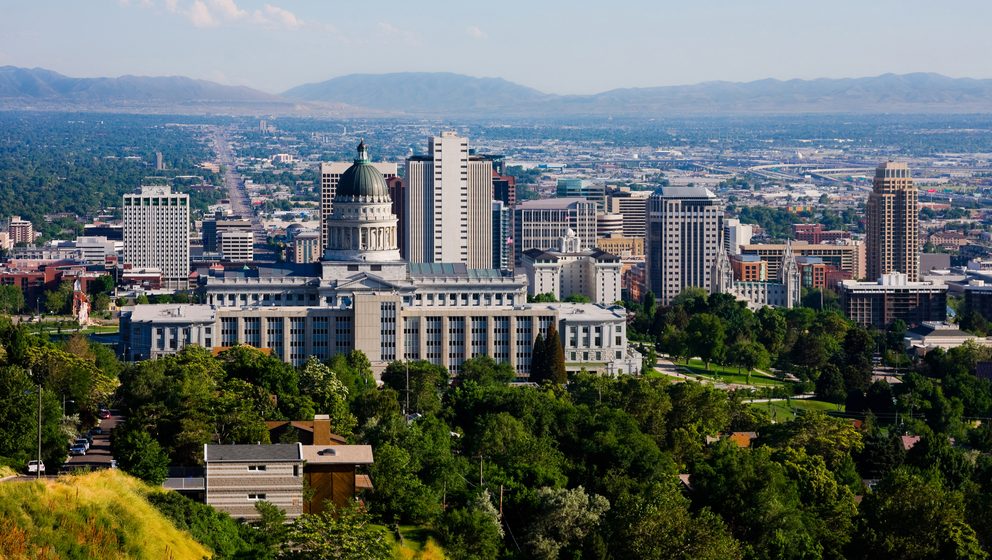 Apartment pricing remained largely resilient throughout the COVID-19 pandemic, bolstered by a steady rise in activity in metro areas that historically have not been considered premier markets.
Transactions in markets such as Salt Lake City and Indianapolis helped send overall U.S. pricing up 2.3% in the past year as investors ponied up for more assets outside of the nation's big gateway markets.
Overall, pricing for assets in these smaller non-coastal markets rose about 6% in the past year, averaging $173,000 per door as of 1st quarter 2021, according to Real Capital Analytics. The nation's core gateway markets, meanwhile, saw prices tumble more than 10%.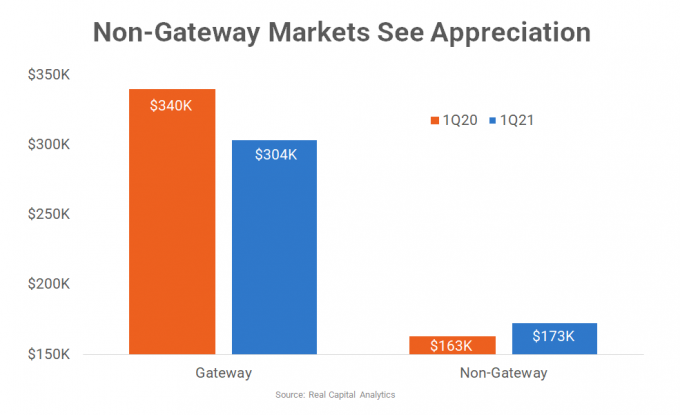 Divergence in pricing reflects conditions underlying the markets. In the depths of the pandemic-driven recession, apartment operators in gateway cities were accepting new leases with rents discounted 12% or more from the previous lease. Smaller markets did not experience a similar decline in new lease trade-out.
Investor interest shifted in turn. A total of 16 major, non-gateway metros saw pricing rise by at least 10%. The largest price increases of more than 30% were seen in West Palm Beach, St. Louis and Jacksonville. Salt Lake City, Indianapolis and Virginia Beach all saw prices rise about 20%.
In contrast, New York prices dropped 27%, down from $402,000 this same time last year. That was enough to push New York from the #3 most expensive metro down to #9 in the nation. Similarly large drops occurred in San Francisco and San Jose, with the average prices per unit dropping $91,000 and $103,000, or 15% and 19%, respectively.
All considered, the downwards shift in pricing among the gateway metros and into non-gateway markets certainly owes some explanation to the pandemic. After all, those gateway metros were among the hardest hit and today's rents remain well below pre-pandemic norms.
Total transaction volume shows a considerable shift away from some markets and into others as well.
In the year-ending 1st quarter 2021, gateway markets including Boston, Los Angeles, New York, San Francisco, San Jose, Seattle and Washington, DC made up about 40% of all investment activity. The remaining 42 major U.S. markets made up the remaining 60%.
Three Sun Belt markets – Atlanta, Phoenix and Dallas – ranked as the nation's largest investment volume markets during the year-ending 1st quarter 2021. These were the only three metros that saw more than $7 billion transact in the past year, led by $8.4 billion in Atlanta. Not coincidentally, they were also the leaders for apartment demand in the past year.
Equally impressive to that trio are the up-and-coming metros such as Denver, Austin and Charlotte, which for years have been middle-of-the-pack for total capital inflows. Today, those markets all crack the top 10.
Over the past year, significant downward movement occurred in San Francisco, which fell to #30 for transaction activity. New York fell out of the top five, despite being among the nation's most expensive markets.
The pandemic undoubtedly had an impact on the transaction volume within a few metros. And while the share of investment going to non-gateway markets has been shifting for a few years now, the pandemic has certainly accelerated some of those trends.
Despite the gloomy picture in some of the gateway metros over the past few quarters, however, things are beginning to look up.
Recent new lease trade-out data shows significant movement. New lease trade-out – the change in rents for the same unit when one lease ends and a new resident moves in – is approaching record levels. And even in the disproportionally hard-hit gateway markets, new lease traction is improving. The same can be said for occupancy rates.
With improving performance, it's probable that pricing in those hardest-hit markets will soon stabilize and likely begin increasing once performance levels return to more favorable territory. Still, there's clearly a longer-term shift for investment moving into non-gateway metros. And with performance levels accelerating even faster in those markets, investment activity could very well continue appreciating into coming few years.