Gateway Markets See Population Decline, While Sun Belt Swells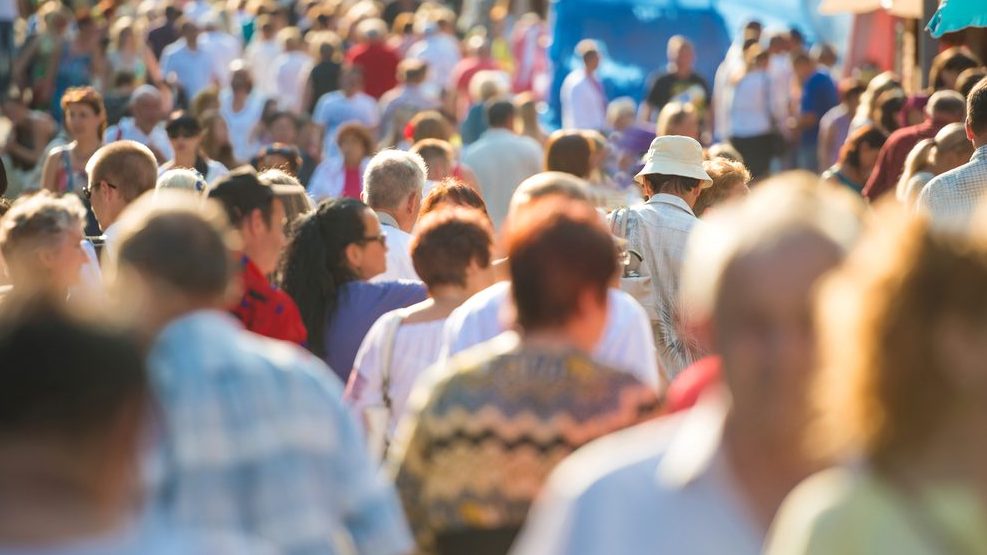 In a year when employees gained more freedom to work remotely, population shifts gravitated away from the expensive gateway areas, toward more affordable parts of the country. As a result, some of the nation's big gateway markets saw dramatic population declines in 2020, while many Sun Belt markets were magnets for in-migration.
Gateway Markets Lose Residents
Weakening performance among the nation's gateway apartment markets has been a common theme in the past year, with occupancy and rents plummeting as these typically attractive markets lost renters to more affordable neighbors.
It was no surprise, then, when the U.S. Census Bureau released data that indicated these gateway markets saw deep contractions in population counts in the past year.
The most dramatic annual net population decline was seen in New York. The Big Apple saw its population decrease by more than 108,000 residents in 2020, contracting the existing population by 0.6%. This marks the fourth consecutive year of population loss for New York. Back in 2011, New York was still seeing population growth, but growth began to fade in subsequent years, finally giving way to resident loss in 2017. That population loss has deepened every year since.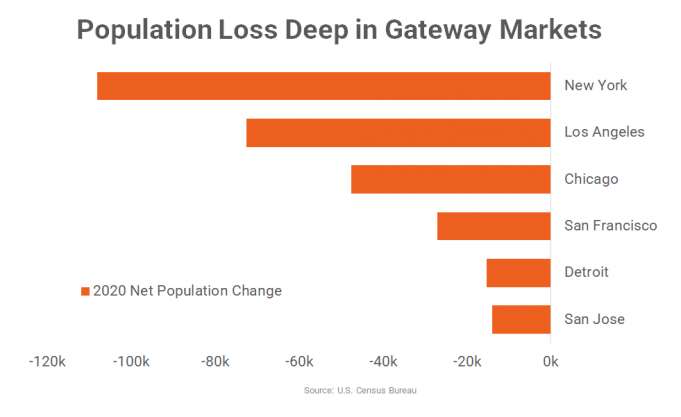 COVID-19 certainly had a pronounced effect on the New York metro area. Deaths outnumbered a declining number of births in 2020, and high infection rates and travel shutdowns dramatically slowed in-migration – particularly from abroad. While New York remains the city that receives the most international migration into the U.S., with over 46,100 new residents arriving in 2020, that volume is more than 28,600 below the five-year average. In fact, international migration into New York has come down every year since peaking in 2016. This market also saw the most loss to other U.S. cities in 2020, with domestic migration loss of 216,800 people.
Despite recent losses, New York remains the nation's largest population base with more 19.1 million people, and it boasts the most expensive apartment market nationwide with monthly rents averaging $3,099 as of April.
Resident loss also was deep in 2020 in some key California markets such as Los Angeles, San Francisco and San Jose. These are also among the most expensive apartment markets throughout the nation, with rents of $2,200 to $2,800 as of April.
Los Angeles saw its population decline by 72,550 people in 2020, which decreased the resident base by 0.6%. This is the third consecutive year of incrementally steeper population decline, though Los Angeles does remain the nation's second biggest total population of 13.1 million residents.
The pattern in Los Angeles was similar to what was seen in New York. There were fewer births and more deaths in 2020 than what was seen here in the past, but net migration was the primary factor bringing down the population. International migration was deeply reduced, with fewer than 10,000 residents moving into Los Angeles from international locations in 2020. That volume has come down over 80% in the past five years. Domestic migration really hurt the overall numbers, however, with over 128,000 residents leaving Los Angles for other U.S. cities in the past year.
Sun Belt Markets Attract
On the other hand, notable relocation hot spots in 2020 include several Sun Belt markets such as Dallas Fort/Worth, Phoenix, Houston, Austin, Atlanta and Charlotte.
These markets in the nation's Sun Belt enjoyed sizable apartment demand in the past year, as these less expensive areas offered solid employment opportunities with diverse economies and appealing lifestyle options.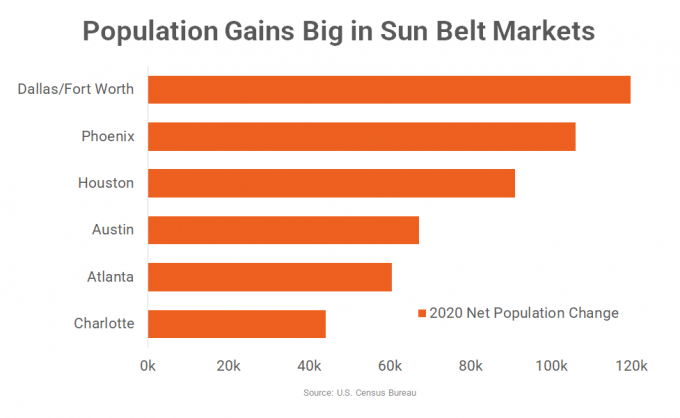 The Dallas/Fort Worth area logged a net population gain of nearly 120,000 new residents in 2020, with this gain swelling the local population by 1.6%. This region saw big gains in domestic migration in the past year, with 58,000 residents moving in from somewhere else in the U.S. That was an increase of 24.7% over 2019's net migration gains. International migration was also big in Dallas/Fort Worth, which gained nearly 16,900 new residents from outside of the country. While notable by national standards, however, that number was about half the volume of international migration this area saw in 2019.
Dallas/Fort Worth is a national apartment demand – and construction – leader, with average monthly rents that run about $200 to $300 below the national norm.
Phoenix gained a little over 106,000 residents in 2020, increasing its population by 2.1%. The nation's domestic migration leader, Phoenix gained 82,400 or so residents from other U.S. cities in the past year. International migration was smaller with 6,590 new residents, well below the five-year average for this market.
Even after ranking among the nation's rent growth leaders for several years now, prices in Phoenix's apartment market still run about $100 below the national average.
Houston gained a little over 91,000 new residents in the past year, an increase of 1.3%. This market saw domestic migration increase by over 200% in 2020. Over 19,700 new residents were gained through domestic migration in the past year, making up for losses this market saw in 2017 and 2018. In 2019, in-migration was moderate at roughly 6,000 people. International migration was down from previous numbers but was still solid at over 24,500 residents.
Austin saw its resident base increase by nearly 67,200 people, or 3% in the past year. This was the strongest percentage growth rate seen among large markets – with 1 million or more residents – nationwide. Three smaller markets saw faster growth than Austin, with rates of 3.4% to 3.9% in The Villages, FL, St. George, UT and Myrtle Beach, SC. The total population of those cities is roughly 100,000 to 300,000 residents.
The Texas capital benefited from domestic migration in the past year, with nearly 48,900 new residents moving into the city, a 17.8% increase over 2019's volumes.
While Austin is the most expensive apartment market in Texas, average prices of $1,335 as of April were still about $100 below the national norm.