Four New Student Housing Properties Leading For Leasing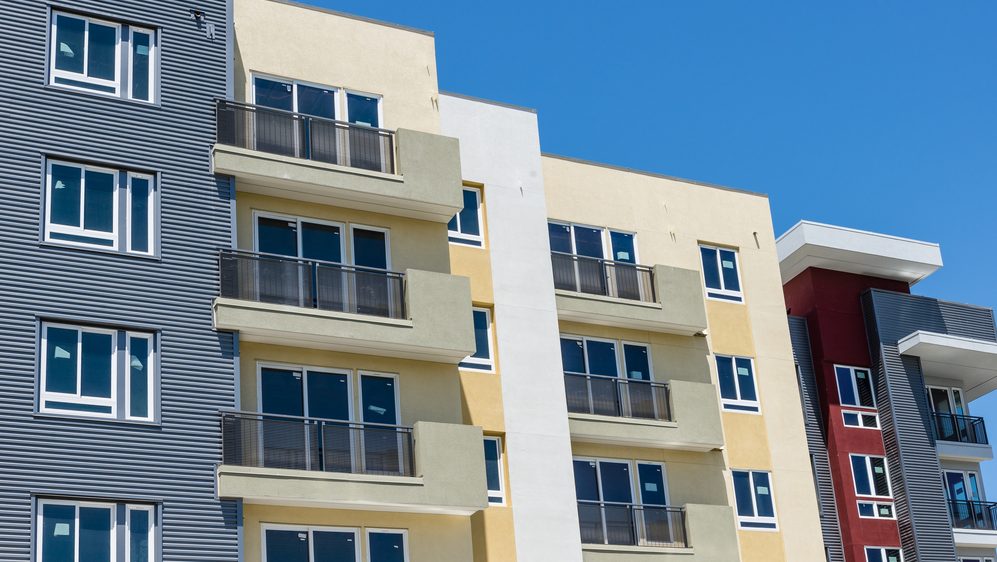 Despite being trendy, attractive and modern, newly developed student housing properties typically underperform their already established counterparts in terms of leasing velocity.
But of course, there are always exceptions. Here's a look at some student properties set to open this fall that are leading their respective markets for preleasing.
Evolve Bloomington
Evolve Bloomington, is located across the street from the Indiana University football stadium and basketball arena. With capacity for 279 students, the project is the only student housing development at Indiana University scheduled to open this fall, and the first student housing property to be built there since 2014. The site currently reports to be fully preleased, which is expected to turn into a full occupancy by the time classes start on Monday. The property reports the highest prelease in the market, with the rest of the properties reporting prelease rates anywhere between 75% and 99%. As students flocked to Evolve Bloomington early, by April the property had reached generally high leasing velocity. By June, it was already fully preleased.
Part of the attraction, aside from location, was the wide variety of new community amenities, such as building access controls with video and smart phone technology, a courtyard with jumbotron, hot tub, indoor basketball court, sauna, 24-hour fitness center, yoga room, zen lounge, private study rooms and study lounge, bike storage and WiFi throughout them all.
Some of the in-unit amenities at Evolve Bloomington include fully furnished apartments with custom-designed modern furniture, memory foam mattress, USB outlets in bedrooms and kitchen, island sitting with quartz countertops and stainless steel appliances in kitchen, and in-unit washer and dryer. Some units also offer Kohler Moxie showerheads with wireless speaker and smart TVs with sound bar in the living rooms.
The Station on Alafaya
This property is located 0.81 miles north from University of Central Florida, above the market average distance from campus (0.6 mi). The property is reportedly fully leased, where most of the properties at this market currently stand, though at 750 beds, The Station on Alafaya is in the top half of the list of properties with the most beds in the market. The site reportedly completed construction in July.
This development, which is owned and managed by Landmark Properties, has shown and consistently high leasing velocity throughout the leasing season. Such positive leasing velocity can be partially attributed to the newly built amenities that the property offers. Some of these community-wide amenities include resort-style pool and outdoor terrace, sand volleyball court, gourmet grilling area, outdoor lounge with fire pit, 9,000-square-foot clubhouse, resident lounge, meeting rooms, golf simulator and two-story fitness facility.
Some of the unit-level amenities that students this fall will enjoy include fully furnished spaces, walk-in closets, recycled glass countertops, stainless steel appliances, smart TV in living rooms, front porches and back patios with private access, high-speed internet and a washer and dryer in each unit.
Skyloft
Skyloft is located near University of Texas at Austin, 0.11 miles west from campus, below the average distance in the market (0.4 miles). This 674-bed property contains more than the average number of beds per site in the market (428), and is the property with most beds delivering this fall. Skyloft is one of the top performers in the market this leasing season in terms of leasing velocity, showing a relative high prelease since January and fully preleased by May. By comparison, most other properties have not reached capacity, with preleasing ranging between 60% and 99%.
The strong performance of the Skyloft, is in part attributed to some over-the-top amenities in the development. The community offers an on-site fresh market and allows its student to submit orders via phone app. Other amenities include a rooftop pool deck with views of the Austin skyline, parking garage, state-of-the-art fitness center, multiple study rooms, bike parking and coffee bar.
In individual units, those who signed to live at Skyloft will enjoy units fully furnished with upscale furniture, entertainment center, smart TV in living room, modern kitchen with chef's sink, granite countertops and stainless steel appliances. Additionally, every unit is equipped with side-by-side washer and dryer.
Quantum on West Call
This development is situated near Florida State University, the student housing market that is currently seeing the most properties delivering this fall. Quantum on West Call, one of four properties delivering this month, is located less than a tenth of a mile northwest from campus, below the average distance to campus in the market (0.4 mi) and the third closest to campus among those delivering this fall. Quantum on West Call is the new property this fall with the most beds (752), and this project is the second highest performer amongst these four projects. However, with the large amount of deliveries in recent years, new properties in this market are most likely not expected to reach full capacity when they open. In fall 2016, a total of 460 beds were delivered with the development of two properties. Additionally, fall 2017 experienced over 480 new beds, also in two properties. This fall, the market is expected to see close to 2,300 new beds within four properties.
Some of the community amenities that Quantum on West Call has to offer include a yoga studio, 24-hour state-of-the art fitness center, swimming pool with sundeck, outdoor social lounges with grilling station, monthly social events, individual and group study lounges and WiFi access in all community areas. Individual units come with a smart TV in the living room, private bathroom in each bedroom, in-unit washer and dryer and a private patio or balcony.