Fort Worth on Track for Star Status in North Texas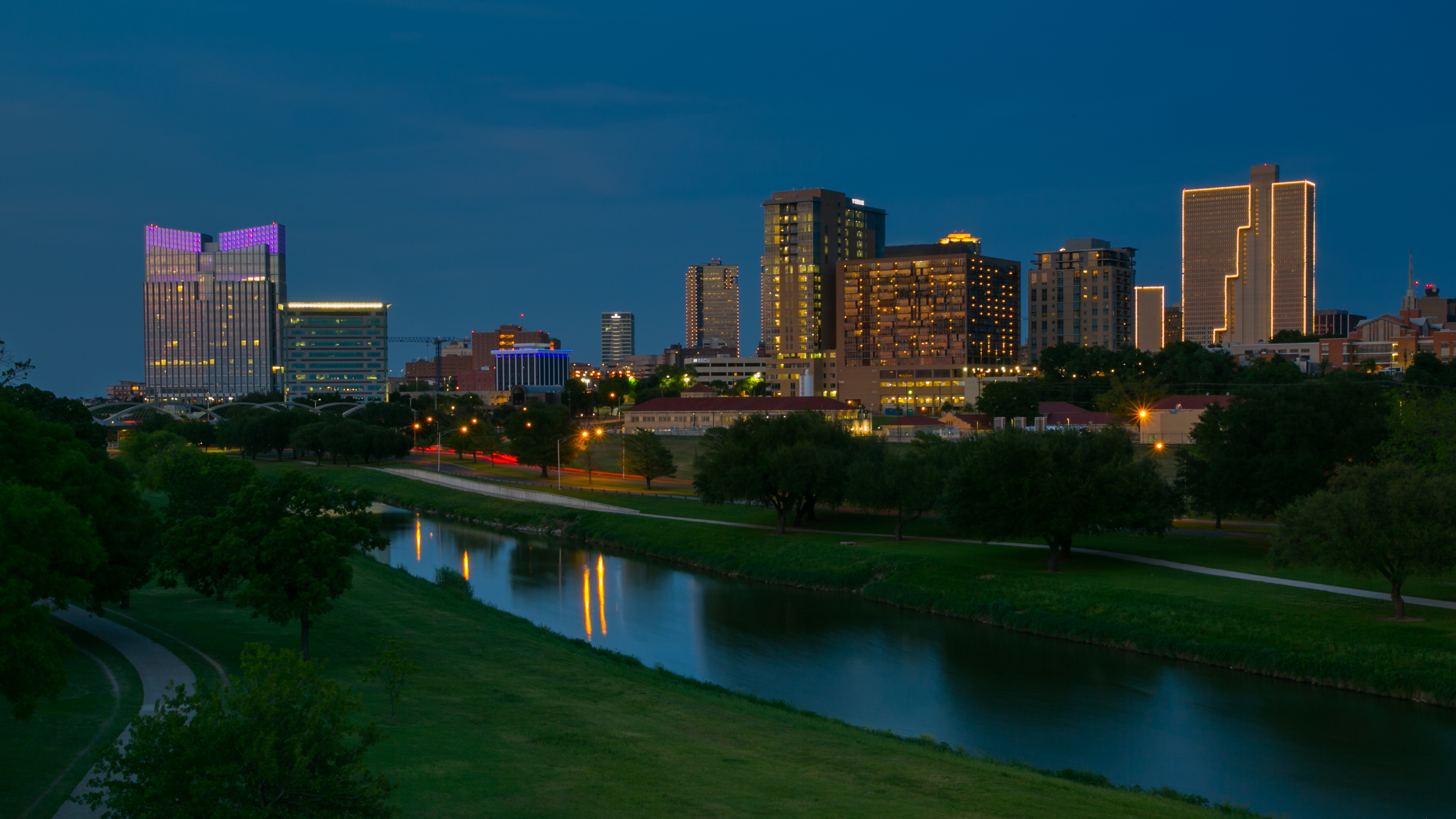 An interesting thing has happened in North Texas over the course of this economic cycle. While Dallas grabbed most of the attention in the multifamily industry, Fort Worth went  unnoticed comparatively. Now, the Fort Worth multifamily market is outpacing its eastern neighbor in terms of both rent growth and occupancy, and it is well positioned to be a top performer over the next three years.
"We really like Fort Worth in the near- to mid-term in particular due to the overall region's job gain," said Carl Whitaker said at a recent Connect Media Texas Multifamily conference. "Fort Worth benefits being part of a region with some of the nation's best employment growth. But considering construction activity has been far less substantial than Dallas, Fort Worth's performance gets an additional boost from limited supply.
"That should carry forward in the next few years, too. D/FW remains among our most bullish employment forecasts while the western part of the market continues to see less of the region's overall construction activity," said Whitaker, market analytics manager for RealPage, Inc.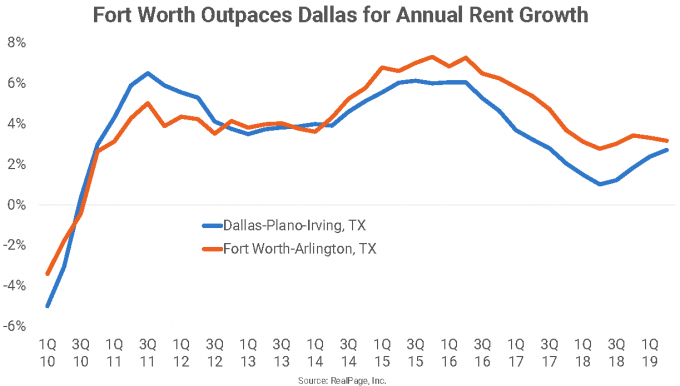 Though Dallas recovered more quickly and substantially than Fort Worth from the Great Recession. Starting in mid-2014, however, Fort Worth began outpacing Dallas for rent growth. Since then, Fort Worth's rent growth has stood an average of 130 basis points (bps) above Dallas'. Over the next several quarters, Fort Worth is still expected to outpace Dallas rent growth by an average of about 100 bps.
At $1,058, average monthly rent in Fort Worth is still a bargain compared to both Dallas ($1,186) and the U.S. average ($1,393) in 2nd quarter 2019. The two North Texas markets have maintained a roughly $120 delta in rents for several years, but that difference is set to shrink to closer to $100 in the coming quarters.
As Whitaker pointed out, job growth in North Texas has propelled growth in many sectors, including multifamily. In year-ending 2nd quarter 2019, Dallas/Fort Worth added 109,000 jobs, growing its employment base 3%. Though the Fort Worth area accounted for a mere 18,500 of those jobs, the western market benefits from jobs created on the eastern side of North Texas.
Over the next year, performance in Fort Worth's 14 submarkets looks sunnier than in Dallas' 34 submarkets. Big supply volumes that have hampered rent growth in several Dallas neighborhoods should continue to do so over the next year. Most Fort Worth submarkets haven't seen similar supply loads to slow rent growth. Perhaps the lone exception is Intown Fort Worth, where ongoing construction activity is expected to keep rents around their current level over the next year. With these dynamics, rent growth in Dallas is expected to continue to trail Fort Worth's by around 100 bps.
Before the current economic cycle, Dallas occupancy typically outpaced Fort Worth in terms of apartment performance. Over the last five years or so, the two markets have seen more similar occupancies, and both stand at 95.0% in 2nd quarter 2019. Though both markets are expected to see some softening in occupancy next year, Dallas will likely take the larger hit, as Fort Worth, like most other markets across the country, isn't seeing the heavy supply volumes that Dallas is experiencing.
Dallas led the country in the number of units under construction at the end of June 2019. Those are on top of the nation-leading 125,000 new apartments already completed this cycle. Dallas has grown its existing unit base by twice the ratio of Fort Worth. Fort Worth has grown its unit base by just under 13% this cycle, which began in 2010. Dallas, meanwhile, has grown its apartment base by more than 24% during that time.