The Five Largest Apartment Transactions in 3rd Quarter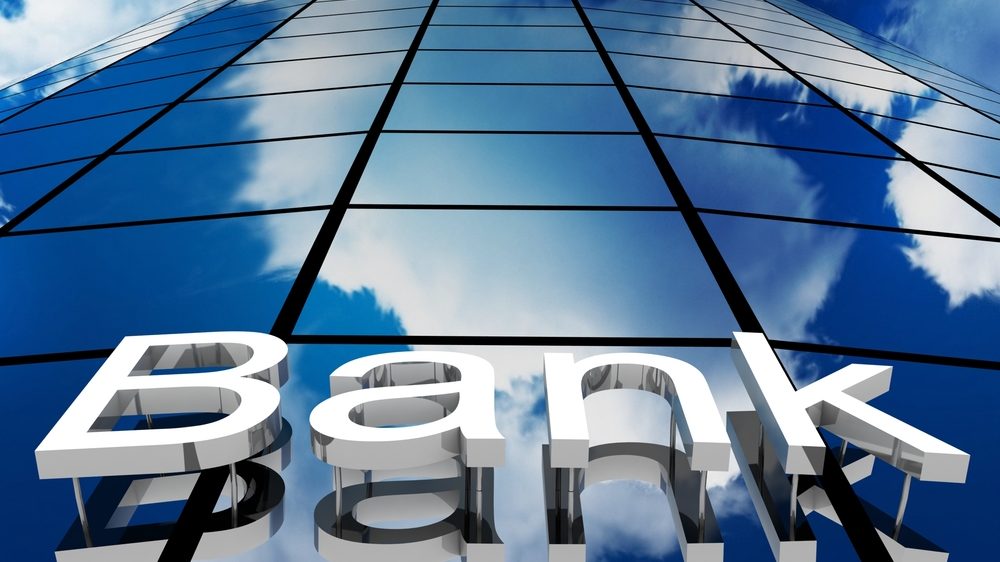 Apartment sales have slowed amid the pandemic, as the volume of multifamily properties purchased increased in 3rd quarter but was still down compared to pre-pandemic levels.
Nearly $21.1 billion changed hands in roughly 1,000 transactions in 3rd quarter, according to Real Capital Analytics. That activity was down notably from the $30.8 billion in transactions seen in 1st quarter, but up from the $13 million in transactions during 2nd quarter. Much of the recent disparity can be attributed to the COVID-19 pandemic. Most of the largest transactions, as usual, occurred for properties on the coasts. But a few transactions for properties in interior markets were among the nation's largest in recent months.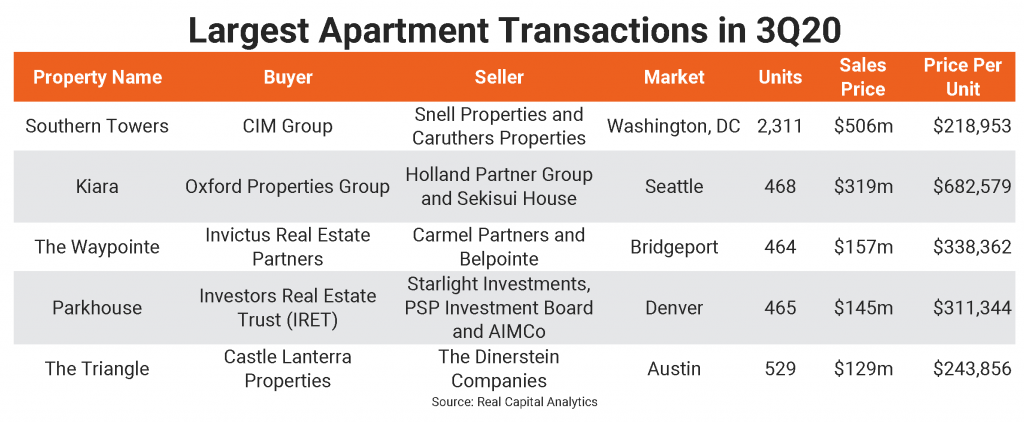 Here are the five largest individual sales transactions from July through September:
Southern Towers
In mid-August, Los Angeles-based CIM Group bought the massive Southern Towers apartment complex in the Washington, DC market. The seller was a joint venture between Snell Properties and Caruthers Properties, both based in Arlington, VA. The five-building, 2,311-unit apartment complex in Alexandria was purchased for approximately $506 million or roughly $219,000 per door. Based on the total purchase price, it was one of the largest multifamily deals in the region's history and largest sale nationally so far this year. Southern Towers sits on 40.5 acres on Seminary Road, just off IH-395, and across the street from the Mark Center Transit Station in the East Alexandria submarket. Construction on the development was completed in 1963 with some of the latest renovations completed in 2016. The 15-story buildings include The Graham, The Stratford, The Sherwood, The Ashlawn and Monticello. Amenities include two swimming pools, tennis courts and a playground. Each building contains a fitness center, a community room and a business center. The development also has an on-site convenience store, dry cleaner, banking and a weekend Farmer's Market. CIM is planning to make some renovations to the community.
Kiara
Canadian Investor Oxford Properties Group purchased the 468-unit Kiara apartment community in early July. The 41-story development is at the intersection of Denny Way and Terry Avenue on the southern edge of Seattle's South Lake Union neighborhood, just north of Denny Triangle and near Amazon's headquarters. The seller was a joint venture between Vancouver, WA-based Holland Partner Group and Arlington, VA-based North America Sekisui House, a subsidiary of Japan-based Sekisui House. Kiara. The community, which was completed in late 2018, sold for $319.4 million or about $683,000 per unit, the largest sale in Seattle in at least 20 years and the fourth-largest sale nationally so far this year. Nearly one-third of the apartments in the building are classified as penthouses. The building includes four levels of underground parking with 374 parking spaces, nearly 190 bike stalls, three amenity levels and more than 15,000 square feet of retail space. Rooftop amenities on the 41st floor include a business center with hospitality station, private meeting room, game room, and clubroom with a demonstration kitchen. Seventh floor amenities include a fitness center, BBQ stations, fire pits and an indoor/outdoor entertaining space. First floor amenities include a lobby with hospitality station, a conference room, concierge, dog lounge with washing station, an outdoor dog play area, package lockers and cold storage.
The Waypointe
In mid-August, a joint venture between San Francisco-based Carmel Partners and locally based Belpointe Capital sold The Waypointe apartment community in the Bridgeport-Stamford-Norwalk market. New York-based Invictus Real Estate Partners purchased the 464-unit development for $157 million or roughly $338,000 per unit. The community is at 515 West Avenue in Norwalk, about an hour away from Manhattan, two blocks from IH-95 and near the MTA's South and East Norwalk train stations. The development, which completed in 2015, contains two, five-story buildings and 56,000 square feet of ground floor retail and restaurant space. The community features a heated outdoor saltwater pool and sundeck, BBQ area with fire pits, fitness center with separate spin room, cardio room and weight room, billiards room, private theater, clubroom with demonstration kitchen, dog park, rooftop terraces, garage parking and concierge services.
Parkhouse
Minneapolis-based Investors Real Estate Trust (IRET) recently acquired the 465-unit Parkhouse apartment community in the Denver market from a partnership between the Canadian firms Starlight Investments, the Public Sector Pension (PSP)Investment Board and the Alberta Investment Management Corporation (AIMCo). The deal closed in late September for $144.8 million or roughly $311,000 per unit. The garden-style complex has 20, three-story buildings and sits on 24.2 acres off Grant Street in Thornton within the Broomfield submarket. Built by Lennar Multifamily Communities and completed in 2017, the property was sold to the Canadian partnership that year for $121.6 million. Amenities include two swimming pools and spas, playground, outdoor kitchen with grills, game room, bike rentals, ski and bike repair shop, yoga and spin room, community garden, dog wash and dog park, plus rentable storage units. IRET, the publicly traded real estate investment trust, also owns three other properties in the Denver area and nearly 70 across its multi-market portfolio.
The Triangle
In early July, New York-based investment firm Castle Lanterra Properties bought the 529-unit residential portion of the mixed-use Triangle project in Austin. The Dinerstein Companies, based in Houston, sold the apartments for $129 million or roughly $244,000 per unit. Construction on the four-story community began in 2005 and completed in 2009. The Triangle is a six-building residential complex near the intersection of Guadalupe Street and North Lamar Boulevard in the Near North Austin submarket. It is adjoined by 111,000 square feet of retail and commercial space. Apartment amenities at The Triangle include a fitness center, a common kitchen, conference center, coffee bar, dog park with monthly pet events, three swimming pools, a fire pit and cabanas. Castle Lanterra is planning to renovate the community.