The Five Largest Apartment Transactions in 3rd Quarter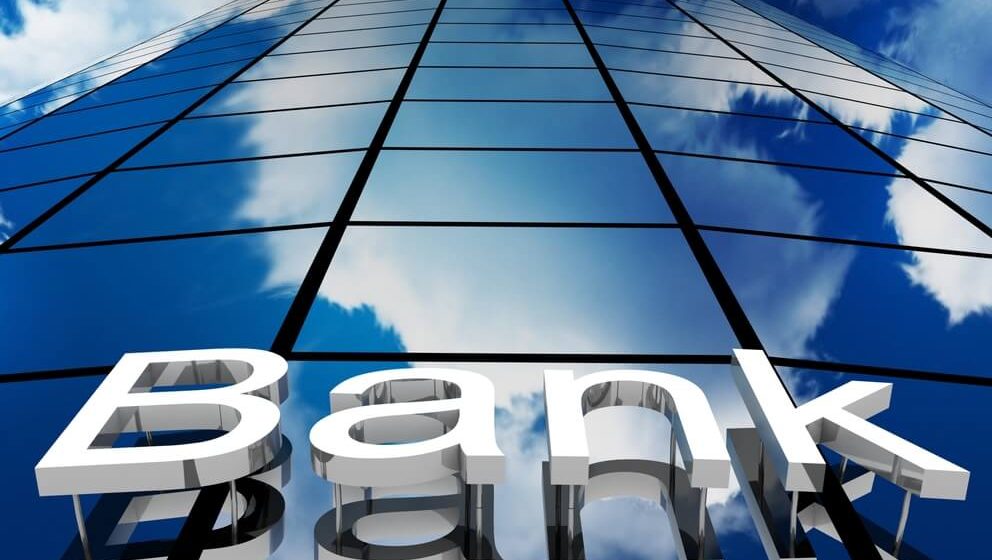 Apartment transaction volumes skyrocketed in 3rd quarter, with the dollar value of trades at the highest level in more than 20 years.
Roughly 2,700 apartment properties changed hands at a value of more than $78.7 billion during 3rd quarter 2021, according to Real Capital Analytics (RCA). That dollar volume was the highest on record in at least 20 years. The recent low was in 2nd quarter 2020, following the onset of the pandemic, when only 966 properties were sold at a value of $15.6 billion. Just a few months later, in the last three months of 2020, about 2,900 apartments transacted for roughly $63.4 billion, which at the time was a 20-plus year quarterly high on both accounts. For 2020 overall, about 7,200 apartment communities were sold for $146.6 billion. That was well below 2019 volumes, when nearly 9,000 properties traded hands for almost $193 billion. This year has already surpassed 2020 levels. During the first three quarters of 2021, a total of 7,279 properties traded hands at a value of $178.5 billion.
Here are the five largest apartment transactions from July through September.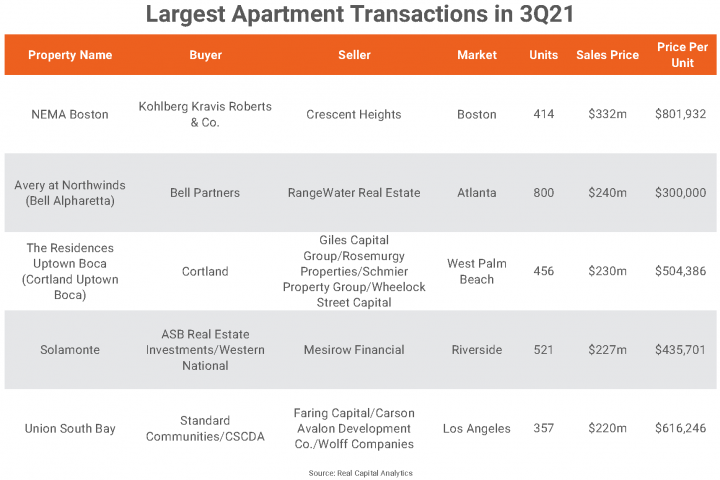 NEMA Boston
 The largest apartment transaction to take place nationally in 2021's 3rd quarter was a newly built development in the Boston market. Kohlberg Kravis Roberts & Co. (KKR), a private equity firm based in New York City, bought the 414-unit NEMA Boston apartment community in early July. KKR paid Miami-based Crescent Heights around $332 million or roughly $802,000 per unit. Crescent Heights completed construction on the 22-story building in November 2020. The property sits on less than three-fourths of an acre at 399 Congress St. in the Intown Boston submarket. Amenities include a rooftop lounge with fire features, outdoor rooftop movie screen, rooftop pool, fitness center, yoga studio, chef's kitchen, media lounge, pet spa, dog park and game room. The development also includes retail space and a three-level parking garage.
Avery at Northwinds
In early September, Greensboro-based Bell Partners acquired one of the largest apartment communities in the Atlanta market. Atlanta-based RangeWater Real Estate (a company formed by Pollack Shores Real Estate Group and Matrix Residential) sold the 800-unit Avery at Northwinds community for $240 million or around $300,000 per unit, the second-largest transaction in the nation during 3rd quarter 2021. The 50, three-story buildings are roughly 20 miles north of downtown Atlanta in Alpharetta and sit on nearly 75 acres off Gardner Drive, near the intersection of Old Milton and Westside parkways. The development, which was built in 1997, last traded hands in 2018 for $172 million. The property features amenities such as three swimming pools, tennis courts, car care center, fitness center, dog park, clubroom, bocce ball court and playground. Bell Partners has renamed the community Bell Alpharetta and plans to upgrade common areas and apartment interiors.
The Residences Uptown Boca
The third-largest transaction to take place in the nation during 2021's 3rd quarter was the sale of The Residences Uptown Boca in the West Palm Beach market. Giles Capital Group, Rosemurgy Properties, Schmier Property Group and Wheelock Street Capital sold the development to Atlanta-based Cortland in early August. The community, which was completed in 2021, traded for $230 million or approximately $504,000 per unit. The 456-unit, seven-building development sits on nearly 40 acres at the southwest corner of Glades Road and 95th Avenue South in Boca Raton. Amenities include a 24-hour gym and business center, cold storage, theater and lounge, rideshare lounge, dog parks, a soccer field, playground and children's gaming area. The five-story development has been rebranded Cortland Uptown Boca.
Solamonte
In early August, Chicago-based Mesirow Financial sold Solamonte, a 521-unit garden-style apartment community in the Riverside market. A joint venture between Maryland-based ASB Real Estate Investments and California-based Western National paid $227 million or nearly $436,000 per unit for the three-story development, the nation's fourth largest transaction in 3rd quarter. The 12-building community previously traded hands for $130 million in 2016. The 20.5-acre property, built in 2002 and renovated in 2020, is at 9200 Milliken Ave. in Rancho Cucamonga. Amenities include a saltwater swimming pool, outdoor movie theater, game room and fitness center. At the time of the sale, 80% of the apartments had been renovated and the buyers plan to undergo additional renovations.
Union South Bay
Los Angeles-based Standard Communities partnered with the California Statewide Communities Development Authority (CSCDA) to acquire Union South Bay in the Los Angeles market with plans to convert the property to middle-income housing. Ranking as the fifth-largest transaction in the nation during 3rd quarter, the 357-unit development traded in mid-July for approximately $220 million or around $616,000 per door. The sellers were Faring Capital, Carson Avalon Development Company and Wolff Companies. The five-acre property is along Avalon Boulevard in Carson, within the Long Beach submarket. The five-story community, which was built in 2020, has more than 28,000 square feet of retail space and features a fitness center, rooftop deck, swimming pool, indoor/outdoor bar and a dog washing station. Following the acquisition, rents were immediately decreased for qualifying residents with incomes of 80% to 120% of the area's median income.