The Five Largest Apartment Transactions in 2nd Quarter 2022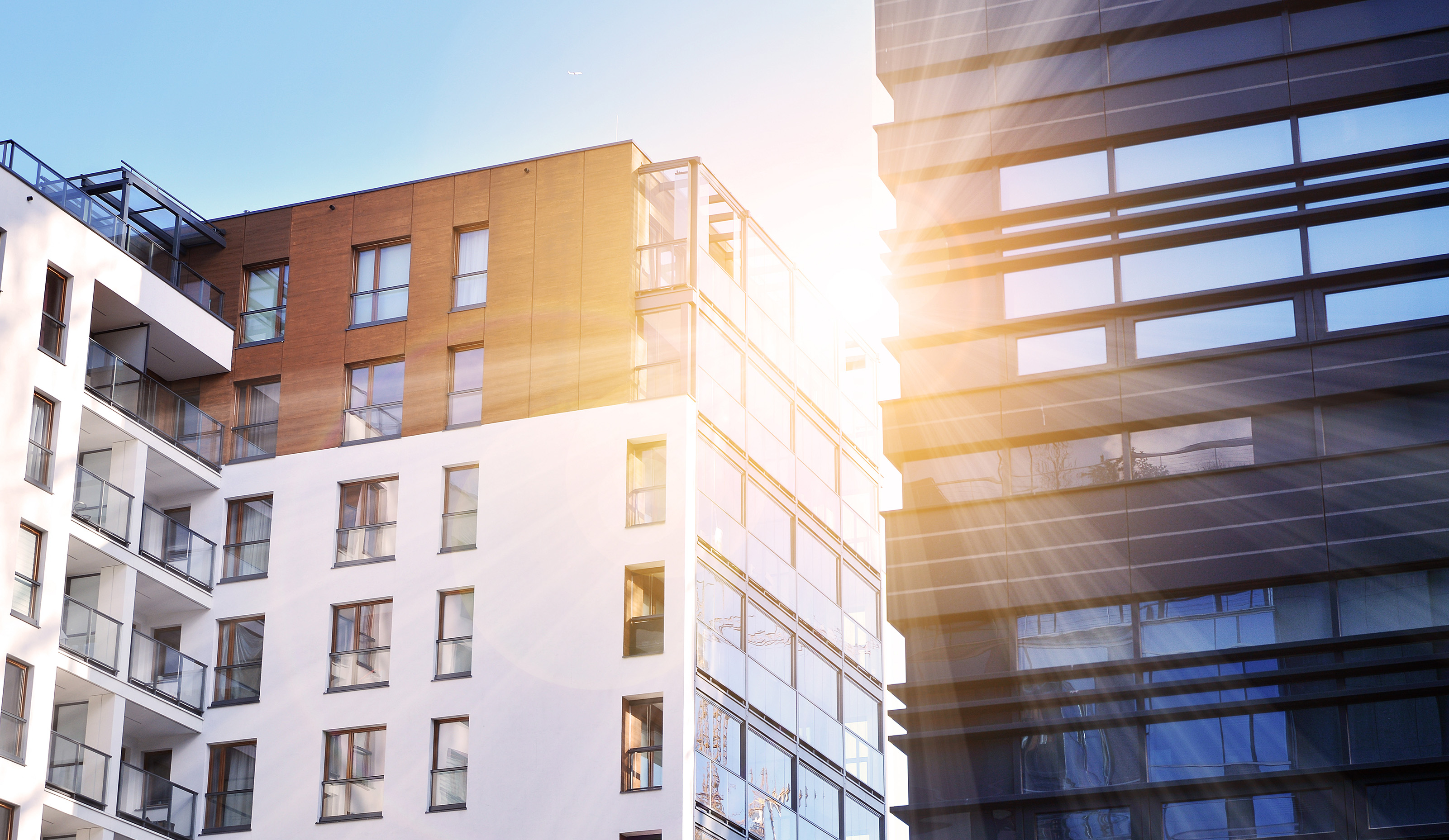 Despite fears that rising interest rates would dampen apartment deals, apartment transaction volumes picked up in 2nd quarter 2022. Though current sales were below the peak from two quarters ago, transactions have remained at 20-year highs for much of the past two years.
Roughly 2,500 apartment properties changed hands at a value of nearly $86.3 billion during 2nd quarter 2022, according to Real Capital Analytics (RCA). While overall sales volumes in 2nd quarter were up 42% year-over-year, they were well below 4th quarter 2021 levels when around 5,000 properties changed hands for more than $162.5 billion.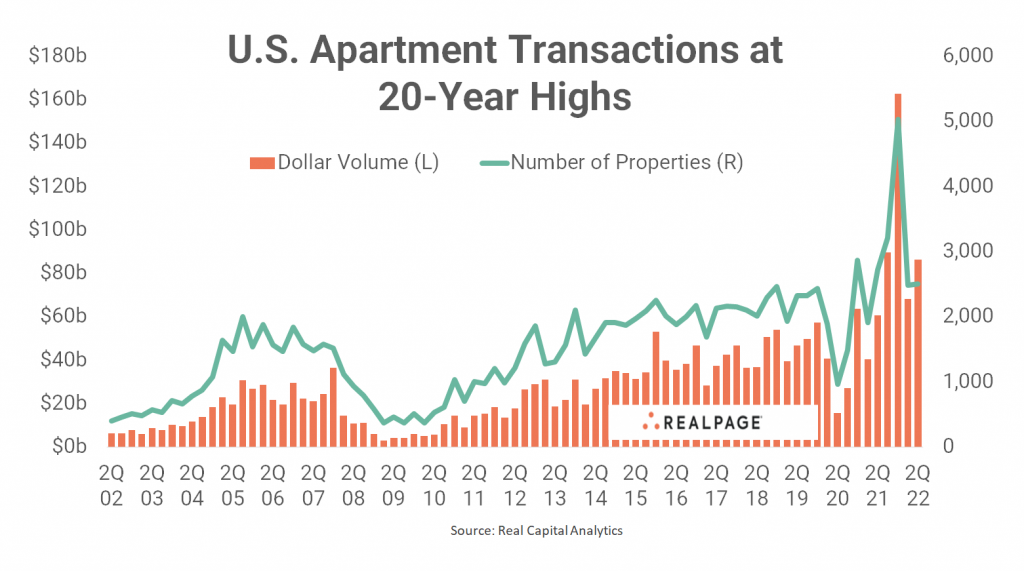 The recent low was in 2nd quarter 2020, following the onset of the pandemic, when only 968 properties were sold at a value of $15.7 billion. Just a few months later, in the last three months of 2020, about 2,900 apartments transacted for roughly $63.6 billion, which at the time was a 20-plus year high on both accounts. Transactions in the year-ending 2nd quarter 2022 totaled more than $406.7 billion with over 13,200 properties trading hands, marking new annual highs on both measures. Looking back to the past few years, sales dipped in calendar 2020, when about 7,200 apartment communities were sold for nearly $147.3 billion. That was well below the volume from 2019, when nearly 9,000 properties traded hands for $193.4 billion. In 2021, transactions jumped back up again, with roughly 12,900 properties trading hands at a value of more than $353.1 billion, nearly double the 2020 level on both accounts.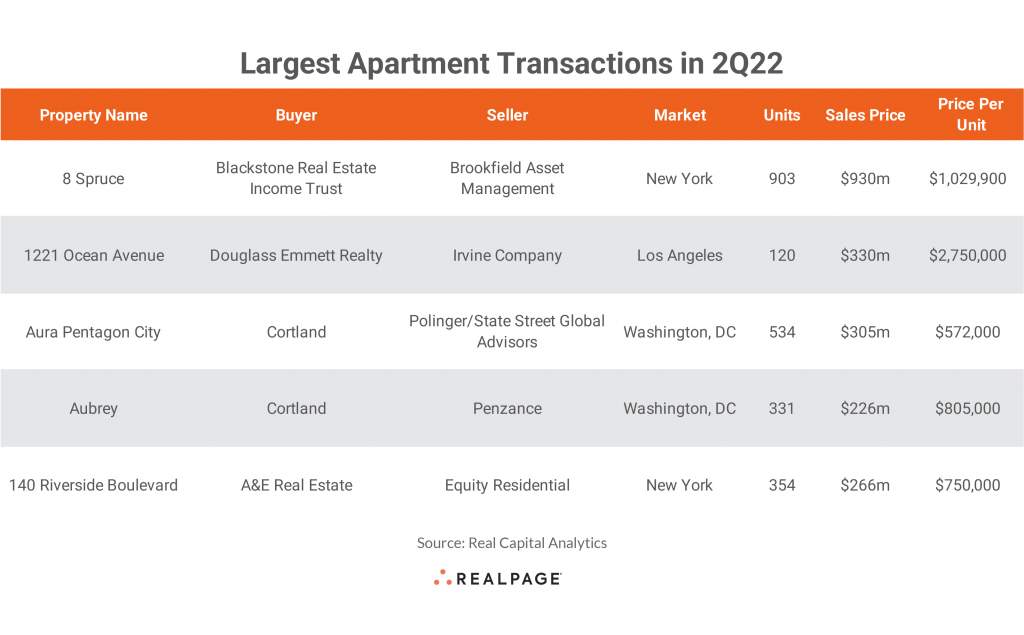 Here are the five largest individual apartment transactions from April through July, with most of these occurring on the East Coast.
8 Spruce
The largest apartment development to trade hands nationally in 2022's 2nd quarter was 8 Spruce in New York. New York-based Blackstone Real Estate Income Trust purchased the property from Toronto, Canada-based Brookfield Asset Management in June for $930 million or more than $1 million per unit. The 903-unit building was designed by world-renowned architect Frank Gehry. Previously known as the Beekman Tower and New York by Gehry, the 76-story tower at 8 Spruce Street in Manhattan's Financial District was the tallest residential building in the Western Hemisphere when it delivered in 2012. Amenities include private outdoor space, bike room, fitness center, media room, indoor swimming pool, tween's den, game room, children's playroom, concierge, golf simulator and doorman.
1221 Ocean Avenue
In April, Newport Beach-based Irvine Company sold 1221 Ocean Avenue to Santa Monica-based Douglass Emmett Realty. Ranking as the second-largest transaction in the nation during 2nd quarter, the 120-unit complex in the Los Angeles market traded for $330 million, or an average of $2.75 million a unit. The 16-story development which was built in 1971 is on Ocean Avenue near Santa Monica Boulevard in Santa Monica. Irvine paid $44.1 million for the property in 1998 and completed a $90 million renovation in 1999. Then in 2015, the company remodeled the apartments. Amenities include a rooftop ocean-view pool and spa, on-site concierge service, on-site car wash, valet parking, business lounge and fitness center.
Aura Pentagon City
The third-largest apartment transaction to take place in the nation during 2nd quarter was the sale of an asset in Washington, DC. In mid-May, Atlanta-based Cortland bought the Aura Pentagon City apartment community from a joint venture of Chevy Chase, MD-based Polinger Company and Boston-based State Street Global Advisors. The 534-unit community sold for $305.2 million or roughly $572,000 per unit. Polinger bought the property in 2019 for $228 million from Paradigm Development. The property is situated on South Eads Street in Arlington within the Crystal City/Pentagon City submarket, directly across from Amazon's HQ2 in National Landing. The community which was built in 2002 features two buildings, one with 14 stories and another with 18 stories. Community amenities include a fitness center, business center, clubhouse and two swimming pools. Cortland plans to renovate the property which has been rebranded Cortland Pentagon City.
Aubrey
Also in mid-May, Atlanta-based Cortland acquired the 331-unit Aubrey apartment community in the Washington, DC market. Washington, DC-based Penzance sold the property for $226.5 million or $805,000 per unit, the fourth-largest transaction in 2nd quarter. The development is on North Pierce Street in the North Arlington submarket within The Highlands mixed-use development in Rosslyn. Penzance completed the two, 23-story apartment buildings in 2021. Amenities include two rooftop pools with cabanas and lounges, indoor spa, electric vehicle charging stations, two fitness centers, private bike storage, dog grooming spas, poker lounge and children's playroom. Cortland has rebranded the community Cortland Rosslyn. In addition to Cortland's acquisitions of Aubrey and Aura Pentagon City, the company recently acquired two other communities in Arlington, VA, investing more than $1 billion for the total of 1,500 units. Cortland plans to spend an additional $60 million on renovations at those four communities.
140 Riverside Boulevard
New York-based A&E Real Estate bought 140 Riverside Boulevard in the New York market from Chicago-based Equity Residential in early April. The 28-story apartment community is situated along the Hudson River in Manhattan's Upper West Side and is one of three buildings previously known as Trump Place. Equity changed the name of the buildings in 2016, shortly after Donald Trump was elected president. Ranking as the fifth-largest transaction in the nation during 2nd quarter, 140 Riverside Boulevard traded for $265.7 million or roughly $750,500 per unit. The building, which was completed in 2002, features a fitness center, bike room, concierge, courtyard, volleyball court, playground, dry cleaning service and clubhouse. Equity bought the three Trump Place buildings in 2005 for $809 million. The two other buildings, 160 and 180 Riverside Boulevard, were not included in the recent sale.