The Five Largest Apartment Transactions in 1st Quarter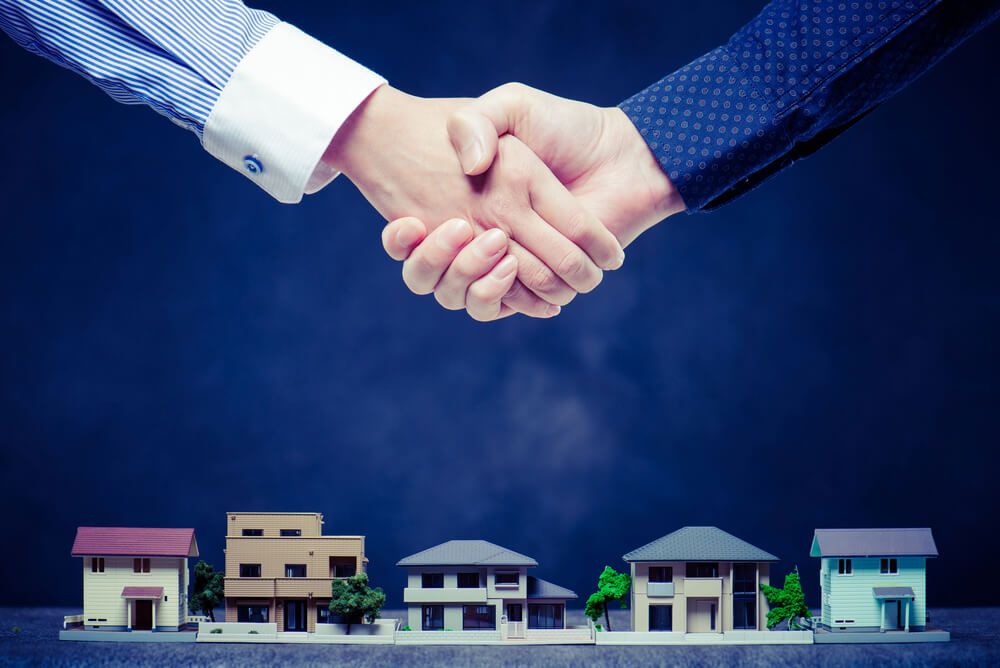 Apartment transaction volumes eased in early 2021, following the buying spree from late 2020 and the nine-year low during the worst months of the COVID-19 pandemic in 2nd quarter 2020.
Roughly 1,570 apartment properties changed hands at a value of more than $35.5 billion during 1st quarter 2021, according to Real Capital Analytics (RCA). The recent low was in 2nd quarter 2020, following the onset of the pandemic, when only 961 properties were sold at a value of $15.5 billion. Just a few months later, in the last three months of 2020, nearly 2,800 apartments transacted for roughly $62.5 billion, a 20+ year high on both accounts. For 2020 overall, about 7,068 apartment communities were sold for $145.2 billion. That was well below volumes from 2019.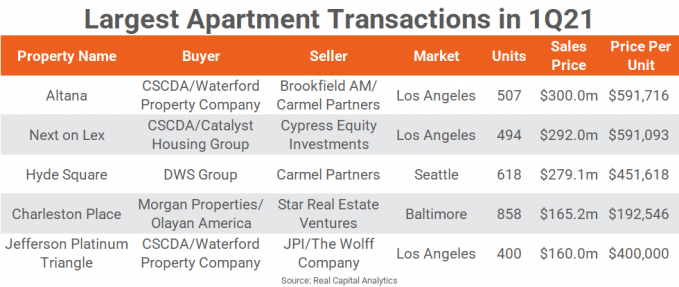 While the largest apartment sales continue to occur on the coasts, another trend emerged in early 2021:  three of the five largest transactions are set to be converted into workforce housing. California Statewide Communities Development Authority (CSCDA) has partnered with two companies to convert three conventional projects into workforce housing. All three of those projects are located within the Los Angeles market: Altana, Next on Lex, and Jefferson Platinum Triangle. The acquisitions are part of a workforce housing finance program that CSCDA started last year. The program uses tax-exempt bonds to finance multifamily acquisitions.
Altana
The largest property transaction in 1st quarter 2021 was the sale of Altana. Built in 2017, the six-story, 507-unit community is on North Central Avenue in Glendale, within the Burbank/Glendale/Pasadena submarket of Los Angeles. Canada-based Brookfield Asset Management and San Francisco-based Carmel Partners sold the property in March to a partnership between Newport Beach, CA-based Waterford Property Company and CSCDA for approximately $300 million or roughly $592,000 per unit. The new owners will immediately lower rents for middle-income earners making between 80% to 120% of the area median income. The new rates will be available to new qualifying tenants and existing tenants that qualify at their lease renewal. Amenities at Altana include a rooftop pool and spa, outdoor lounge areas with barbecue grills, dining tables and fire pits, a fitness center, outdoor gym, yoga room, screening room, and demonstration kitchens.
Next on Lex
Altana wasn't the only multifamily property in Glendale that involved the state government with a rent conversion plan during the early months of 2021. The California Statewide Communities Development Authority, in partnership with San Francisco area-based Catalyst Housing Group, acquired the 494-unit Next on Lex apartment complex in March. Los Angeles-based Cypress Equity Investments sold Next on Lex for about $292 million or roughly $591,000 per unit, the second-largest transaction in the nation during 1st quarter 2021. The six-story, 494-unit community on West Lexington Drive was built in 2019 and has 8,000 square feet of ground-floor retail space. Community amenities include barbeque picnic areas, a fitness center, clubhouse, yoga room, pet play area, dog grooming station, bicycle storage, massage room, indoor simulated golf range, sundeck, car charging station, swimming pool, spa with sun terrace and lounges, video arcade room, outdoor sports bar, and a media room.
Hyde Square
The third-largest transaction to take place in the nation during 2021's 1st quarter and the largest transaction in the Seattle market since mid-2020 was the sale of Hyde Square. Frankfurt, Germany based DWS Group, through its RREEF America REIT II subsidiary, purchased the community in January from San Francisco-based Carmel Partners for $279.1 million or roughly $452,000 per unit. Carmel Partners completed construction on the development in 2019. The six-story, 618-unit community is on 155th Place Northeast in Bellevue, within Seattle's East Bellevue/Issaquah submarket. The property is between the offices of Microsoft and Facebook and two miles west of Lake Sammamish. Amenities at Hyde Square include a fitness and wellness center, two rooftop lounges, a clubhouse with a gourmet kitchen, outdoor courtyards, tavern-style bar room, barbeque areas with fire pits, pet spa, gaming tables, theater room, and a business center.
Charleston Place
In February, Pennsylvania-based Morgan Properties in partnership with New York-based Olayan America (a division of The Olayan Group of Liechtenstein) acquired a portfolio of 48 apartment communities across 11 states for $1.75 billion from New York-based Star Real Estate Ventures. The entire portfolio, in what is referred to as the North Star Portfolio, contained 14,414 units. The largest transaction in the portfolio was the purchase of Charleston Place on Normandy Woods Drive in Ellicott City, a suburb of Baltimore. The three-story, 858-unit community traded for around $165.2 million or roughly $193,000 per unit. Community amenities include a swimming pool, fitness center, playground, club house, business center and tennis court. Built in 1971, the new owners plan to make upgrades to the property and add additional amenities including a putting green, bike share program, dog park, and a picnic and grilling area.
Jefferson Platinum Triangle
CSCDA and Waterford Property Company also partnered to acquire Jefferson Platinum Triangle with plans to convert the community into workforce housing. The transit-oriented development, which was built in 2017, is on South Campton Avenue in Anaheim, within Los Angeles' East Anaheim/Orange submarket. The four-story, 400-unit development was purchased in February from a joint venture between Irving, TX-based JPI and Scottsdale, AZ-based The Wolff Company for $160 million or about $400,000 per unit. The community features clubrooms, two resort-style pools with hot tubs, outdoor cooking areas, fitness centers and a yoga studio. Since the beginning of the year, CSCDA and Waterford Property Company has partnered to acquire four multifamily communities in California as part of CSCDA's Workforce Housing Program. In addition to Altana and Jefferson Platinum Triangle, the other two communities include the 216-unit Oceanaire in Long Beach and the 386-unit Parallel apartments in Anaheim.