February Freeze Slows Rebound in Residential Permitting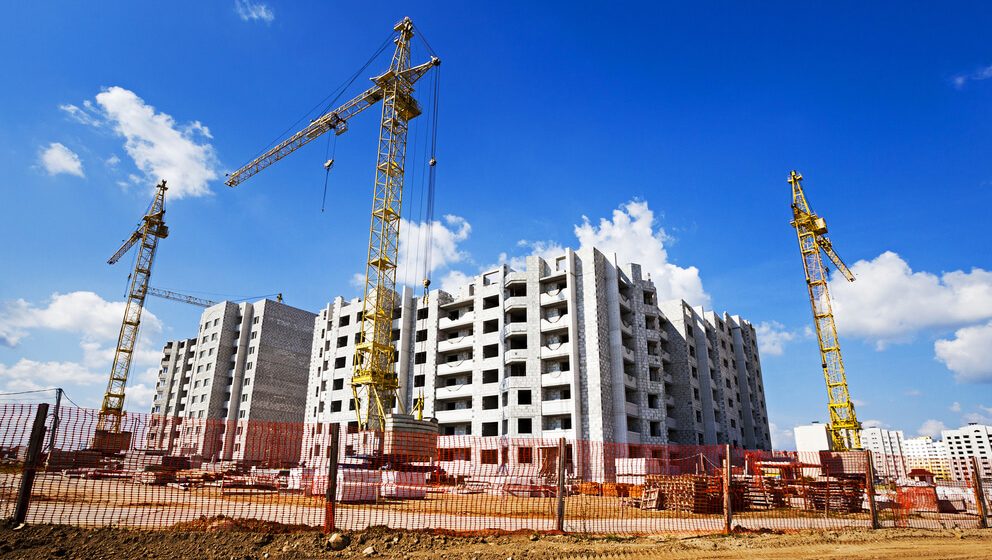 Both multifamily building permits and starts were down in February compared to January's annual rates.
After growing for three consecutive months, building permits for the construction of multifamily projects faded after a major winter storm had widespread impacts across the United States. Permits fell to an annual level of 495,000 units in February 2021, according to the U.S. Census Bureau's monthly building permits survey. Although that was down 11.6% from last month, multifamily permitting is up 24.1% from February 2020. Multifamily starts slipped to 372,000 units in February, down 14.5% from January's annual rate and down 27.6% from last year.
February's cold weather also caused the single-family construction market to retrench slightly with building permits dropping 10% from January to 1.1 million units and starts falling 8.5% to 1 million units. While down for the month, however, previous increases left single-family permits up 15% from February 2020, while starts are almost even with last year with a minor 0.6% increase. Strong demand and low mortgage rates should put the housing market back on its growth trajectory going forward.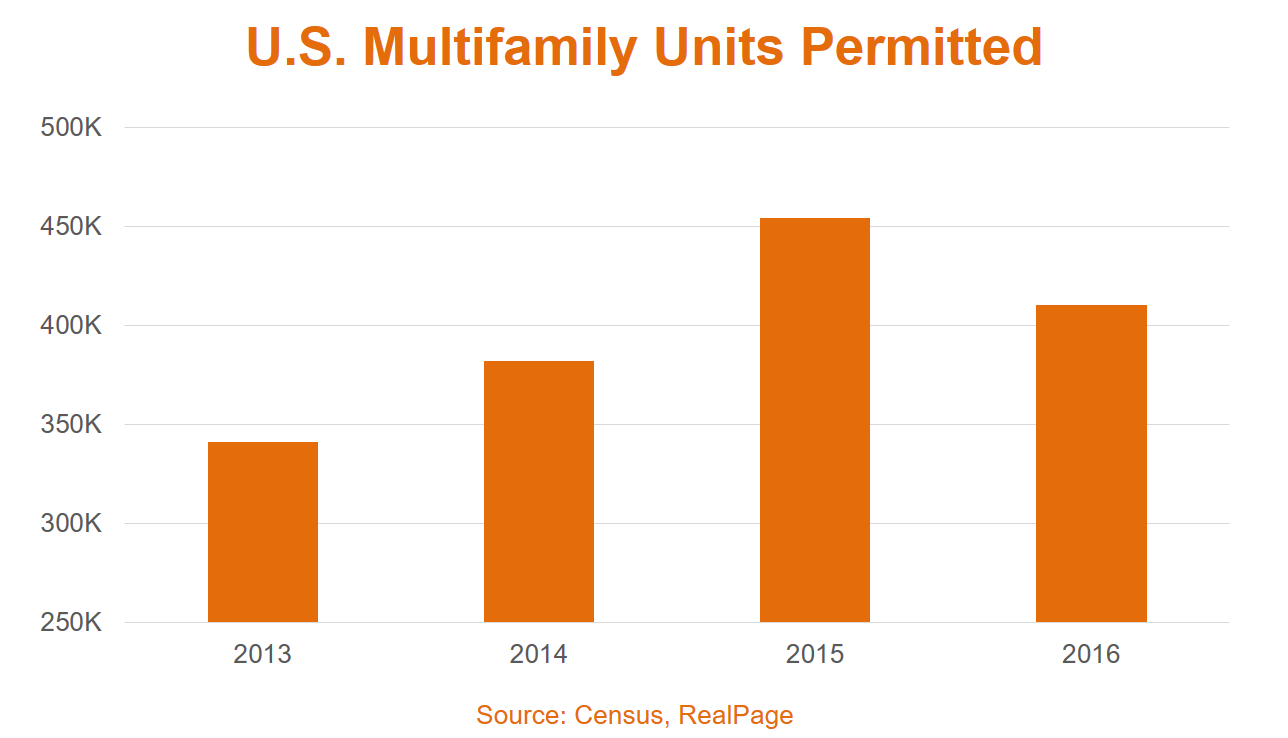 Total residential permits totaled about 1.7 million units in February, down 10.8% from January but up 17% from last year's pace. Despite the recent slowing, total annual residential permits have exceeded 1.6 million units for the past four months and are well above the twelve-month low of 1.1 million units from April of 2020. Total residential starts fell 10.3% from January to 1.4 million units and were down 9.3% for the year.
The annual rate for multifamily completions increased on a month-over-month basis, climbing 3% to 314,000 units while single-family completions were up 2.8% to 1 million units from January. Multifamily completions were up 12.9% from last February, while single-family completions increased 3.2% for the year.

Annual multifamily permitting was up in all four regions, with a jump of 54.4% in the Northeast (to 83,000 units) and 25.6% in the Midwest (to 65,000 units). The West region increased 18.7% from last year's pace to 135,000 units, while the South region experienced a similar increase of 17.9% to 212,000 units. Compared to the previous month, only the Midwest had an increase in annual permitting (20.4%), while the West saw a 21.1% decrease from January and the Northeast and South were down between roughly 10% and 16%.
Regional annual multifamily starts were down in all regions compared to February 2020. The Midwest region saw a 56.7% decrease in annual multifamily starts to 22,000 units while the South and Northeast regions had declines of 23% to 29%, falling to 188,000 and 42,000 units, respectively. The West region had a decrease in annual multifamily permits of 17.4% from last February to 121,000 units but their annual rate has exceeded 100,000 units for three straight months.
At the metro level, all top 10 permitting markets in February returned to the list from January but several changed places. New York, which continues to lead the nation with about 34,200 units permitted, has slowed from a pace of about 39,000 units one year ago. Austin surpassed Houston with more than 19,300 multifamily units permitted, while Houston fell to the #3 spot with permits of 18,500 units. Annually, permits were up nearly 11% in Austin, but down 6% in Houston.
Phoenix returned in the #4 spot with 13,386 units, while last month's #5 Los Angeles tumbled to the #8 spot with about the same level of annual permitting as January at 12,405 units. Moving into #5 this month is Seattle with just over 13,000 units permitted while Washington, DC moved up from #9 in January to #6 in February, with 12,724 units. Minneapolis-St. Paul returned at #7 with 12,663 units permitted through February and Dallas slipped back one spot to #9 with almost 12,000 units permitted for the year. Nashville again took the #10 spot with 10,731 multifamily units permitted.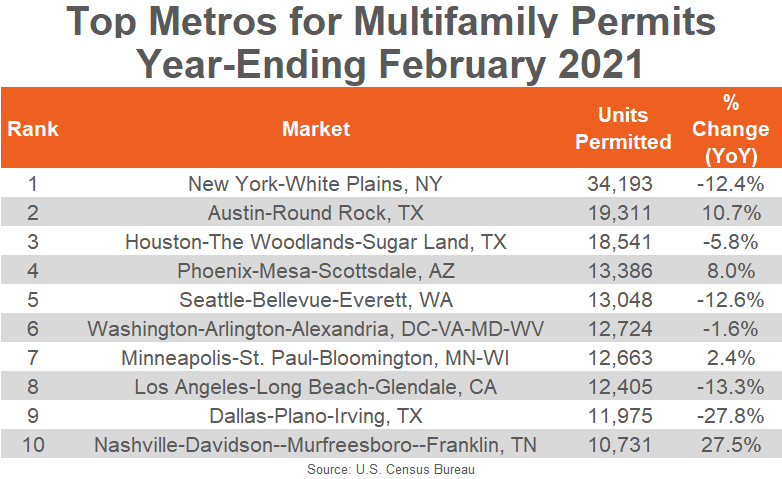 Six of the top 10 permitting places had annual decreases with cutbacks ranging from 211 units (Washington, DC) to more than 4,800 units (New York). Dallas is still seeing notable slowing in permitting, with a decrease in the annual pace of more than 4,600 units.
Significant slowing in annual multifamily permitting also occurred in Fort Worth (-4,948 units), Atlanta (-4,426 units), Chicago (-3,880 units), Tampa (-2,920 units) and Portland, OR (-2,875 units).
The only increases in multifamily permitting among the top 10 were in Nashville (+2,313 units), Austin (+1,867 units), Phoenix (+996 units) and Minneapolis-St. Paul (+299 units).
Other markets that saw significant year-over-year increases in annual multifamily permitting in the year-ending February were San Diego (+2,184 units), Philadelphia (+1,728 units), Columbus, OH (+1,646 units), Raleigh/Durham (+1,596 units), and Greenville/Spartanburg, SC (+1,502 units).
Four of the top 10 had fewer annual multifamily permits than the previous month, with Phoenix experiencing a 2.9% decline from January's annual rate, and the remainder declining about 2% or less. Washington, DC's annual multifamily permitting shot up 13.9% from last month, while Minneapolis-St. Paul had an 8.6% increase in the annual permitting total from last month.
The annual total of multifamily permits issued in the top 10 metros – 158,977 – was 5.4% less than the 168,107 issued in the previous 12 months. The total number of permits issued in the top 10 metros was almost equal to the number of permits issued for the #11 through #44 ranked metros.
All but one of last month's top 10 permit-issuing places returned to this month's list with a few changing places. The list of top individual permitting places (cities, towns, boroughs, and unincorporated counties) generally include the principal city of some of the most active metro areas.
The first five places returned in order but almost all had minor decreases in their annual permitting totals from last month except for Phoenix, which added 168 units to the total. The city of Austin remained #1 in February with more than 12,600 units permitted, almost twice as much as the #5 city of Phoenix. Ranking in the #2 through #4 spots, with about 9,000 to 10,000 units permitted, were the cities of Los Angeles, Houston and Nashville-Davidson.
The city of Seattle and the borough of Brooklyn switched places this month at #6 and #7 with about 6,000 units permitted each, while the Bronx and Unincorporated Harris County returned to their previous spots with about 5,200 units permitted apiece. The city of San Antonio replaced the city of Columbus, OH at the #10 spot with almost 5,000 multifamily units permitted through February.
All but four of the top 10 permitting places had moderate decreases in their annual multifamily permitting totals compared to last month. While the cities or places of Seattle, Phoenix, Unincorporated Harris County and San Antonio increased by about 180 units each, the remaining top permitting places declined by an average of about 170 units each.