February Numbers Reshuffle Top Metros for Job Growth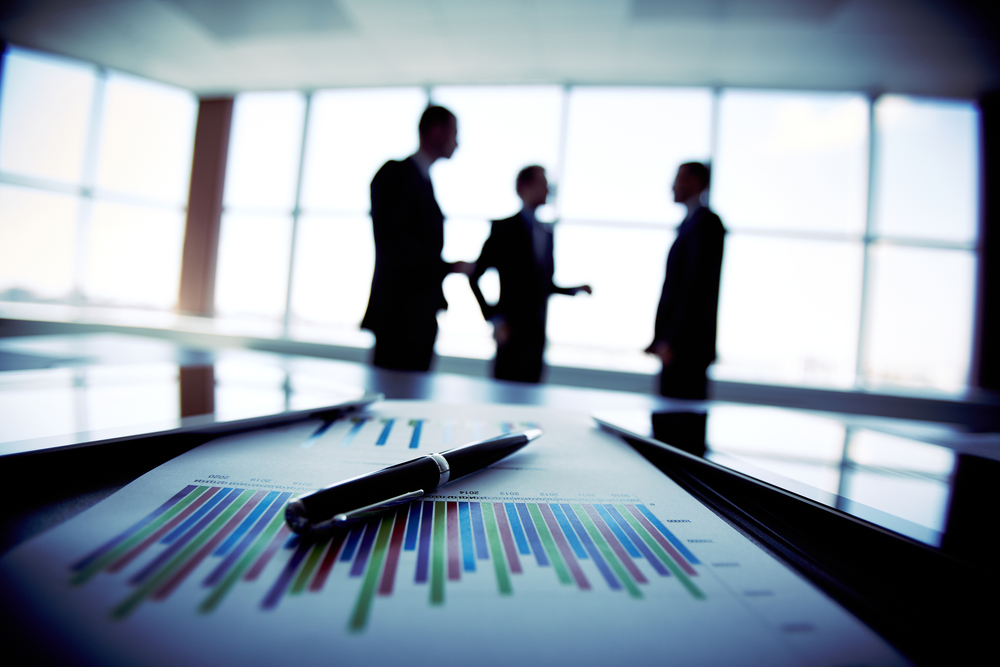 U.S. employers added more than 2.1 million jobs in the year-ending February 2017, growing the country's employment base 1.5%, according to preliminary data from the Bureau of Labor Statistics.
Among U.S. metropolitan areas, the leaderboard for actual gains was much of the same, presenting only a minor exchange of leading southern metros. In the year-ending February 2017, Dallas employment grew by 91,500 jobs, or 3.7% – a dip from the 4.3% expansion registered in the year-ending January 2017. The combined Dallas/Fort Worth area added 119,300 positions.
The metro's slight pullback allowed Atlanta to reach #2. The Georgia market has seen continued hiring in traditionally higher-paying sectors. In year-ending February 2017, Financial Activities and Professional/Business Services collectively accounted for roughly 30,000 new jobs. Those figures parallel elevated levels of apartment pricing power. In 1st quarter 2017, the market saw rent growth of 6.2%.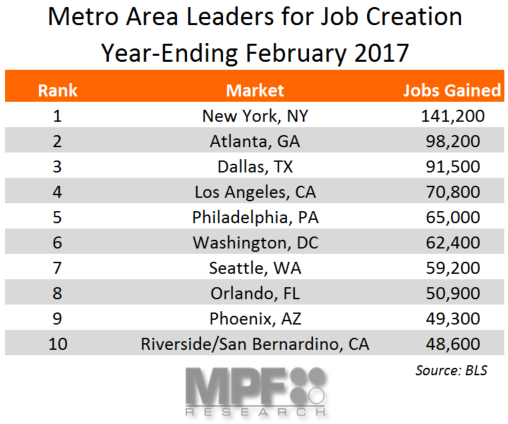 As usual, the percent-change roster registered a more pronounced shakeup.
In the year-ending February 2017, three regular Sunshine State contenders clustered at the top of the leaderboard. For the fourth consecutive month, Orlando experienced the greatest base growth. The metro currently ranks among the nation's five most stable markets and population growth leaders.
Meanwhile, Reno fell five spots to #9. With a slowed-but-robust 3.4% employment expansion, the market's diverse economy translated to additions in nearly all sectors. Reno's stunted base growth suggests local workforce momentum, after years of posting impressive numbers, is approaching a ceiling.
El Paso entered the list at #10, adding more than 10,000 positions in the year-ending February 2017. Professional/Business Services saw the greatest gains, accounting for more than a quarter of total additions. That industry expanded 7.8% during the same period.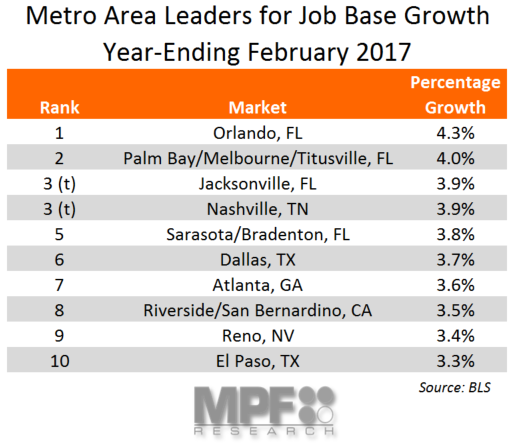 Meanwhile, Austin, Charlotte, Las Vegas and Salt Lake City fell from the standings. Of those markets, Austin saw the steepest slowdown. Contrasting previous growth of 3.5%, the Texas market registered growth of 2.7%.