Families Cohort Gravitates Toward Larger, Older Properties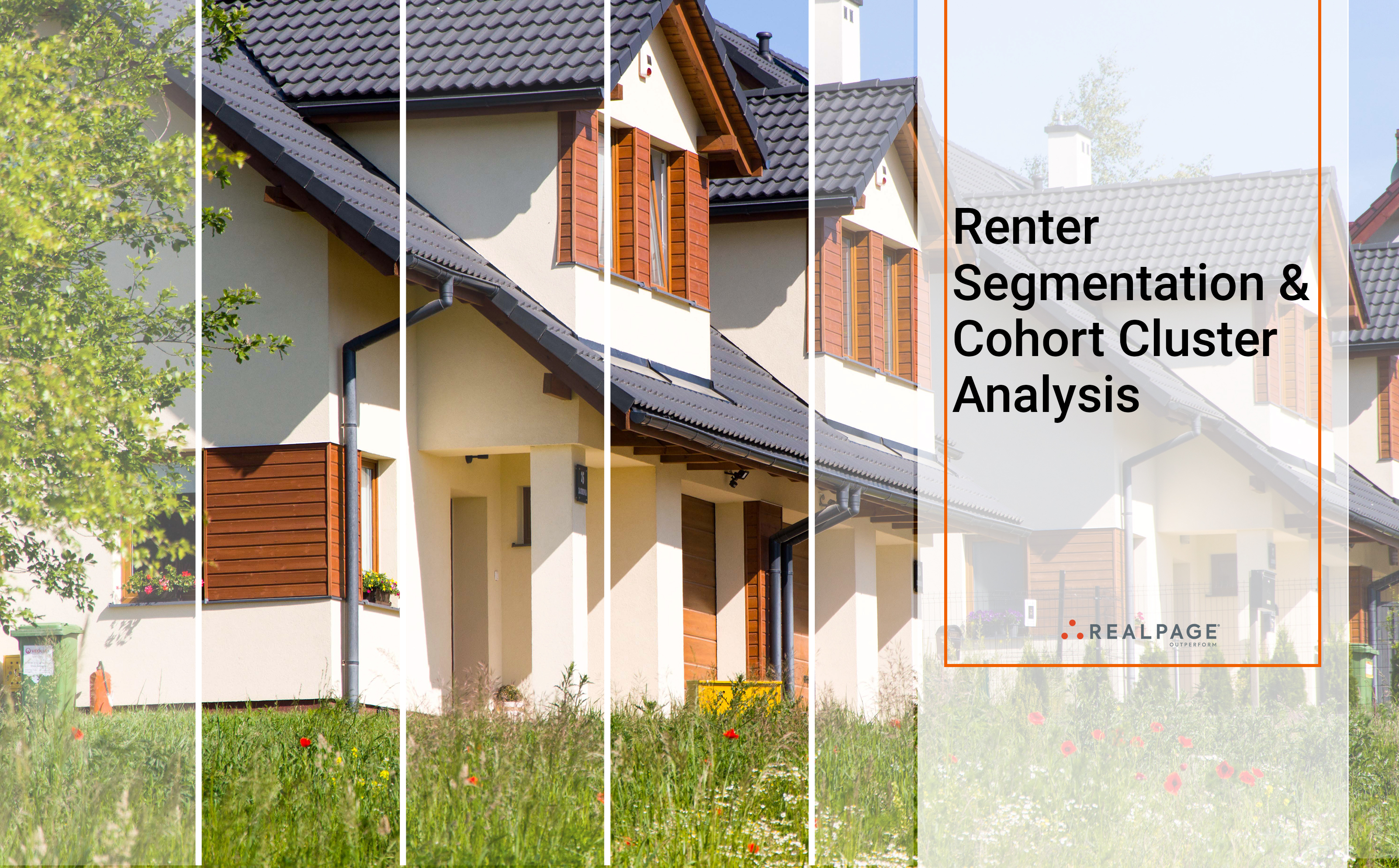 Families represent the nation's sixth largest renter cohort, making up about 5% of apartment renter households in the U.S.
RealPage performed a massive study of more than 11 million individual apartment leases to create an industry-leading cluster analysis of U.S. apartment renters. Those 11+ million leases were analyzed by our team of data scientists who crunched the numbers and identified the most powerful and explanatory variables. Then, with their help, RealPage's team of data and market analysts combined that intel into seven individual renter cohorts based on a suite of demographic variables, including renter income, age, marital status, kids, pets, cars and so forth. Apartment product selection criteria were also included, such as property age, class, location, number of occupants, lease term, effective rent, rent-to-income ratio, length of stay and propensity to renew.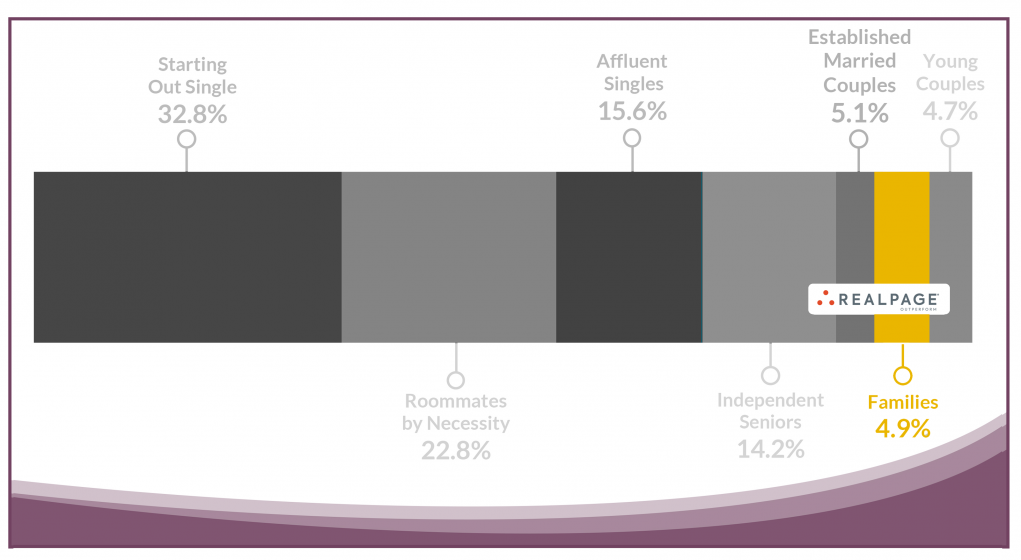 Families make up a relatively small portion of the nation's renter base at 4.9%, but there are markets where a higher share can be found. It's interesting to note that the last three of our renter cohort groups – Established Married Couples, Families, and Young Couples – each represent only about 5% of the total U.S. renter population included in our analysis. Compared to our previously discussed "singles" cohorts, these groups of couples and families are much less likely to be found renting apartments.
 The Families renter cohort doesn't necessarily stand out when it comes to any of the quick stats. But this segment does stand out due to one factor in particular – there tend to be a lot more children in these households. Median age, median income, and average rent are essentially all middle-of-the-pack among renter cohorts, but it's the fact that these households have an average of 2.3 children per unit that makes them stand out as a clear-cut family structure.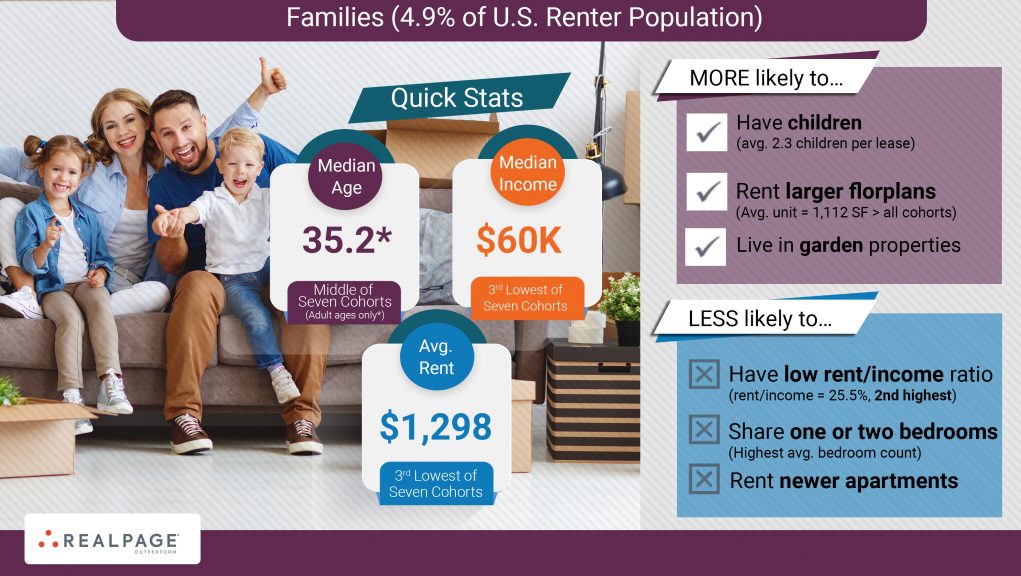 With more people in the household, it only stands to reason that these renters lease the largest floorplans of all cohorts. The average unit size leased by this segment is 1,112 square feet. These renters are also far more likely to rent garden style assets in the suburbs where they're able to achieve more bang for their buck. Families are also likely to rent in older properties, which makes sense considering average unit size in newly built properties has generally decreased over the years nationwide. Average lease term hovers around the national average at 12.8 months.
This group of renter households will more than likely seek out unit and property amenities that will help to support them in caring for their children. Parents will look for easy access to parking and fewer stairs to help them get in and out of their homes more easily with little ones in tow. Bathtubs as well as in-unit washer/dryer connections will also be important. Delivery access for packages and groceries will be a top priority. Families also need fast, reliable internet access to support work from home for the parents alongside remote learning activities for the children. This was certainly made more prevalent due to work and school closures resulting from the COVID-19 pandemic.
Households in the Families cohort see a higher rent-to-income ratio than the nation overall at 25.5%. Still, with their solid household incomes and special set of amenity and location requirements, Families are the most likely renter cohort to transition into single-family home rental or purchase. Along with more interior space, single-family homes provide additional exterior space including private driveways and yards for outdoor recreation.
Looking at this renter cohort by geographical distribution, where are the largest clusters of this segment located?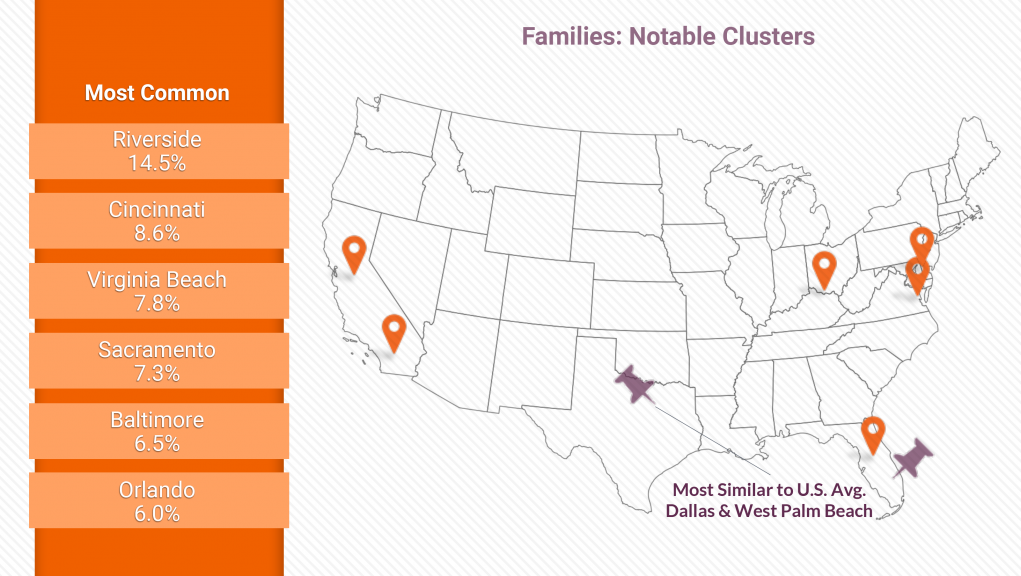 Probably the most noteworthy cluster of the Families cohort falls into the Riverside metro where almost 15% of the local renter base can be classified as such. That's more than three times the national average. Cincinnati also has a big cluster of these renters with about twice the volume of the national average.
Family profile renters are exceptionally rare in New York and the Bay Area. Portland, Minneapolis and, surprisingly, Jacksonville also see limited Family renter profiles.
One last note: the two Sunbelt markets where Families renter households essentially match the same share of the U.S. overall were Dallas and West Palm Beach.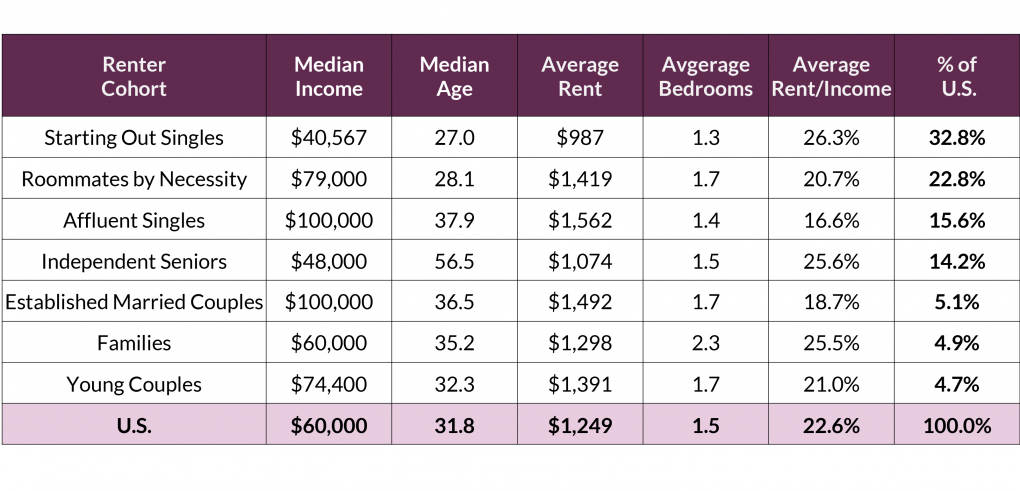 Learn more about renter segmentation by following along with our weekly renter cohort series, where we discuss each individual category of renter in the U.S. apartment market, pinpointing key trends and providing insights into business decisions, now and in the year to come.