The Evolution of the Florida Apartment Market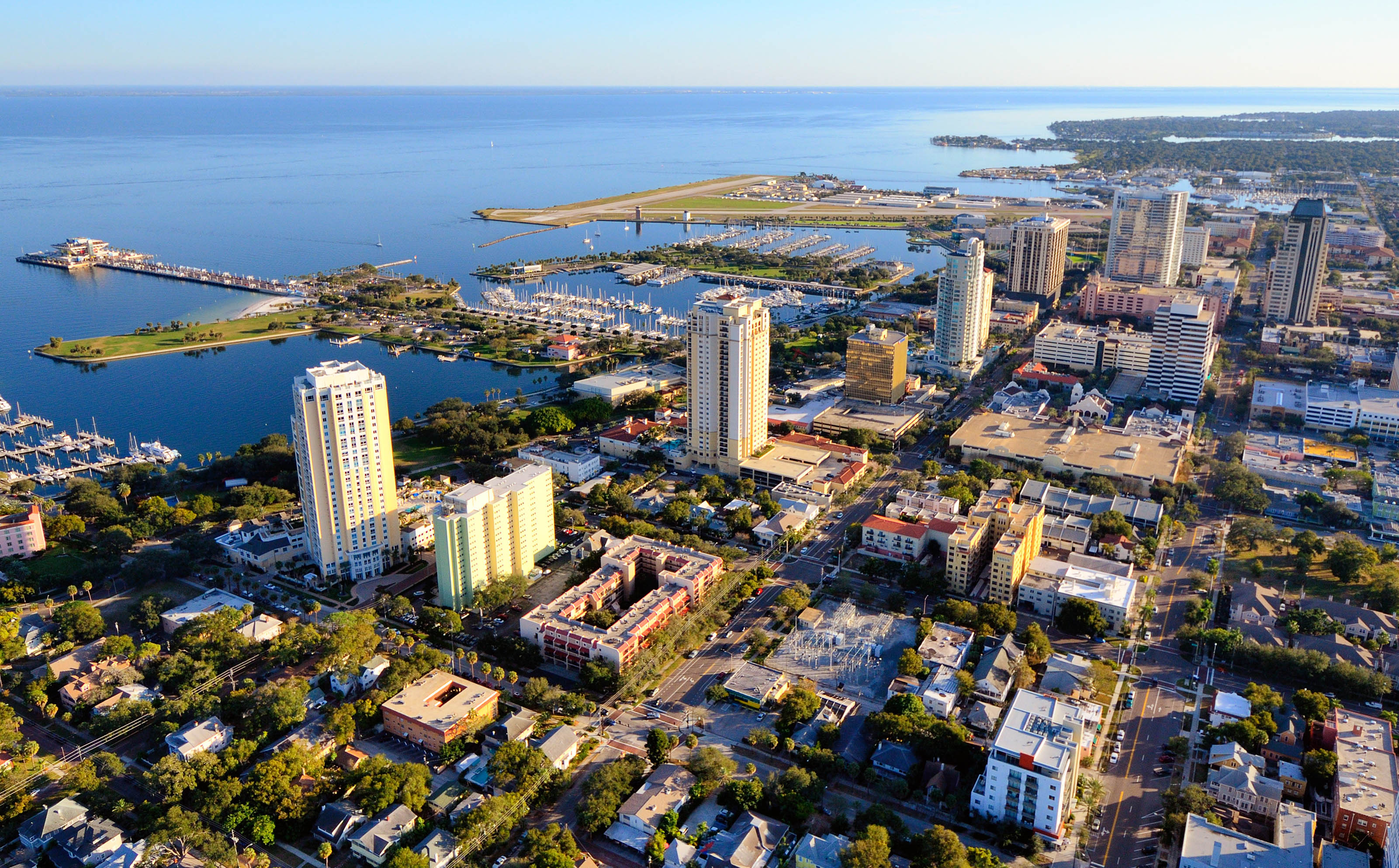 The Florida apartment market is a different place now than it was just a decade ago. Investors are paying an increasing amount of money to build in the Sunshine State, but rents are also notably higher.
The average sales price per unit in Florida markets now ranges from $157,000 in Jacksonville to $289,000 in West Palm Beach. Most Florida markets are ahead of the U.S. average ($206,000), some by a very large margin.
But looking back at 2011, the picture was very different. Prices just a decade ago ranged from $29,000 in Palm Bay to $128,000 in West Palm Beach. Back then, only the South Florida markets of Miami, Fort Lauderdale and West Palm Beach were logging sales prices per unit ahead of the national average.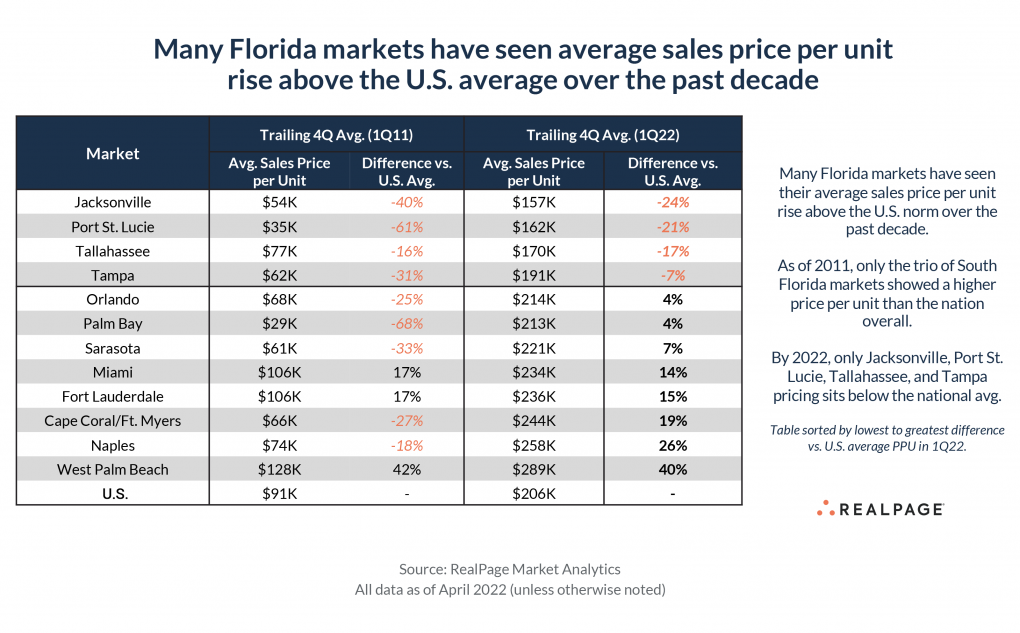 The smaller apartment markets have seen the most momentum over the past decade. Prices in Palm Bay went from $29,000 per unit in 2011 to $213,000 in 2022. That's an incredible leap, one that took prices from 68% behind the U.S. norm to 4% ahead in just 10 years. Similar stories were seen in Cape Coral/Ft. Myers and Naples, which are now about 20% ahead of the national average. Sarasota rates are now 7% ahead of the U.S. norm. While Port St. Lucie also saw prices increase dramatically over the past decade, per-unit sales are at $162,000, still about 20% behind the national average.
Among the major apartment markets, the growth was slower, but still significant. Orlando led the pack with prices per unit growing from $68,000 in 2011 to $214,000 in 2022. Orlando prices are now 4% ahead of the U.S. norm.
 Renter demand for Florida apartments has also skyrocketed, inflating rent growth beyond what these markets are used to.
Similar to investor prices, average rental rates per unit in Florida also started mostly below U.S. norms in 2011. Again, only the South Florida markets were less affordable back then. Today, Only Tallahassee, Jacksonville and Palm Bay are seeing rental rates considerably less than the national average.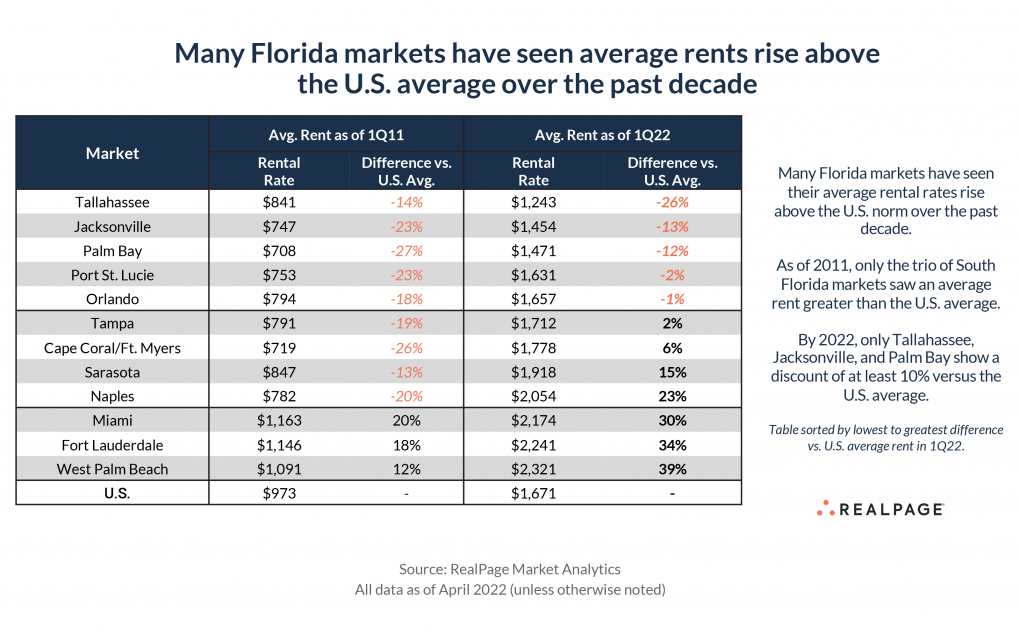 Again, it was mostly the smaller markets that saw the biggest jumps in rental rates. Naples saw prices go from $782 to a stunning $2,054 in the past decade, according to data from RealPage Market Analytics. Sarasota and Cape Coral/Ft. Myers saw rental rates go from below $1,000 in 2011 to just shy of $2,000 in 2022.
West Palm Beach, however, ranked alongside the smaller markets when looking at growth in rental rates over the past 10 years. Prices here went from an already expensive $1,091 per month in 2011 to $2,321 in 2022. Prices here now exceed the rates in neighboring Miami and Fort Lauderdale and come in nearly 40% ahead of the U.S. norm.
For more information on the apartment markets in the state of Florida, including forecasts, watch the webcast Market Intelligence: Q2 Florida Update.