Established Married Couples Wield High Incomes and Rent by Choice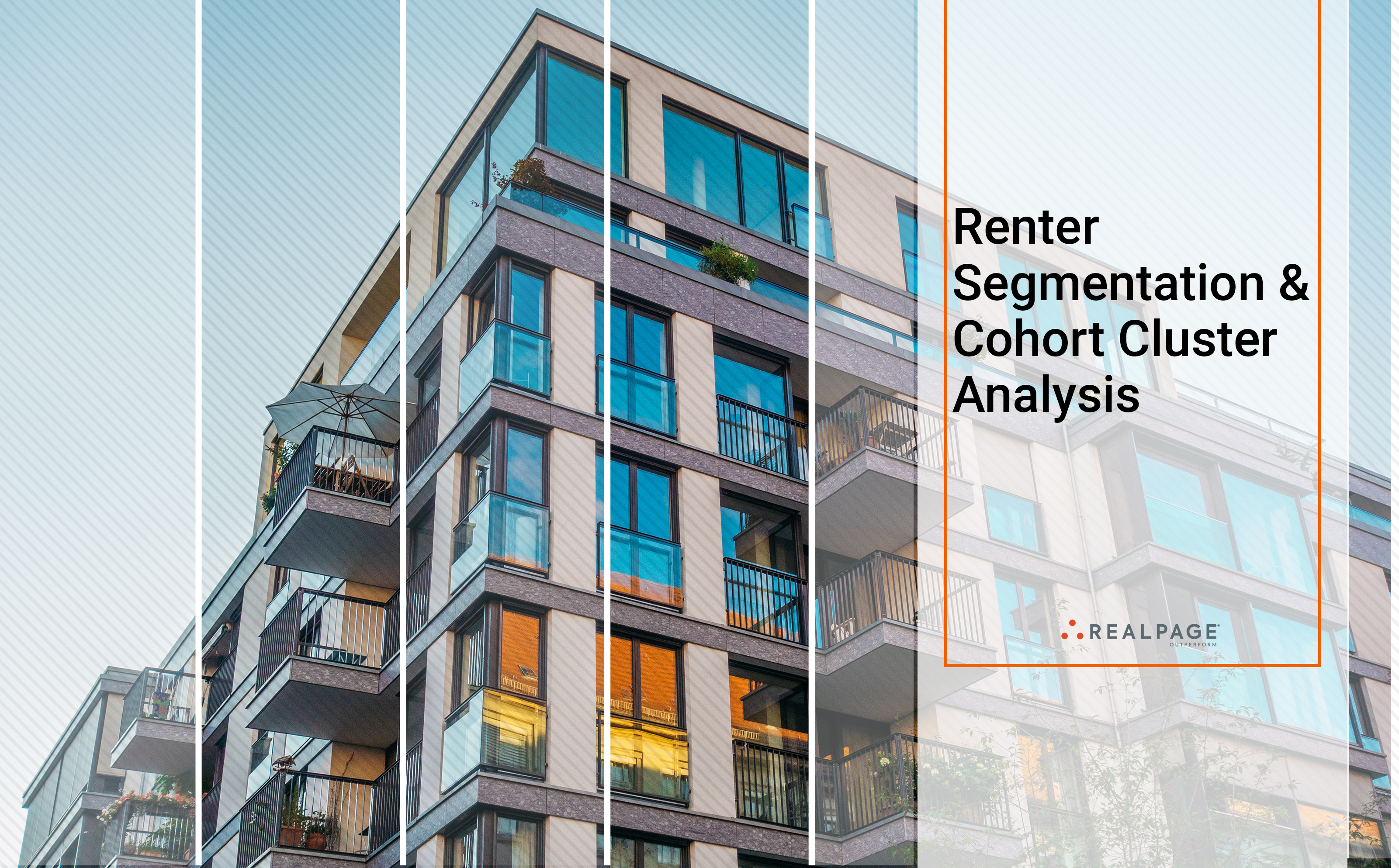 Established Married Couples is the nation's fifth largest renter cohort, making up about 5% of apartment renter households in the U.S.
RealPage performed a massive study of more than 11 million individual apartment leases to create an industry-leading cluster analysis of U.S. apartment renters. Those 11+ million leases were analyzed by our team of data scientists who crunched the numbers and identified the most powerful and explanatory variables. Then, with their help, RealPage's team of data and market analysts combined that intel into seven individual renter cohorts based on a suite of demographic variables, including renter income, age, marital status, kids, pets, cars and so forth. Apartment product selection criteria were also included, such as property age, class, location, number of occupants, lease term, effective rent, rent-to-income ratio, length of stay and propensity to renew.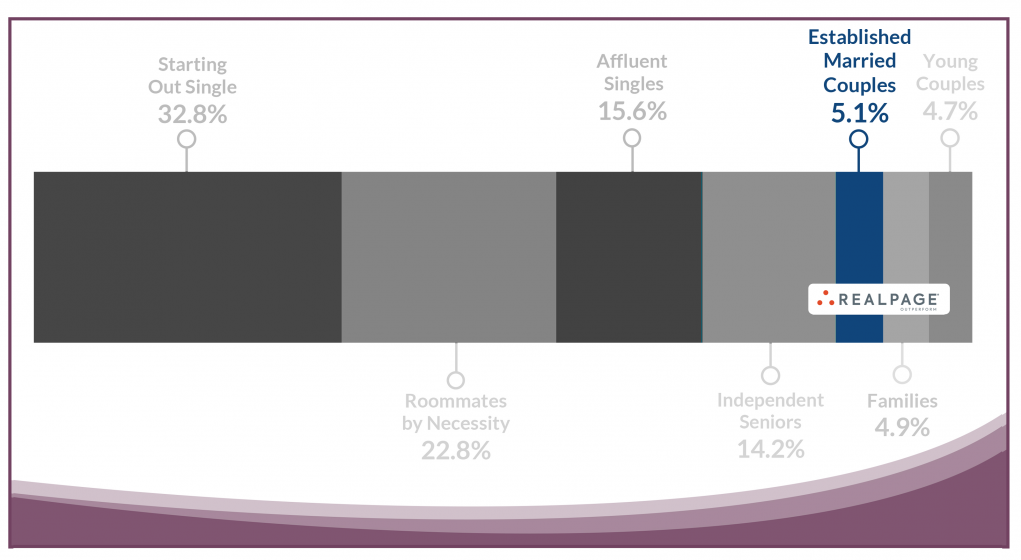 Established Married Couples make up a relatively small portion of the nation's renter base at 5.1%, but there are markets where a higher share can be found. It's interesting to note that the last three of our renter cohort groups, Established Married Couples, Families, and Young Couples, each represent only about 5% of the total U.S. renter population included in our analysis. Compared to our earlier "singles" cohorts, these groups of couples and families are much less likely to be found renting apartments.
Established Married Couples have the second largest average household size, following the Families renter cohort. Similarly, these folks tend to rent the second largest units after our Families cohort, averaging about 1,000 square feet. Meanwhile, their average lease term is 12.7 months, which falls in line with the U.S. average.
Further, as the name would imply, this group of renters is the most likely to be married. They also usually have two people sign the apartment lease on average, similar to the Roommates by Necessity cohort.
With a median age of 36.5, this renter cohort is the third oldest after Independent Seniors and Affluent Singles. By the way, median ages do not reflect any children that may live in the household – although this renter cohort is unlikely to have children.
Established Married Couples boast a high median household income at $100,000, which ties the Affluent Singles group for the highest of the seven cohorts. This group of renters probably fits the "renter by choice" profile. With their high household income levels, rents tend to run on the higher side at about $1,500 per month.
The term DINK (dual income with no kids) sometimes gets thrown around for a similar profile. These are adults who are established in their careers and, as previously mentioned, most often do not have children.
With an earnings reach of nearly six figures annually, these households frequently opt for luxury units in either the urban core or high-end suburbs. Rent-to-income ratios are among the lowest seen in any group, at just under 19%.
While Established Married Couples generally can afford to buy housing, they're most common in locations where high for-sale prices tend to discourage purchase. These areas include the metros in Southern California and in South Florida, as we'll see below. Still, potential loss of Established Married Couples to home purchase certainly will be a downside risk over the near term.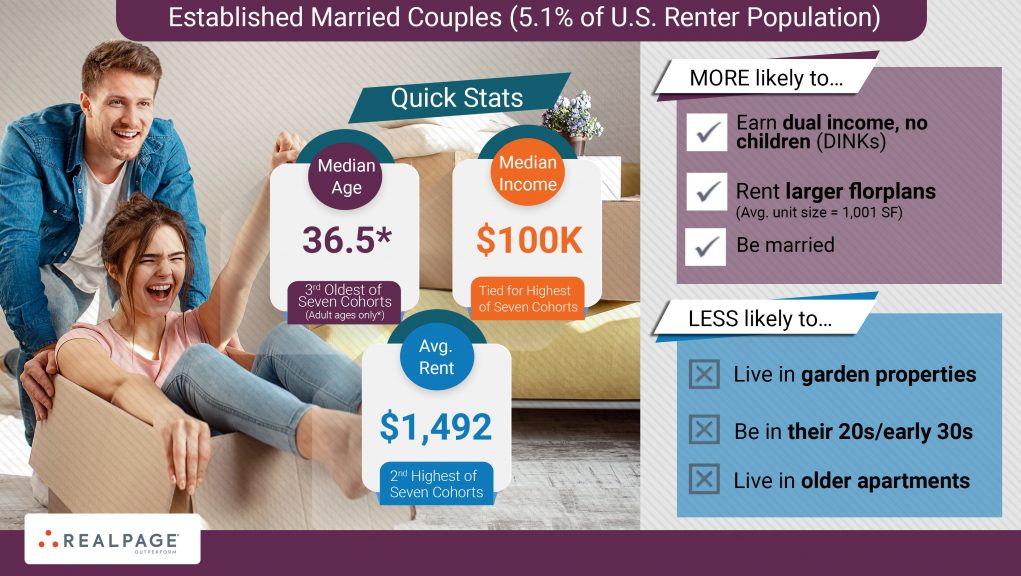 Looking at this renter cohort by geographical distribution, where are the largest clusters located?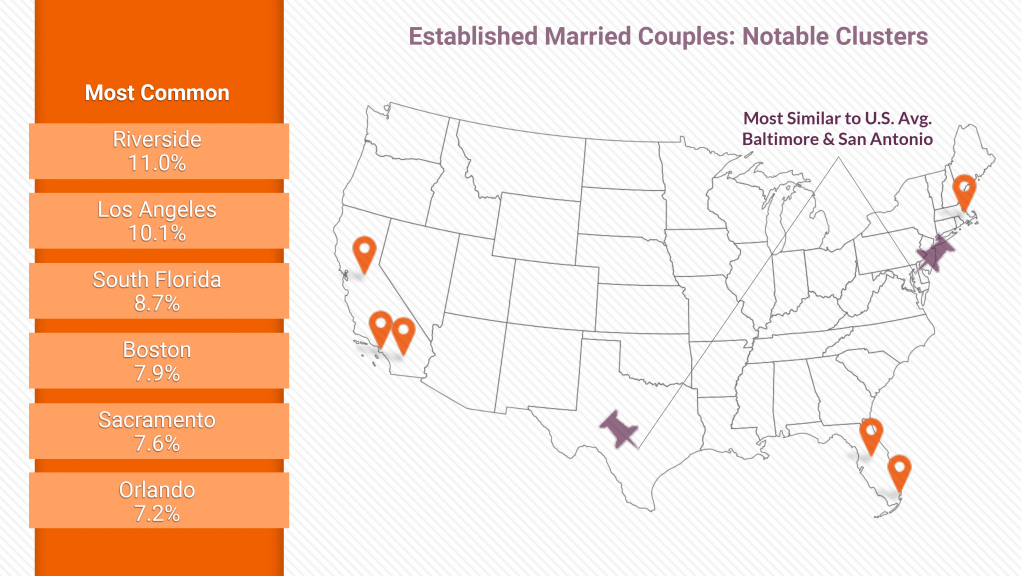 The geographic footprint for Established Married Couples doesn't necessarily fit a clean profile. Riverside and Los Angeles are the two metros where you're twice as likely to find this renter group than the nation overall. The trio of South Florida markets (Fort Lauderdale, Miami and West Palm Beach) also has a decent cluster of this renter segment as well.
On the inverse, many of the Midwest markets alongside more affordable South region metros don't tend to exhibit a larger share of this renter profile. The younger metro of Columbus and the blue-collar profile metros Memphis and Greensboro see this as a few-and-far-between local renter group.
Finally, two somewhat surprising markets most closely mirror the overall U.S. composition when it comes to Established Married Couples. Those cities are Baltimore and San Antonio.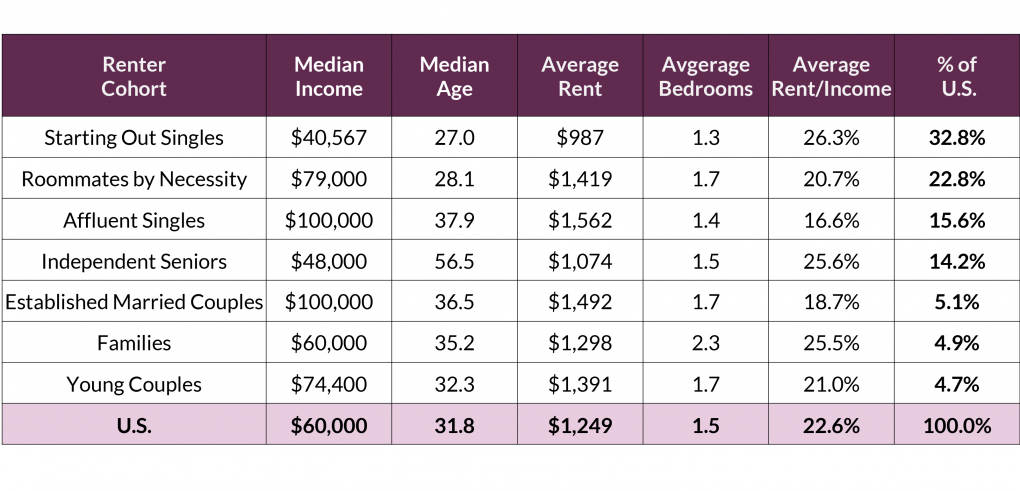 Learn more about renter segmentation by following along with our weekly renter cohort series, where we discuss each individual category of renter in the U.S. apartment market, pinpointing key trends and providing insights into business decisions, now and in the year to come.