Energy Industry Contributes to Houston's Recent Job Cuts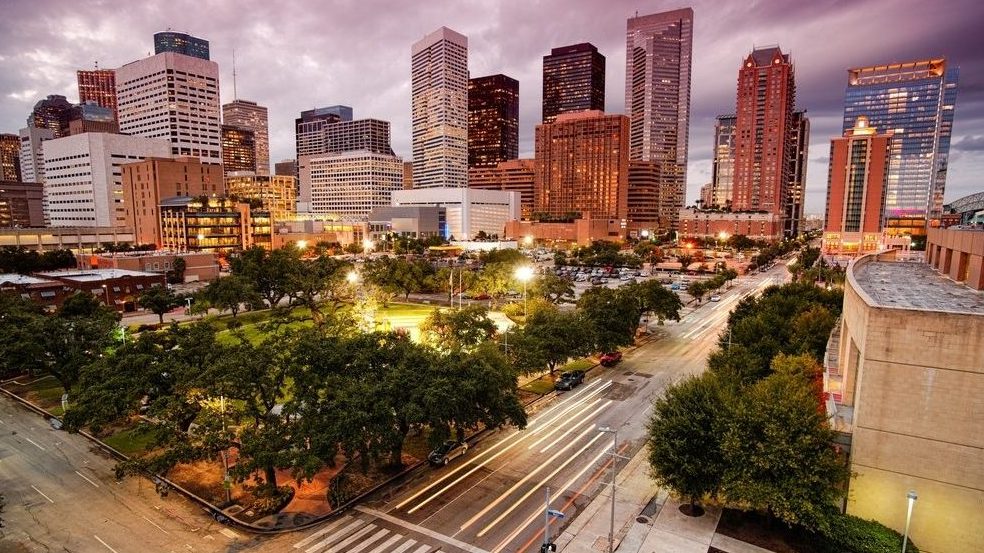 Posted September 14, 2020
While Houston's economic decline primarily reflects the impact of the COVID-19 pandemic, the market is also suffering from another stumble in the energy sector.
According to the Bureau of Labor Statistics, Houston lost more than 188,000 jobs in the year-ending July. This was one of the worst declines in the nation and contracted the local workforce by 6% year-over-year. Jobs tied to restaurant and bar closures still account for about a third of those losses, but the energy sector has accounted for a growing share in recent months.
Much like the rest of the nation, Houston's job market started 2020 in relatively good shape, with annual growth nearing 70,000 jobs during the first two months of the year. When the pandemic hit, the economy faltered, and job change turned to steep decline. At its low point, Houston lost 286,000 jobs in the year-ending April. While Houston has since recovered some of those lost jobs, it will take some time to regain them all.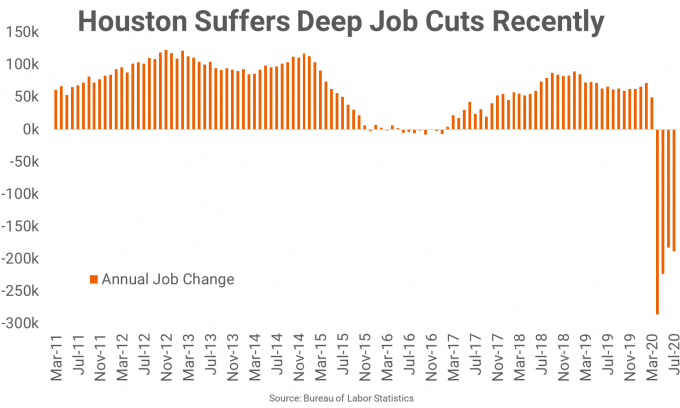 A factor that might hinder this recovery is Houston's share of jobs tied to the energy sector. While the market's ratio of energy-dependent employment has declined over time, Houston still reels from the ebb and flow nature of the industry, resulting in one of the nation's most volatile local economies.
Over the past decade, Houston's job change variation has been huge from one year to the next, partially in reaction to the oil industry. Peak growth for Houston reached about 100,000 jobs annually in 2012 through 2014. But that performance was countered by struggles in 2015 through 2017, including one year of slight annual job loss in 2016, when the rest of the country was still gaining jobs at a quick pace.
The price of a barrel of West Texas Intermediate crude oil has recently fallen to $40 to $45 a barrel, according to the U.S. Energy Information Administration. While that's basically a breakeven price relative to the cost of production, it's a low point for the market. Just two years ago, in 2018, prices were averaging roughly $75 per barrel, and that recent peak was even softer than the prices of over $100 per barrel in 2013 and 2014.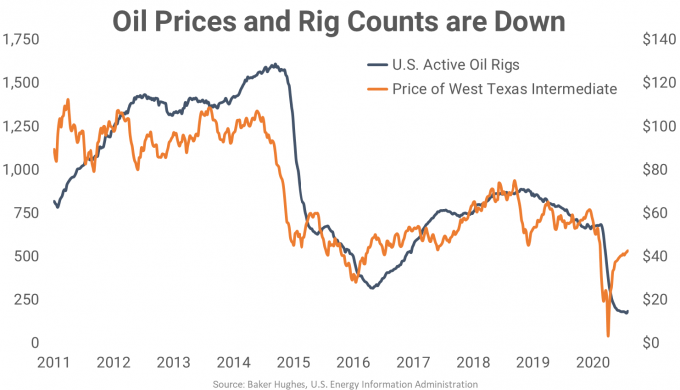 Meanwhile, according to oil field service company Baker Hughes, the count of active rigs in the U.S. is at its lowest on record, hitting fewer than 200. That compares to a count that got as high as 1,600 rigs when drilling activity peaked in late 2014 to early 2015.
For more information how the employment picture is affecting the Houston apartment market, watch the webcast Up Close and Local: Houston Market Update.