Employment Recovery Continues to Abate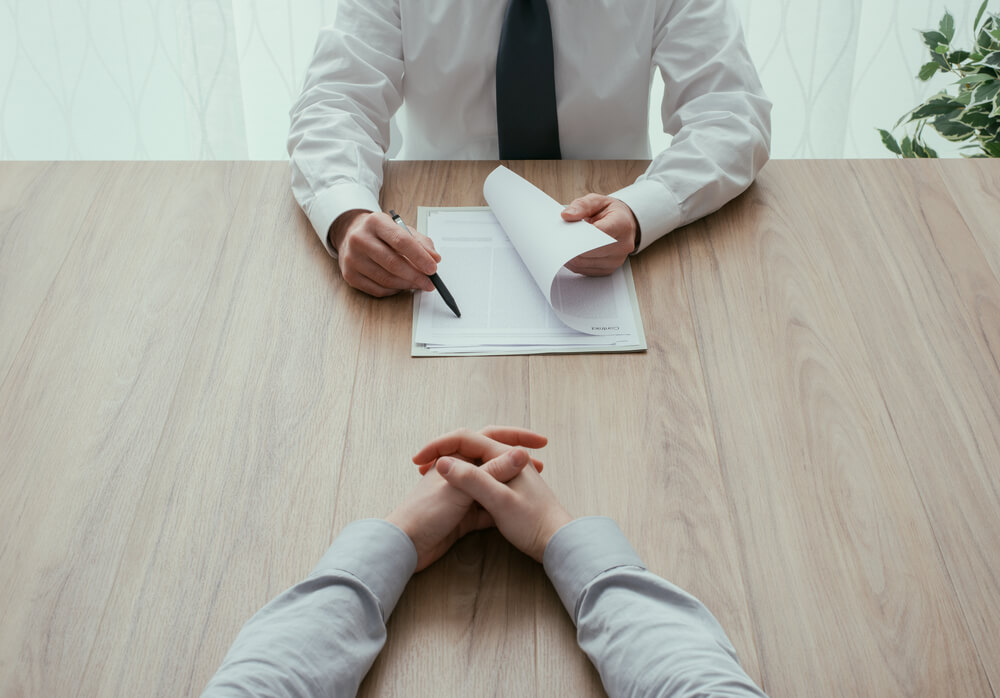 Jobs are returning to the U.S. economy, but the pace of recovery continues to slow.
According to the Bureau of Labor Statistics (BLS), 1.4 million jobs were added to payrolls in August, about even with economists' expectations. August's monthly gain, while much higher than the pre-pandemic average of about 200,000 jobs per month, was still 363,000 jobs shy of July's gain, as state and local governments extend controls on certain business operations to fight the ongoing COVID-19 pandemic. Cumulatively, job gains from May through August leave the economy about 11.5 million jobs short of a full recovery. With more than 22 million jobs lost in March and April during initial lockdowns, it will take many months to return to pre-pandemic levels.
One noteworthy blip in the August employment figures is a sharp increase in Government hiring of 344,000 jobs, accounting for 25% of all employment gains for the month. More than 250,000 of those jobs were in the Federal sector as the U.S. Census Bureau ramps up temporary employment for the decennial census.
The U3 or "headline" unemployment rate declined by 180 basis points (bps), from 10.2% in July, to 8.4% in August, although many economists feel that misclassifications and other errors belie a somewhat higher rate. With several government stimulus and loan programs expiring, furloughs and delayed re-hiring will undoubtedly keep upward pressure on the unemployment rate going forward, unless Congress acts soon.
In other August BLS data, annual hourly earnings growth for all employees was 4.7% in August, the same as July's annual increase and 120 bps higher than the August 2019 showing. The monthly wage figure increased $0.11 between July and August, and was up $1.31 from August 2019, to $29.47. Annual wage growth is still elevated when factoring in the number of lower-paying jobs not filled currently. The average annual wage growth over the past two years prior to the pandemic was about 3.2%, with average annual increases of about $0.85. However, the month-to-month increase in wages is close to the pre-pandemic average of about 0.3%.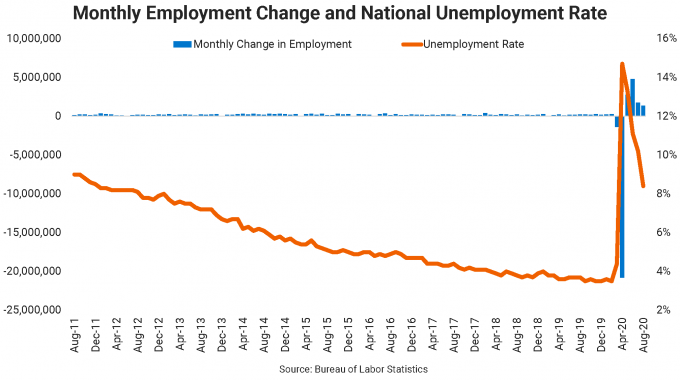 The civilian labor force (CLF) participation rate edged up 30 bps to 61.7% in August but is still down 150 bps from August 2019. The CLF itself was up 143,000 from July but was also fewer than last year by 3.1 million. The employment-population ratio increased from July's rate of 55.1% to 56.5% in August but is still well below August 2019's rate of 60.9%. The total number of unemployed (13.55 million) is about 2.8 million less than July but is still more than twice the level of last year. The number of people not in the labor force who currently want a job has declined from about 7.7 million in July to 7.0 million currently.
The number of unemployed workers on temporary layoff declined from 9.2 million in July to about 6.2 million in August as some businesses reopen. This is one of the categories in which economists feel many workers are misclassifying themselves. The number of permanent job losers increased to 3.4 million after averaging about 2.8 million for the previous two months. The number of employed part-time workers for economic reasons has declined from 10.8 million in April to 7.6 million in August but is about 3.2 million workers greater than last August.
The U6 unemployment rate, which includes part-timers for economic reasons and marginally attached workers, fell from 16.5% in July to 14.2% in August, and is down 8.6% from its April peak. Persons marginally attached to the labor force increased by 516,000 from August 2019 to 2.08 million. Persons marginally attached to the labor force are those who currently are neither working nor looking for work but indicate that they want and are available for a job and have looked for work sometime in the past 12 months.
The number of unemployed for less than five weeks decreased to 2.3 million in August from 3.2 million last month. Additionally, the 5- to 14-week category saw a decrease from 5.2 million to 3.1 million. The longer-term category of unemployed workers (out of work for 15 weeks or more) increased to 8.14 million in August from 7.99 million in July.
Industry Focus
The economy has still not regained solid footing based on the types of jobs and industries reporting the largest gains. In addition to the surge in temporary census workers, the retail sector of the Trade, Transportation, & Utility industry contributed the most jobs in this month's total. Significant gains were made in the Professional and Business Services, Education and Health Services and Leisure & Hospitality industry, though Leisure & Hospitality gains are slowing as renewed restrictions have closed or limited restaurants, theaters, and personal service businesses. All other industries gained jobs in August with the exception of the Mining & Logging industry, but monthly losses in the energy sector have been tapering.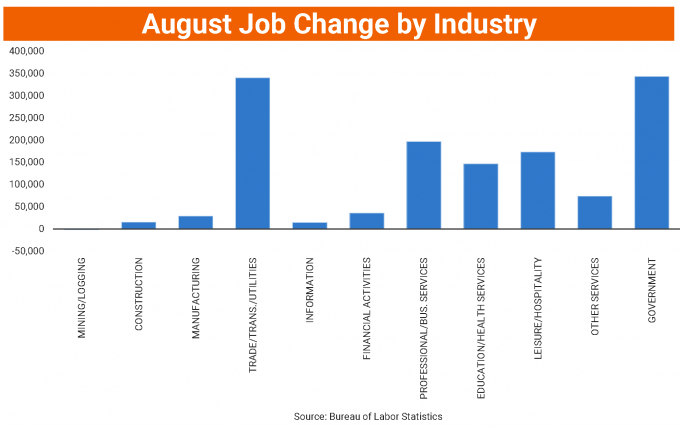 • The hiring of temporary workers for the decennial census shot the Government category to the top of August's monthly job gain list with 344,000 new jobs. Federal workers excluding the U.S. Postal Service added 246,700 of those jobs, while local government employment added 95,000 jobs in August, primarily non-education jobs.
• Retail trade added or rehired 248,900 jobs in August, with the general merchandise stores (+116,400) subsector accounting for the bulk of the Trade, Transportation, and Utilities industry gain of 341,000 jobs. The motor vehicles and parts and electronics and appliance stores subsectors each added more than 20,000 jobs for the month. Warehouse and storage added 34,400 jobs in August as online merchandisers continue to benefit from stay-at-home policies. Wholesale trade added 13,500 jobs in August, primarily in the nondurable goods subsector.
• The Professional and Business Services industry's gain of 197,000 jobs in August were dominated by the administrative and support services subsector (+150,800). As with the previous month, temporary help services (+106,700) accounted for the bulk of that gain as employers aren't committing to full-time employment. Almost 42,000 jobs were gained in the higher-paying professional and technical services sector, with the architectural and engineering services subsector adding 14,400 jobs.
• The Leisure and Hospitality industry continued to regain many of the jobs previously lost due to the pandemic, with a gain of 174,000 in August. The food services and drinking places subsector added 133,600 jobs in August, but without continued government aid to many small businesses, and the generally slow pace of the recovery, several of these places may close for good.
• The Education and Health Services industry gained 147,000 jobs in August with 75,300 of them in the health care sector. Hospitals added 14,000 jobs for the month and the social assistance sector added another 14,800 jobs, but nursing and residential care facilities lost 13,700 jobs. That subsector saw losses in the nursing care facilities (-7,700) and community care facilities for the elderly (-7,900) groups.
• The Other Services sector had a solid gain of 74,000 jobs in August, spread primarily in the membership associations (+30,800) and repair and maintenance (+28,700) subsectors.
• The Financial Activities industry (+36,000) continued to gain jobs in the real estate and rental and leasing services (+23,100) sector, but the credit intermediation and related activities sector added 10,000 jobs for the month as well.
• Almost all the Manufacturing industry's gain of 29,000 jobs in August were in the nondurable goods sector (+27,000), while food manufacturing accounted for 12,100 jobs. Solid contributions were made in the plastics and rubber products (+6,500) and chemicals (+5,500) subsectors. Durable goods manufacturing (+2,000) was hindered by losses in transportation equipment (-8,400) and nonmetallic mineral products (-4,400), offsetting gains in fabricated metal products (+5,900) and furniture (+5,700).
• The Construction industry gained 16,000 jobs in August with a mix of commercial and residential trends. Specialty trade contractor employment grew by 8,800 positions, with residential adding 24,500 jobs, while nonresidential shrank the total by 15,700 jobs. The construction of buildings sector added 13,400 jobs, but nonresidential accounted for 10,200 of them, leaving only 3,200 jobs added in the residential subsector.
• The Information industry gained back the 15,000 jobs lost in July, with the motion picture and sound recording (+13,900) subsector kicking into gear as production on several movies and television shows returned to the set.
• The Mining and Logging industry lost jobs again in August (-2,000), but losses have slowed. The support activities for mining subsector shed only 900 jobs for the month, equaling the loss in the seldom referenced logging industry.